Poor return raises concern for insurers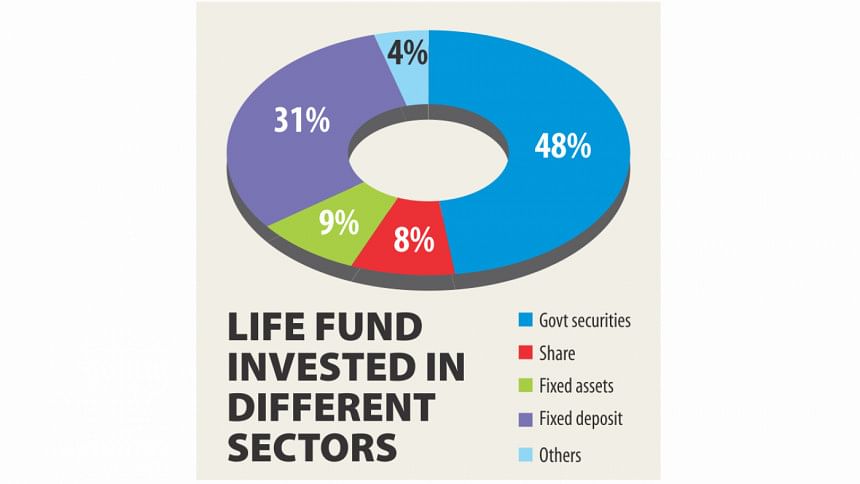 The insurance sector's returns on investment in fixed assets such as land, buildings, floors and flats have been minimal, raising concerns among the regulator on insurers' capacity to settle claims.
In the first quarter of the year, life insurance companies invested Tk 2,470 crore, or 8.48 percent of their total fund, in fixed assets and the return was only Tk 10 crore, which is 0.40 percent of the investment.
Thirty-two life insurance companies invested Tk 13,949 crore in government securities, from which the return was 2.62 percent, or Tk 365 crore, in the first quarter of the current year, according to the Insurance Development and Regulatory Authority (IDRA).
Life insurance companies have a total Tk 29,118 crore of life fund remained invested in different sectors.
The highest portion of the insurance fund— about 48 percent—was invested in government securities as insurers are mandated to invest at least 30 percent of their fund in the instrument, said Mohammodi Khanam, chief executive officer of Prime Insurance.
Moreover, investment in government securities is more secure and companies can withdraw funds anytime, she said. Life insurance companies have invested Tk 9,028 crore in fixed deposits, which was 31 percent of the total fund as of March this year. The return from the investment was almost 2 percent in the January-March quarter, according to the IDRA.
The development has left the regulator concerned as it is hurting policyholders' interest and eroding the capacity of insurers to meet claims. The regulator has asked insurance companies to invest policyholders' money wisely and boost the return on investment (ROI).
Despite the negligible ROI in fixed assets, insurers have continued to put in money in them, said Gokul Chand Das, a member of the IDRA. They are so keen on fixed assets that two life insurers have even invested beyond the permissible limit, he said. Insurers can invest a maximum 20 percent of policyholders' funds.
The earnings from fixed assets are very low as building construction and maintenance cost are much higher than the income from renting them out, said Farzana Chowdhury, managing director of Green Delta Insurance.
Still, insurance companies are parking their funds in fixed assets for want of diversified investment products, she added. Insurance companies are also increasing their exposure in the capital market.
The life insurers have an investment of Tk 2,420 crore in the stock market and the return was Tk 13 crore, or 0.54 percent, in the first quarter.
The ROI in the stock market is very low as many insurance companies are still recovering from the crash in 2010, Chowdhury said.