Govt mulls $2b power bonds
Chevron to invest $300m, says Nasrul Hamid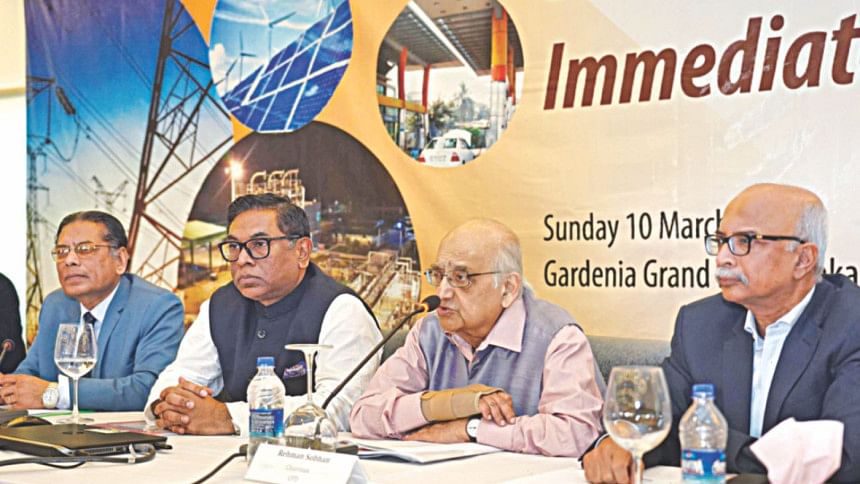 The government plans to raise $2 billion through issuing bonds to bankroll investment in the power and energy sector, Nasrul Hamid, state minister for power, energy and mineral resources, said yesterday. 
"I am trying to float an energy power bond at least for $2 billion," he said at a dislogue at the Khazana Gardenia Grand Hall in the capital's Gulshan.
"Two things we will get from there: finance and branding Bangladesh as an investment destination. If I become successful in raising $2 billion, albeit a small amount given what we need in the power and energy sector, the whole world will be eager to invest in the country."
Earlier on February 27, Tawfiq-e-Elahi Chowdhury, power and energy adviser to the prime minister, had said the government is going to issue bonds amounting to $1 billion soon to raise funds for the power and energy sector.
State Minister Hamid said the country is ensuring returns, handsomely paying back for the power projects. "All the power companies are in a good shape. We want to make our companies more bankable."
He said the government has long ago begun exploration in the deep sea. It has been delayed by the fall in gas prices in the global market.
US company ConocoPhillips, which was awarded offshore blocks, left the country on finding out that the exploration was commercially non-viable.
So, deep sea is quite challenging, he said.
Hamid also added that Chevron—which supplies about half of the gas requirement of the national grid—told the government a year ago that it would not continue its business in Bangladesh and sell its operations.
"Now, Chevron is saying that it wants to invest $300 million." 
The Centre for Policy Dialogue (CPD) organised the dialogue titled "Power and Energy Sector: Immediate Issues and Challenges".
As Bangladesh plans to raise its GDP growth to 10 percent in 2041, the energy ministry plans to see an investment of $71 billion in the sector and produce 60,000 MW of electricity, according to Hamid.
He said Bangladesh needs international oil companies to conduction onshore explorations as the expertise of its own students and engineers has not reached a level where they can find gas on their own. Policymakers thought that Bangladesh is running out of gas but it is still one of the least explored countries, said Badrul Imam, a professor of the department of geology at the University of Dhaka.
"Our exploration process is much lower than many other countries. The thought process of the policymakers is not accurate. We have a lot of gas and we need to explore it."
"We are now depending on gas to cook food, but supply of the gas will gradually erode in the months ahead. Gas cylinder will replace the existing tradition. So, a policy should be formed for the pricing system of the household energy," said Rounaq Jahan, a distinguished fellow of the CPD.
Makbul E Elahi, a former director of Petrobangla, said the energy and mineral resources wing of the ministry had not shown any progress in the last 19 years.
"The government should encourage international oil companies to invest here as there is no scope for carrying out exploration in an easier way."
Energy exploration is highly difficult and international oil companies can do it successfully, he said.
In his presentation, Khondaker Golam Moazzem, research director of the CPD, said future demand for power and energy needs to be addressed based on a master plan.
"For example, the frequent deviation from the plan weakens confidence on government's plans. Efficiency in electricity use needs to be improved as per the plan."
The economist said a proper plan is required in the use of subsidy. Similarly, providing fiscal incentives to particular companies need to be justified.
"The possible debt burden due to setting up costlier power plants as well as meeting the huge import bill for import of raw materials for power plants needs to be taken into account."
Jillur Rahim, managing director of Wartsila Bangladesh, said supply of gas to economic zones and industries at 150 pounds per square inch will enable use of highly efficient modern technology for power generation. 
Sidsel Bleken, ambassador of Norway to Bangladesh; Al Mamun M Atiqul Islam, chief operating officer of Khulna Power Company Ltd; Sajjad Zohir, executive director of Economic Research Group, and Nazrul Islam, senior director of Asia Foundation, also spoke.