Forex market continues to stay under pressure
Situation unlikely to ease in next six months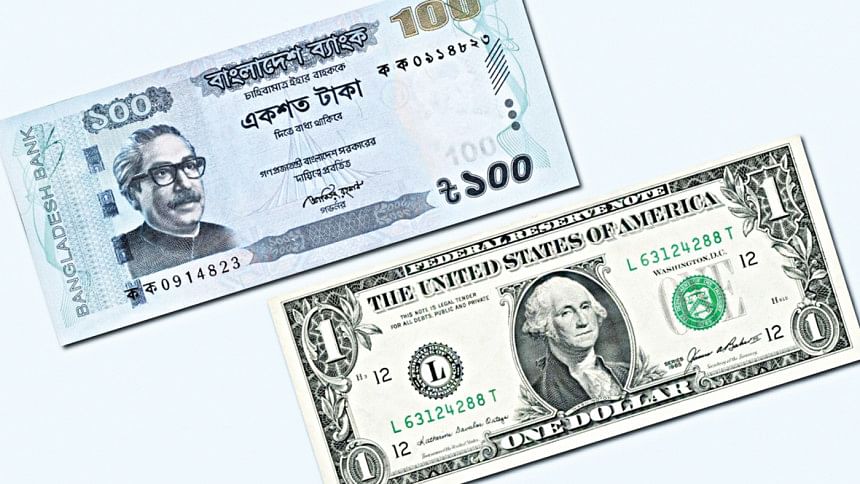 Come January there won't be any volatility in the foreign exchange market -- was the overarching message from the government in the past couple of months. January has arrived, and the situation is dicey as before.
Instead of clawing its way back up, reserves will come down to $32.6 billion after the $1.12 billion payment made to the Asian Clearing Union for imports made from South Asian countries in November and December.
On Tuesday, Bangladesh Bank hiked its dollar selling rate by Tk 1 to Tk 100 for the first time.
"There is no sign of improvement -- there is no seriousness among the policymakers either," said Zahid Hussain, a former lead economist of the World Bank's Dhaka office.
There have been no assured policy measures to arrest the shrinking reserves.
The interest rate cap and the resistance to floating exchange rate continue, Hussain said.
These two steps could have brought corrections in the foreign exchange market, as they would have struck a balance between the demand and supply of dollars.
Imports have been reined in to some extent, the export trend is decent and the remittance inflow is not up to expectations, said Ahsan H Mansur, executive director of Policy Research Institute.
"So, there was no visible impact on the foreign exchange market," he said.
In July, imports stood at $5.9 billion, which increased to $6.8 billion in August. In September and October, imports dropped slightly. In November, it hit $7 billion.
So in the first five months of fiscal 2022-23, imports stood at $32.5 billion, up 4.4 percent year-on-year, according to data from the Bangladesh Bank.
Remittance edged up 1.7 percent in the first half of fiscal 2022-23 to $10.41 billion.
Most victims have said they are not comfortable with filing complaints because they fear their identities will be revealed and they will have to face repercussions, which stands against a fundamental function of the cell -- protecting the victims.
Admittedly, the trade deficit, which is when the country's imports exceed its exports, and the current account deficit, which is when a country sends more money abroad than it receives from abroad, have declined, Hussain said.
"But the financial account has gone negative after many years. The financial account itself needs financing," he said, adding that there is a diversion in the foreign exchange market in the form of capital flight.
The financial account reports foreign ownership of domestic assets and domestic ownership of foreign assets. If it increases, that means foreign money is flowing into the country.
If it decreases, the country's money is flowing into foreign markets -- and that is a situation Bangladesh currently finds itself in.
"Along with hundi, corruption is taking place at banks, so money is being laundered out of Bangladesh," Hussain said, citing the Islami Bank's lending of Tk 7,246 crore to nine non-existent companies as a case in point.
That amount is most likely siphoned out of Bangladesh.
"Corruption like that must be stopped. This is a complicated crisis for the financial sector. In such an unstable situation, people would not get the confidence to send in remittance or foreign direct investment," Hussain added.
So delicate is the situation that some banks are buying dollars for the open market to settle their letters of credit, said Mansur, also the chairman of Brac Bank.
"Exporters are complaining that they have to buy dollars at a higher rate than the one they have sold their export proceeds for. As a result, exporters are holding on to their proceeds and not cashing out. So the situation is actually worsening."
Some banks are unable to open LCs, which is affecting the domestic supply of goods.
"It is difficult to overcome the current crisis over the next six months," said Mansur, also a former economist of the International Monetary Fund.
While the pressure on banks has eased, it is not possible to say in which direction the situation is heading before March, said Syed Mahbubur Rahman, managing director and chief executive officer of Mutual Trust Bank.
"It is good that the trade deficit and current account deficit have narrowed and remittance has increased slightly. But the question is for how long would the trend continue."
Ramadan is coming up, so the imports have already started ticking up, said Rahman, chairman of the Association of Bankers, Bangladesh, a platform of banks' MDs.