Foreign aid budget to be slashed
Commitments outstrip capacity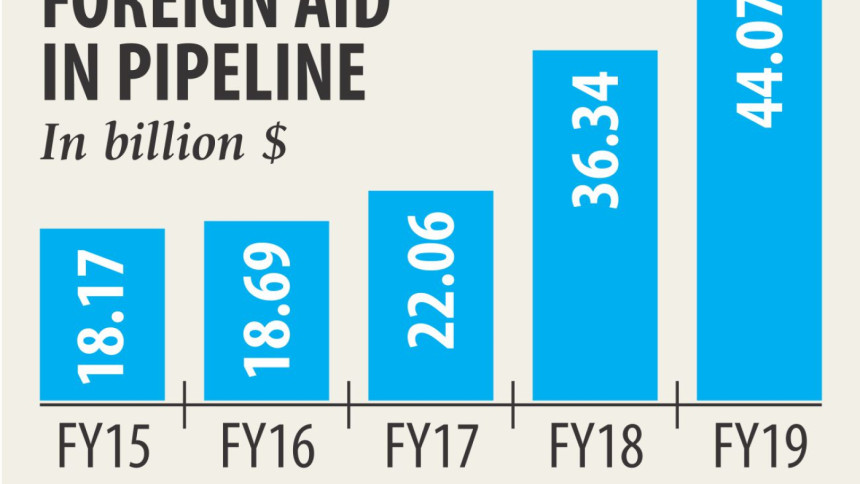 The government is likely to revise down the foreign aid allocation by 15 percent in fiscal 2018-19 -- at a time when there is a record high level of the low-cost fund sitting idle in the pipeline.
The revision comes as the government finds itself unable to keep pace with the rate at which development partner countries are pouring in funds to Bangladesh, encouraged by the country's solid economic growth over the past decade.
Foreign aid allocation would now be Tk 51,000 crore ($6.09 billion), down from Tk 60,000 crore ($7.17 billion) earmarked at the beginning of the fiscal year.
The adjustment came after the Economic Relations Division (ERD) sat down with the ministries and divisions to make out how much foreign aid they would be able to spend in the end.
Of the Tk 9,000 crore shaved off from this fiscal year's foreign aid allocation, Tk 5,000 crore would come from the transport sector as it finds its various mega projects falling behind schedule due to problems in land acquisition.
One such project is the Padma Bridge Rail Link, which has failed to utilise a single paisa from its foreign aid portion in the first five months of fiscal 2018-19.
The project was initially allotted Tk 3,000 crore in foreign aid, but it would now be cut down to Tk 1,300 crore.
"There is a good chance that no foreign fund would be used for the project this fiscal year," said an official of the railways ministry requesting anonymity.
The ministry might also not be able to spend the full foreign aid allocation for the Dohazari to Gundum Railway project and the Karnaphuli River Tunnel project due to land acquisition problems.
Last fiscal year, the ministries and divisions spent a record $6.1 billion, which was double the amount they managed each year between fiscals 2012-13 and 2016-17.
"We will take several measures so that the utilisation of foreign aid can be increased like last fiscal year," said an ERD official.
In the first five months of the fiscal year, utilisation of foreign aid rose 9.36 percent year-on-year to $1.87 billion.
As of November last year, unused foreign aid in the pipeline stood at $48.75 billion, up from $44.51 billion on June 30.
Bangladesh used to receive aid commitments of $1 billion to $2 billion every year until fiscal 2009-10, after which the amount jumped to $5 billion and progressively edged up.
Last fiscal year, the country received foreign aid commitment of $14.86 billion.
In practice, when a loan agreement is signed with a development partner the funds are ready for utilisation right away; the unused portion is added to the pipeline.