Duty exemption doubles in 3yrs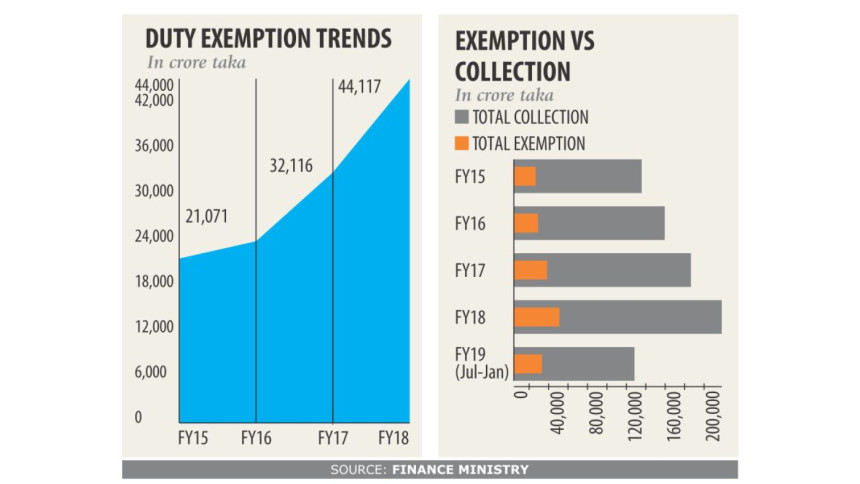 The amount of import duty exemption extended to the industrial sector has doubled in three years, prompting calls for impact assessment of the tax break.
In the fiscal year of 2017-18, Tk 44,117 crore was extended as duty exemption on imports by various industrial sectors, according to data from the finance ministry.
"This is tax expenditure," said Ahsan H Mansur, executive director of the Policy Research Institute (PRI) of Bangladesh.
The government could have spent this money for public purposes.
One of the major reasons behind the slowing revenue growth is exemptions, Mansur said, while calling for restricting tax expenditure to a reasonable level.
"Otherwise, it can continue to proliferate and then create problem for revenue," he added.
Officials said the country would have got the amount as tax had there been no exemption extended on various occasions in the past to sectors such as apparel, textile, pharmaceuticals, poultry, mobile and computer-making, and shipbuilding.
Capital machinery, defence items and industrial raw materials are the top items that enjoyed duty waiver last year.
A good amount of duty is exempted for imports of relief goods, goods brought by diplomatic missions and cars by lawmakers, data showed. 
Officials said the duty lost has been calculated by taking into consideration the rates of tariffs that would have been applicable had there been no exemption.
And the amount of overall tax breaks would be much higher if waiver and holidays in income tax and VAT are taken into account, they said.
The amount of duty exemption for imports was equivalent to 17 percent of the total tax collection in 2014-15. It began to increase from 2016-17 and last fiscal year the ratio stood at 22 percent of total collection.
With growing import payments, duty exemptions have also increased, said Towfiqul Islam Khan, senior research fellow of the Centre for Policy Dialogue.
There should be a clear statement in the budget about the total amount of tax expenditure in the preceding year, Mansur said. "The government should bring it to the notice of parliamentarians how much it is really spending on these areas. Second, the government should specify how much new tax expenditures would be for proposed tax breaks."
Each item of tax expenditure should be quantified to estimate the revenue loss. "Otherwise, this will remain completely outside the limelight."
If the data is made public, all including the government, lawmakers and others will be aware of the tax expenditure resulting from various exemptions, Mansur said. "Right now, there is simply no awareness on this matter," said Mansur, a former economist of the International Monetary Fund.
Often in Bangladesh tax exemptions are granted without adequate scrutiny and understanding the costs and benefits, Khan said. "In view of Bangladesh's low tax-GDP ratio, it is critical that these tax exemptions are thoroughly revisited," he added. Mansur went on to call for an assessment of tax exemption given to every sector and an impact assessment on industrialisation every three years. 
"There should be a policy on which sectors should be given tax benefits and for how many years. But we have nothing of that sort," Mansur added. The amount of tariff exemption at import stage was Tk 27,108 crore, or 23 percent of the total tax collection, in the first seven months of the fiscal year.