DSE turnover up 15pc backed by nine stocks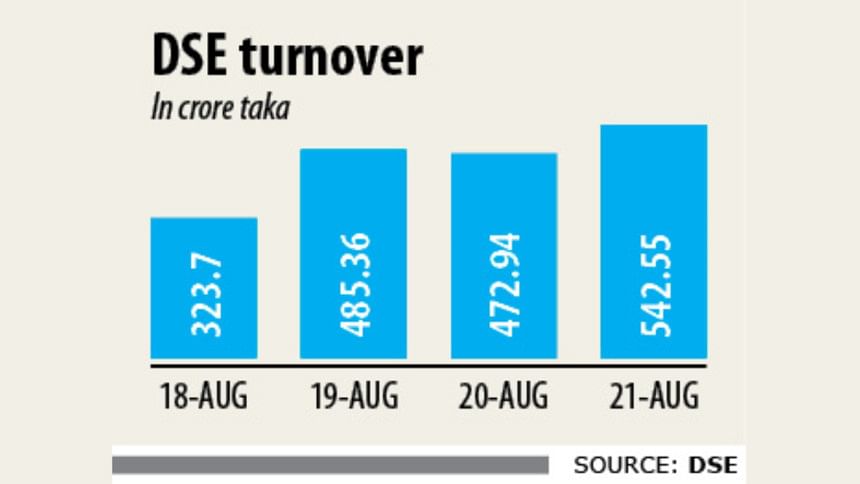 Turnover at Dhaka bourse jumped 14.72 percent yesterday riding on the price rise of nine companies which accounted for around 37.26 percent of the total amount changed hands.  
Some Tk 202.17 crore of the day's turnover of Tk 542.55 crore, up from Tk 472.94 crore on Tuesday, came from the nine.
They are United Power Generation, Orion Infusion, Fortune Shoes, JMI Syringes and Medical Devices, Bangladesh Shipping Corporation, Monno Ceramic Industries, Beacon Pharmaceuticals, Khulna Power Company and Silco Pharmaceuticals.
Industry experts attributed the rise to the stocks of United Power, which attracted Tk 67.83 crore, almost four times higher than their regular turnover.
A rumour that the company's earnings would grow prompted investors to rush into purchasing its shares in large numbers, said a top official of a leading merchant bank.
He said the company's turnover has been rising for the last couple of days.
The market has been at low levels after the Eid-ul-Azha break which encouraged investors to put in money and take a position, another merchant banker said.
The DSE's benchmark index, the DSEX, declined 4.08 points or 0.07 percent to close at 5,223.41.
Among the major sectors, fuel and power increased 0.67 percent and textile 0.33 percent while general insurance fell 0.37 percent, pharmaceuticals 0.3 percent, and banks 0.28 percent.
RAK Ceramics was the day's best performer with a 10 percent gain while Emerald Oil was the biggest loser, shedding 6 percent.
Losers outnumbered gainers by 1,974 to 123 while 37 securities remained unchanged.
The key index of the port city bourse also rose by 3.4 points, finishing the day at 9,699.45.
Chittagong Stock Exchange traded 93.78 crore shares and mutual fund units worth

Tk 21.21 crore.