Digital cattle market for all Eid needs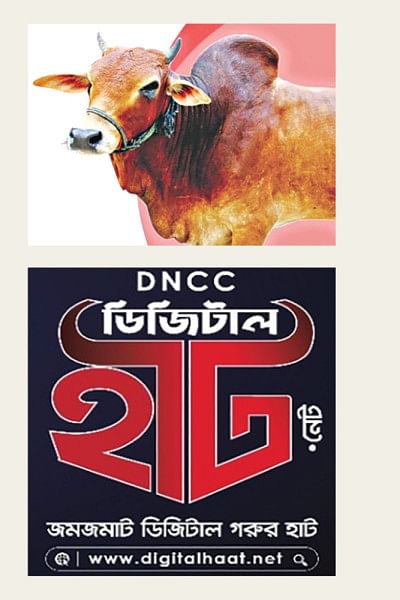 Government agencies and e-commerce businesses have joined hands to introduce a digital platform, where customers can purchase sacrificial animals as well as slaughtering and delivery services, in a bid to maintain public health guidelines on Eid-ul-Azha amid the ongoing coronavirus pandemic.
"This year's situation is not like that of previous festivals and so, a good number of customers will try to buy their sacrificial animals online and would prefer a complete package, including slaughtering and delivery," said Md Abdul Wahed Tomal, general secretary of the e-Commerce Association of Bangladesh (e-CAB).
The joint initiative, featuring the Dhaka North City Corporation, Information and Communication Technology (ICT) Division, e-CAB and Bangladesh Dairy Farmers' Association (BDFA), was launched yesterday under the title 'Digital Haat'.
This is the single largest online cattle market of its kind with all similar private initiatives also being linked to the website, according to organisers.
Initially, an estimated three to four thousand sacrificial animals will be sold through the platform, half of which will include slaughtering and meat processing services, Tomal said.
"Orders will be taken till July 20 depending on demand and supply," he added.
The response has been huge as a fair number of cattle traders have already registered themselves on the platform.
Organisers plan to accept orders with a 25 per cent down payment.
E-CAB will be responsible for delivering the animal to the buyer ahead of the day of sacrifice.
Dhaka North City Corporation's Mayor Atiqul Islam said that five locations have been pre-selected as places for slaughter while new sites are also being considered.
According to initial plans, 400 cattle will be slaughtered on the first day of Qurbani while 1,000 will be sacrificed on the second day and another 600 on the third, Islam added.
All payments will be made digitally while the postal department's digital financial service, Nagad, is offering a 1 per cent discount on payments made through their channel.
The platform was inaugurated by Local Government, Rural Development and Co-operatives Minister Md Tazul Islam during an online ceremony.
Commerce Minister Tipu Munshi, Fisheries and Livestock Minister SM Rezaul Karim, State Minister for ICT Division Zunaid Ahmed Palak and FBCCI President Sheikh Fazle Fahim also attended the event.
E-CAB President Shomi Kaiser and BDFA President Mohammad Imran Hossain also spoke on the occasion.