Concord excited about govt move to phase out clay bricks
The realtor is a pioneer of the environment-friendly hollow block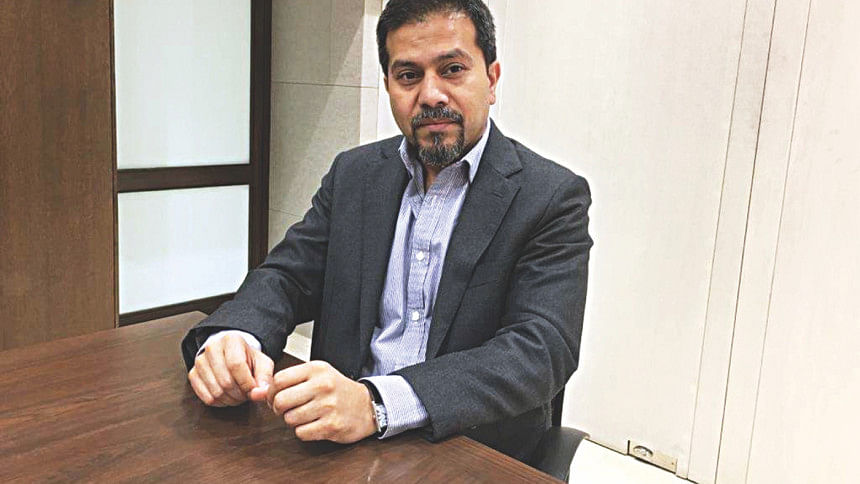 The government move to make the use of blocks mandatory in public construction will boost manufacturing of environment-friendly construction materials and encourage private businesses to invest in the sector, said the chief of a top realtor.
"It is very good starting point," Shahriar Kamal, managing director of Concord Group of Companies, told The Daily Star in an interview recently.
The reason being, before this people could not understand how serious the government was about the switch from the environmentally harmful fire-burnt clay bricks.
Last month, the ministry of environment, forest and climate change directed state-agencies to begin the use of blocks -- which are made up of sand, cement fly ash or materials other than clay -- in public construction from this fiscal year.
Public agencies will have to use blocks to build and repair walls of buildings, surrounding walls, herringbone bond road and rural passages in place of bricks, which use valuable topsoil as raw material.
To start off, the ratio of bricks to blocks would be 9:1. From next fiscal year, the ratio of use of blocks will increase to 20 percent and increase gradually to completely phase out fire burnt clay bricks by 2024-2025.
"The government has given a clear indication of how much demand it will create. Now, business will come to this industry on their own."
With 10 concerns spanning from real estate, constriction, entertainment, hospitality and garments, Concord is one of the largest real estate, engineering & construction entities in Bangladesh.
The company began operation in 1973 and has so far completed more than 1,000 buildings and constructed various projects that are technically challenging ones.
It has constructed the National Martyrs' Memorial in Savar, the VVIP terminal of the Hazrat Shahjalal International Airport and the first three high-rise buildings in Dhaka's commercial hub Motijheel: Bangladesh Shilpa Bank Bhaban, Janata Bhaban and Jiban Bima Tower.
Concord has handed more than 10,000 apartments, including a township project called 'Lake City Concord' in Khilgaon, Dhaka.
It used blocks for constructing building in the township project consisting of more than 4,000 apartments, according to its website.
"Concord is a pioneer in environment friendly building materials manufacturing," Kamal said.
The company began making ready-mix concrete in mid 1980s and signed up for making hollow blocks, pavers and other blocks in 1998, when clay bricks burnt in traditional fixed chimney kilns was the only available product for construction.
The chimney kilns release large quantities of carbon dioxide and other environmental pollutants into the atmosphere.
The actual number of brick kilns in Bangladesh and the bricks they spit out is hard to come by. The number of kilns will be between 7,000 and 10,000, manufacturing 2,100 crore to 4,300 crore units of bricks annually, said trade bodies representing brick makers in mid-December.
"We could realise that there are serious negative factors to clay bricks," said Kamal.
He cited reports of Dhaka's terrible air quality and said brick kilns are sources of 58 percent of all the fine-particulate air pollution in the capital and the situation becomes worse in dry season.
The kilns emit huge green-house gas and affects farmland. Air pollution might cause 5,000 premature death annually in the Dhaka city, he said.
In contrast, hollow blocks are environment friendly: no topsoil or coal is needed to make and burn them, so there is no CO2 emission.
On the other hand, one clay brick consumes 3.2 kilograms of topsoil and eight kilograms of coal and one square foot of such brick causes emission of 17.6 kilogram of CO2, according to Concord.
Blocks also absorb less water than clay bricks and its use makes construction faster than clay bricks.
"Due to its ductile, lightweight properties, concrete hollow blocks make structures more earthquake resistant. It is also more heat and sound resistant than clay bricks because of existence of void in the block."
Finally, overall cost of construction is much cheaper. If hollow blocks are used, total construction cost falls almost 10 times, he said.
"This is environmentally much superior and has a lot of advantage."
Despite the obvious advantages, it was not easy for Concord to popularise hollow blocks: one company is not sufficient to bring a complete shift in an industry without government's support and direction.
"We tried. But it was difficult to make people aware of the environmental issues, which will affect them later." It was also difficult to educate people about the use of blocks. Plus, masons were not trained to use the materials.
"Now, that awareness has grown and the government has taken some visionary steps we are hoping that there will be a positive result in the near future."
Today, 50-60 private firms make blocks, according to Kamal.
Concord is one of the biggest makers of hollow blocks, and it has the capacity to make 45,000 units of hollow blocks, 60,000 uni-pavers and 2,000 parking tiles daily.
After the realtor began making blocks it used them to construct more than 200 buildings.
"It saved a lot of topsoil. Several developers are also using blocks now."
The demand for block is growing slowly but it is still negligible.
The main reason behind this is the lack of awareness," he said, adding that the government's step to completely come out from clay bricks for construction would increase the demand for blocks.
"Definitely, this will create a lot of demand but we should know the experiences of our neighbouring countries including India and Pakistan," he said, adding that China began the process of shifting from bricks 30 years ago and India began with its last 15-year plan.
They took short-term, medium term and long-term goals to come out from firebricks to alternative, environment friendly bricks and blocks.
There are a number of environment friendly alternative materials for construction in those countries and they term the materials as resource-efficient bricks, he said.
For Bangladesh, Kamal said the government should strictly enforce policies regarding brick kilns to control pollution and phase-out highly pollutant brick kilns.
In addition, emphasis should be given on research and development to identify resource-efficient bricks and building materials for Bangladesh, awareness creation on the use of environment friendly blocks and bricks.
A long-term policy or roadmap should be framed focusing on: research, strengthening the Housing & Building Research Institute, establishing mason training institute, reducing pollution and making brick kilns efficient, and giving incentives to brick field owners so that they themselves switch away from clay bricks and towards green bricks or blocks.
Providing financial incentives will also encourage investment for making resource-efficient blocks or other green products, he said.
More private entrepreneurs will come to this field if the government provides soft terms and tax benefit.
And because of entry of big companies, there will be competition in the segment.
"So the prices of blocks will drop and the quality will improve."
Huge investment would be needed to meet the demand for blocks in the coming years following the government decision, Kamal said.