Collaboration to accelerate RMG wage digitalisation: study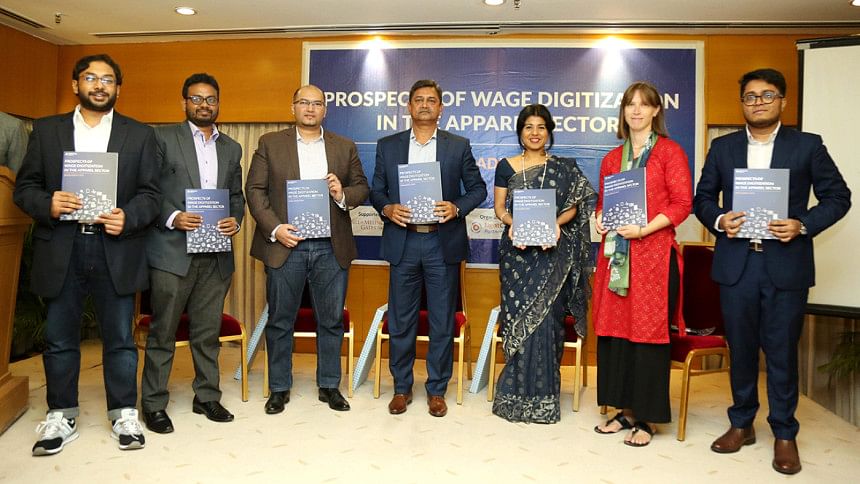 Some 82 percent of the apparel factory owners will digitise wage disbursement if it assures transparency, saves time and lowers complexities, a recent study found.
The factory owners face multiple challenges with cash-based disbursements, the most pertinent of which is risks of transporting Tk 15-20 crore every month, found the study styled 'Prospects of wage digitisation in the apparel sector | Bangladesh 2019'.
The findings of the study conducted by consulting firm LightCastle Partners was unveiled yesterday at the capital's Six Seasons Hotel.
Losses caused by management malpractices and presence of fake and damaged notes are the other problems.
Roughly a million apparel workers are now digitally receiving salaries from factories such as Noman Group, DBL Group and Mohammadi Group.
The challenge is to accelerate the adoption from the current 200 to 250 factories to the over 2,500 factories.
The study, which engaged around 40 management professionals and owners from the apparel sector, recommended greater collaboration between buyers, suppliers, digital financial service providers, government agencies and industry associations to accelerate wage digitisation.
Of the factories, 50 percent were using a banking system to disburse salaries, 30 percent mobile financial service (MFS) and 20 percent were found doing it in cash.
Of the total, 70 percent were paying wages in a hybrid model of either banking plus cash or cash plus MFS.
The report, however, found 82.5 percent of the digitised factories were saving a significant amount of time during wage analysis and salary disbursement.
Factory management stated that digitised platforms provide 60 percent less complexities over manual ones alongside real-time data, seamless monitoring and reviewing and in recording variable component of salaries on top of the government mandated base, allowing sounder decision-making.
The digital financial service providers need to expand the ecosystem to increase adoption among workers while factories must have enough options to digitise at a realistic rate with a service provider that suits them, according to the report.
Digital advocates among large suppliers and hosting platforms for knowledge sharing are required alongside training for workers on tech literacy by stakeholders to make a smoother transition.
Sheikh Md Monirul Islam, chief external and corporate affairs officer of bKash, said they helped 180 factories to digitise in the last two years to benefit over 200,000 workers.
Moreover, bKash itself bears the 1.85 percent transaction charge in 90 percent of the factories while jointly with the factory owners in the rest, meaning workers do not lose any money while availing the services, he said.
The ICT ministry and Bangladesh Garment Manufacturers and Exporters Association recently signed a preliminary agreemnet to create and launch a digital payment gateway within a few months, said Tina F Jabeen, investment adviser of ICT Division's Startup Bangladesh.
This will allow workers to access their cash through an app alongside connecting merchant and banking networks, startups and service providers, she said. 
Mashook Mujib Chowdhury, deputy manager for sustainability at DBL Group, gave a presentation on some of the problems they were facing when adopting wage digitisation.
Amer Salim, group director of Knit Asia, and David Hasanat, CEO of Viyellatex Group, also spoke at the programme.