Ceramic and steel manufacturers not far behind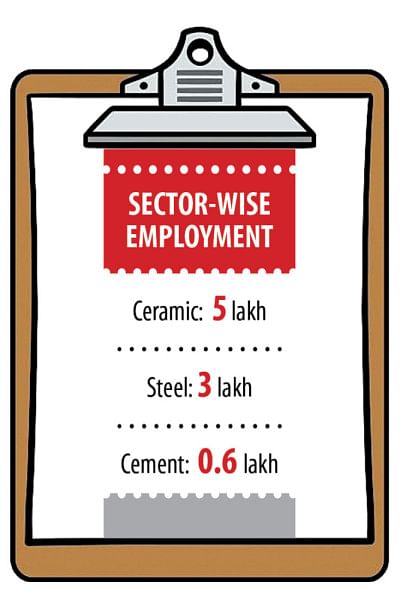 There is an Ethiopian folk tale of a man who survived a cold night naked on a mountaintop merely by staying transfixed at a distant fire.
Hope is undoubtedly a lifesaver. And Bangladesh's cement, steel and, to some extent, ceramic manufacturers have lit such a beacon.
Amidst all the apprehensions centring redundancy ringing throughout economies around the world, the former two have assured retaining jobs "at any cost" while the latter at least for two months.
This is surely a commendable move, given that these three sectors directly employ 8.6 lakh people.
To bring things into perspective, this is a fifth of those engaged in the garment industry, the country's biggest export earner.
These three major sectors play a huge role in the country's infrastructure development and in saving foreign currency by catering to domestic demand.
"We will not go for layoffs," said Mohammed Amirul Haque, managing director of Premier Cement.
The cement sector directly employs about 60,000 and enables indirect employment for another million.
"We will save workers and staff at any cost in the greater interest of the business," said Tanvir Ahmed, managing director of Sheltech Group.
This is surely a big commitment, considering that the entity has recently entered the market with the "Sheltech Ceramic" brand.
The group invested about Tk 850 crore and installed fully automated European equipment with a statement to provide tiles of the highest international standard.
Ahmed said he was providing salaries diverting funds from the group's other ventures.
Under the current circumstances, financial institutions such as banks should provide interest-free capital for the next two quarters for continuity in operations of the ceramic industry.
Ahmed also proposed that the government allow deferred utility bill payment for the next one year while ensuring uninterrupted connections.
The ceramic sector has 68 active factories manufacturing sanitaryware, tableware and tiles and employing five lakh people directly, Shirajul Islam Mollah, president of the Bangladesh Ceramic Manufacturers and Exporters Association.
Employees are going through uncertainties over earning their bread and butter due to a lack of sales and production.
"If we can't generate revenue and continue production, how will we provide salaries over the months? We can provide salaries for one or two months from our personal deposits but it is not possible to continue this for long. We don't wish to terminate jobs as it is a cruel thing to do."
According to him, the sector needs at least Tk 1,000 crore in support from the government to tackle the situation.
Like ceramic and cement manufacturers, those of the steel industry are bracing for massive losses as the coronavirus pandemic has disrupted the import of raw materials and production -- a development that will also deal a blow to the real estate and infrastructure projects.
The steel sector is likely to face Tk 4,000 crore in losses, said Manwar Hossain, president of the Bangladesh Steel Mills Owners Association. 
"We are accepting this loss and will keep all workers and staff in their jobs," he said.
The country has about 40 active manufacturers, who can manufacture nine million tonnes of steel a year and generated three lakh direct jobs.
Hossain believes that the government would extend cooperation in tackling the crisis.
"If that is not the case, uncertainty will befall hundreds of thousands of staff and workers along with the businesses."