BPO showing great promise
The sector grew 20pc year-on-year in 2018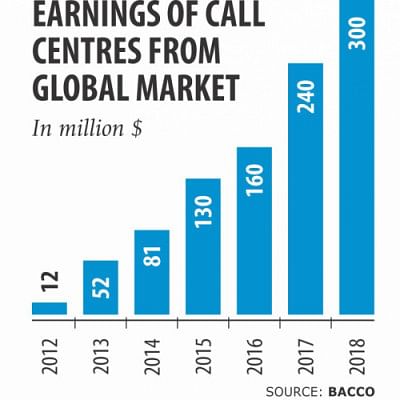 The business process outsourcing (BPO) sector grew 20 percent year-on-year to about $300 million last year riding on a few government services, said industry insiders.
In recent times, the National Board of Revenue has opened up its back office to the private sector, said Wahidur Rahman Sharif, president of the Bangladesh Association of Call Centre and Outsourcing (BACCO).
Although the private sector is running the popular government calling services 999 and 333, there are other call-based services that have not been offered to it yet, Sharif said.
"The banking sector also holds great potential for the BPO sector."
Most of the banks are now running their own call centres and are not getting much response from their customers.
"But if the BPOs get this job the service level will increase definitely," Sharif said, adding that the BACCO is now lobbying with the central bank to open this segment to the BPOs.
The BPOs' expertise might reduce the banks' costs too, according to Sharif, also the owner of Digicon Technologies, a leading BPO in Bangladesh.
In 2018, the BPO industry earned about $300 million.
Of the international work orders, most come from North American brands to maintain their back office.
The local market is huge and it will hit the $1 billion-mark soon, said Towhid Hossain, secretary general of the BACCO.
"We need to explore it," said Hossain, one of the leading entrepreneurs of the sector.
Currently, more than 40,000 young people work in about 100 BPO companies.
By 2021, the sector is expected to employ 100,000, according to Hossain.
However, the sector also faces some challenges, especially when it comes to skilled human resources. When the business idea was first introduced in 2008, the sector made only $4 million in revenues.
Many companies took licences from the telecom regulator then, but most of them closed operations later. This led Bangladesh Telecommunication Regulatory Commission to bring in changes to some of its rules for the sake of the sector's survival, Hossain said.
As a result, the sector's earnings have increased more than 17 times since 2012, when it was only $12 million.
To enhance the market, the BACCO and the government are organising major events like BPO Summits.
The government has also sponsored a tour of BACCO leaders to the Philippines, the most successful BPO nation.
In the meantime, the government has formed a high-powered committee to help the outsourcing industry to meet its export target of $1 billion by 2021.
The committee will work under the information communication division though the BTRC was previously handling the sector's issues.