From bottomless basket to a role model
A history of Bangladesh's banking sector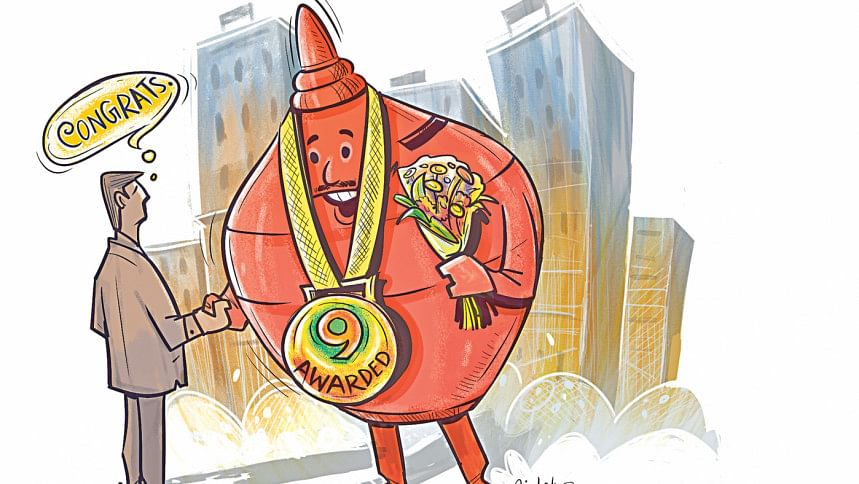 Bangladesh's economy has gone from a basket case to being a model case study for economic development across the globe.
It is widely known that the country was termed a bottomless basket in 1971 by US President Richard Nixon's national security adviser Henry Kissinger.
But Bangladesh has interestingly proved the comment false by managing outstanding economic growth in recent decades.  
Kaushik Basu, a former chief economist of the World Bank, said in an article that the country's economy has grown at a pace that beat all expectations.
The per capital income of Bangladesh jumped to $2,824 in the last fiscal year in contrast of $120 just after independence, a development that has given an indication of the country's economic progress.
However, it is not possible to ensure economic growth without adequate funds.
So, there is a logical question regarding which channels played major roles in spurring the economic growth in Bangladesh.
If anyone looks at the financial sector, businesses have largely taken their funds from banks to set up industries in absence of vibrant bond and capital markets in the country.
Although the banking sector has been facing criticism from different corners in recent years owing to a lack of corporate governance, no one can ignore the role of the banking sector in boosting the economy.
Private sectors of developed nations can usually mobilise funds from bond and capital markets in tandem with banks, but this narrative has not prevailed in Bangladesh.
Shah Md Ahsan Habib, a professor of the Bangladesh Institute of Banking Management, said the Bangladesh economy has clear overdependence on the banking industry, which caters to almost all short-term, medium-term, and long-term financing needs.
Besides, stakeholders have huge expectations from the banking industry due to the inadequacy of alternative sources of financing in the country, he added.
However, the restructuring process of the banking sector after independence was not an easy task.
DEVELOPMENT OF BANKING SECTOR IN BANGLADESH
After independence, Bangladesh took over a vulnerable banking system consisting of two Bangladeshi banks with 155 branches, 10 Pakistani banks with 920 branches, and 3 foreign banks with 14 branches.
The government then took initiative to restructure the local and Pakistani banks.
Restructuring the banking sector faced difficulties during the period thanks to the fragile economic condition of the country.
The local and Pakistani lenders were restructured into six nationalised banks -- Sonali, Agrani, Janata, Rupali, Pubali and Uttara Bank. The number of bank branches was only 1,116 while the amount of both deposits and loans in banks were less than Tk 1,000 crore in 1972. The total number of banks in the country now stands at 61 with the amount of deposit and loans escalating to Tk 1,350,433 crore and Tk 1,521,265 crore respectively.
The number of bank branches has also increased to around 11,000 at present.
Anis A Khan, a former managing director of Mutual Trust Bank, said the economy is growing stronger when measured by macroeconomic factors and is proceeding well to be among the first thirty largest economies of the world.
"And along this exciting journey, banks and financial institutions have been an integral part of this wonderful development story," he said.
"Independence saw us bereft of banking assets as the Pakistani banks then operating here had taken away all they could before the surrender of the Pakistani forces," Khan added.
However, Bangladesh has turned the situation around with excellence.
The adoption of technology has transformed some banks into highly sophisticated institutions offering state of the art ATMs, cash recycling machines, internet banking facilitating instant transfers, credit cards and more.
"Financial inclusion has resulted in banking services percolating down to our hard-working farmers, small and medium enterprises (SMEs), female entrepreneurs, green product financing and more," Khan said, adding that Bangladeshi banks even have products for school-children and less privileged people.
The outstanding loans disbursed by banks and non-bank financial institutions to SMEs stood at Tk 259,704 crore as of March this year. This has helped create new entrepreneurs across the country.
The expansion of SMEs has changed the landscape of the economy to a large extent in the last one decade by generating a huge number of employment opportunities.
On top of that, the banking sector has been relentlessly providing funds to the agriculture sector, giving a great boost to the rural economy. The outstanding loans in the farm sector stood at Tk 49,802 crore as of June this year.
Banks are also providing job opportunities for the country's youths graduating from local educational institutions, affording them and their families a better standard of living.
The number of total employees in the banking sector stood at 1.88 lakh as of December last year.
Besides, the corporate social responsibility (CSR) programmes of banks now range from flood and cyclone relief to scholarships for bright but poor students, and so much more.    
Banks have also emerged as one of the highest tax-payers in the country, helping the government spend money in budgeted areas.
"In sum, it can be said that banks are the fabric of the nation's quest for becoming a middle-income country, which will usher in a better quality of life for its citizens," Khan said.
WHERE WE ARE
Bangladesh's economy registered an average growth of 6.89 per cent between FY 2008-09 and FY 2018-19 compared to 3.79 per cent during the first decade after independence. The GDP growth stood at 6.94 per cent in the last fiscal year.
Bangladesh's capacity to produce rice has also increased very fast as it had produced around 3.80 crore tonnes of the staple crop in FY 2021-22.
The country had produced 1.08 crore tonnes of rice in 1972, when the population was estimated to be around 7 crore.
Bangladesh increased its production capacity in keeping with the rising population.
The average life expectancy in Bangladesh is now 73 years, higher than in India (70 years) and Pakistan (68 years).
In terms of adult literacy, Bangladesh at 73.9 per cent is far ahead of Pakistan at 59.1 per cent and close to India at 74.4 per cent.
In his article, styled "The Bangladesh Economy Navigating the Turning Point", former World Bank economist Basu said the fact that the local economy would be a cause for celebration at 50 was previously unthinkable.
The sudden withdrawal of businesses from Bangladesh at the time of independence had left an entrepreneurial vacuum in the 1970s.
This had to be filled by new local talents, and the country has seen small businesses flourish ever since.
"Now, with the higher level of investment available, these businesses are becoming more productive. But this in itself would not be enough," Basu said.
This means Bangladesh will need more investment in the days ahead, but it is not possible for the banking sector alone to fulfil the growing demand for funds.
Professor Habib of the Bangladesh Institute of Banking Management says Bangladesh needs desperate efforts to develop the bond and capital markets to reduce over-dependence on the local banking sector.