Bangladesh role model for developing nations
Says Ban Ki-moon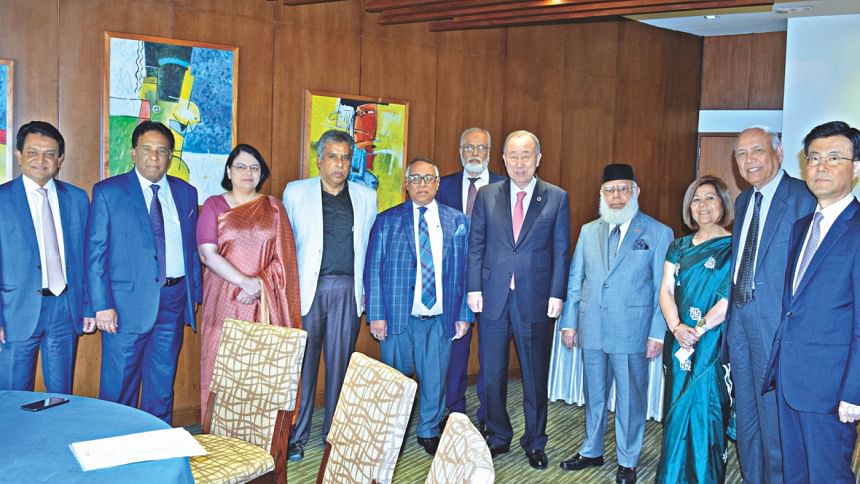 Bangladesh is considered as a role model for other developing economies in achieving sustainable development, said former United Nations secretary-general Ban Ki-moon.
He praised Bangladesh for clocking more than 8 percent economic growth.
Ban spoke at a meeting with the members of the International Chamber of Commerce Bangladesh (ICCB) at the Radisson hotel in Dhaka on Saturday, the chamber said in a statement.
Ban, also the chairman of the Global Commission on Adaptation, cautioned about the global effects of climate change and hoped that the world leaders would make an all-out effort in tackling global emission.
He praised the ICC for working with the UN systems to achieve the 2030 Agenda.
ICCB President Mahbubur Rahman briefed him about the activities of the ICC and also the activities of the local chapter of the Paris-based organisation.
Rahman thanked Ban for taking the initiative that granted the observer status to the ICC in December 2016. This was the first time a business organisation was admitted as an observer at the UN General Assembly.
He also briefed the former UN chief on the forthcoming Asia Pacific Conference on Financing Inclusive and Sustainable Development scheduled to be held in Dhaka on December 10-12 in order to celebrate the ICC's global centenary and the silver jubilee of the ICCB.
ICCB Vice President Rokia Afzal Rahman and executive board members Aftab ul Islam, AK Azad, Md Fazlul Hoque and Mir Nasir Hossain and Secretary General Ataur Rahman were present. 
Nihad Kabir, president of the Metropolitan Chamber of Commerce and Industry in Dhaka, and Jahangir Saadat, president of Korean EPZ Corporation,  were also present.