50 Years of Bangladesh: A role model in the humanitarian and development sector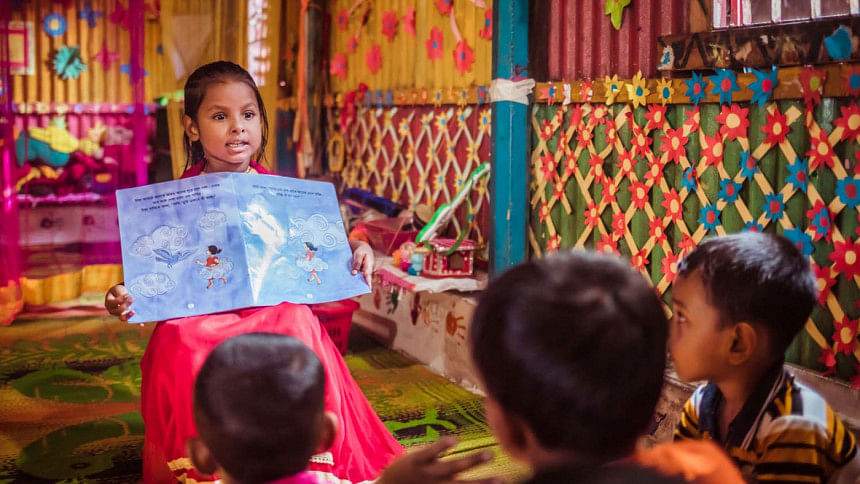 In the last 50 years, Bangladesh has emerged as a role model for developing countries around the world. From incredible economic growth to vast strides in education and public health, to major contributions in culture and sports, Bangladesh has transformed into not just a leader amongst countries in the global South, but a truly global player. Since its independence, leaders from several different sectors have come together to create collective value for the country. During this time of celebration on the occasion of the anniversary of Bangladesh, all these sectors will receive well-deserved praise. However, today, I want to focus on a less visible area where Bangladesh is emerging as a global leader—the humanitarian and development sector.
There are several humanitarian and development actors who helped Bangladesh grow to where it is today, including the Grameen Bank and others. However, one visionary leader, Sir Fazle Hasan Abed, was among the first to turn outwards and help bring Bangladeshi innovation to the world. BRAC, the development organisation Sir Abed founded just after independence, is now not only a leader in Bangladesh, where it continues to support and uplift the poorest and most vulnerable, but is also a global leader in the humanitarian and development sector. BRAC now works in 10 countries across Asia and Africa, bringing the same proven innovations it developed in Bangladesh to people in need around the world.
BRAC built a name for itself by developing new innovations in health, microfinance, education and several other fields, and developing systems to bring those innovations to scale. Through collaboration with local communities, continued testing and measurement, and partnership with resource and knowledge partners in the global North, BRAC was able to develop and implement some of the most radically transformative poverty alleviation programmes in the world. These same programmes are still running today, changing lives wherever they are implemented.
One such innovation has been the Ultra-Poor Graduation Approach. Developed with the leadership of local communities in Bangladesh and then proven impactful through intensive measurements around the world, this has been heralded as one of the first scalable solutions proven to break the poverty trap. BRAC and its partners/peers are now bringing the Graduation approach to the world, helping other governments and organisations implement Graduation programmes in over 40 countries.
There is no doubt that Bangladesh's early investment in its youth and education has helped it progress to the nation it is today. Similarly, BRAC's low-cost non-formal primary education model, which helped expand education access across rural Bangladesh, has also proven very effective at reaching out-of-school children, especially girls, in other countries. Currently, BRAC is running schools in Afghanistan, the Philippines and Uganda, which are all proving to be low cost, locally compatible and very effective. Right now, the Mindanao regional government in the Philippines is taking up this model on its own, utilising BRAC as the main technical advisor.
BRAC's play-based Early Childhood Development model has proven remarkably effective, even in the most challenging contexts as well as in stable communities. In the Rohingya refugee camps, BRAC Play-Labs have captured the local games, language, toys and culture, with the philosophy of promoting healing, learning needs and growth to support children in very difficult circumstances. These learnings have helped expand Play Labs to children in Tanzania, Uganda, and others. Even through the Covid-19 pandemic, new technologies and approaches, like utilising local radio stations, have allowed us to continue to reach children in their homes and ensure they don't miss out on this critical developmental period. Additionally, in six countries where BRAC has been running its microfinance programme, it is now adding products like agriculture extension loans and loans focused on youth and adolescents.
Historically, NGO development programmes have been run the world over by Western and Northern actors. With the growing influence of Bangladesh, we have now established a Southern model for development, where Southern innovation and values are promoted. Currently, 160 Bangladeshis are working and playing leadership roles in their own areas of disciplines in 10 countries around the world for BRAC, supporting those countries to grow in their own right.
This Southern approach to uplifting the poorest and most marginalised among us is a radical transformation in the humanitarian and development sector, and impacts the lives of not only Bangladeshis, but people all over the world. Bangladesh should be just as proud of its accomplishments in the development sector and celebrate its role as a leader in Southern innovation as much as it celebrates its cricket team.
Dr Muhammad Musa is the Executive Director at BRAC International.