Bogura handicrafts makers hit hard by back-to-back natural disasters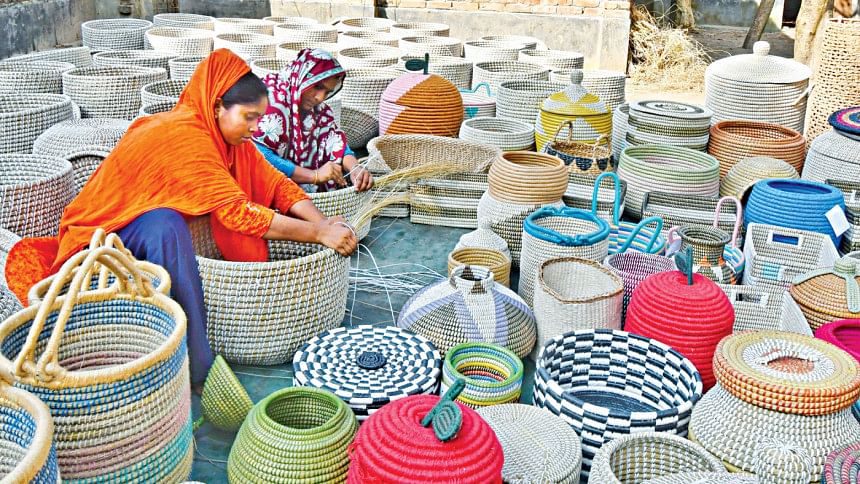 The spiralling prices of raw materials have been taking a heavy toll on the handicrafts makers in Bogura, as the Covid-19 outbreak, incessant rain and the fourth spell of flood have destroyed the whole supply chain in the district.
Businesses in the district now have to spend three times higher to purchase sea grass and kans grass—two most widely used raw materials in the region—to produce different items, including rugs, bags, bucket and furniture.
"Every year, we need at least 4-5 lakhs bundles of kans grass for our Hapunia village factory in Sherpur," said Saiful Islam, manager of Classical Handmade Products BD in Bogura.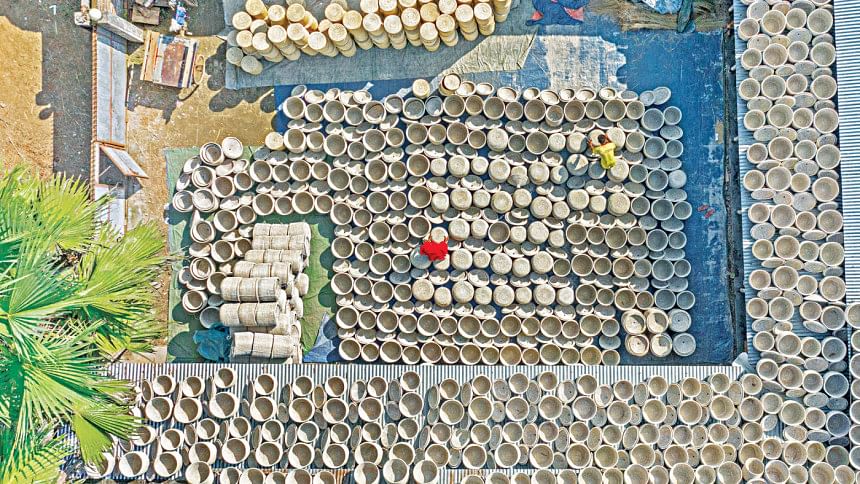 "But this year we could hardly collect 2.4 lakh bundles, as the three natural disasters that came one after another have damaged a huge amount of the grass."
The company spent Tk 5 last year to buy each bundle of kans grass, which are naturally grown in the char areas.
"But this year the prices of each bundle went as high as Tk 13."
Classical Handmade could not collect kans grass for two months since March as it had to keep its factory shut for the pandemic.
After that the rains and flood came and damaged the grass in the char area before harvesting, he said.
"Now, we have money, but there is no kans grass to buy."
Bogura has eight handicrafts factory with which around 12,000 artisans are directly or indirectly involved, and handicrafts worth over Tk 150 crore are exported from the district a year.
In Bangladesh, out of the 400 handicraft manufacturers, around 100 produce handicrafts from sea grass, kans grass, jute, palm leaves, date leaves, banana fibre and some have recently started making the products with pineapple fibres.
In 2019-20 fiscal year, Bangladesh earned $20.52 million by exporting handicrafts products abroad, according to the Export Promotion Bureau.
"I used to sell each bundle of kans grass at Tk 4 before the coronavirus hit Bangladesh," said Sariful Islam, a local grass trader of Bogura's Dhunat upazila.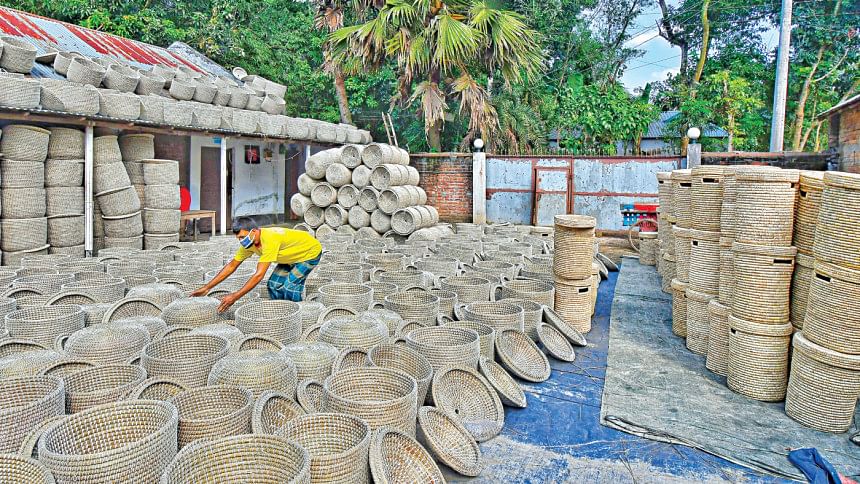 "But now I have to sell at Tk 12 a bundle to cover up the losses I incurred in the last seven months."
Islam could not find buyers for the grass he collected in March, as most of the factories were closed complying with the countrywide shutdown announced by the government.
"Most of my kans grass got damaged under the open sky. Later, the Jamuna River overflowed and destroyed the rest of my grass, as they shrunk after remaining under the water for months."
"After all these when the factories reopened, I had to sell the rest of my grass at three times higher prices to earn my living."
Abul Khayer Lato, a local sea grass trader of the Noakhali sadar upazila, said this year he also had to incur huge losses as he could not prepare his collected grass for sale due to continuous rains.
"Floods also restricted me from harvesting the grass in time, which are normally grown beside the rivers in Noakhali and Barishal," said Lato, who supplies raw material to leading handicraft exporters like BD Creation, Classical Handmade Products BD and Sun Trade.
Repeated floods have also disturbed the harvesting of jute, another popular raw material for handicrafts, said Golam Ahsan, owner of Sun Trade.
Last year, the price of the raw jute was Tk 1,800-2,200 a maund, which went up to Tk 3,000-3,500 this year, he said.
"I had cultivated jute in 10 bighas of land in the Jamuna's char area. The prolonged flood destroyed eight bighas of jute, and I could only harvest two bighas of immature jute, which I sold at Tk 3,000 per maund recently," said Anowar Ali, a farmer of the Bogura's Sariakandi upazila.
This year, around 12,563 hectares of jute worth Tk 101.74 crore got damaged in Bogura, Sirajganj and Pabna districts, according to data of the Department of Agricultural Extension.
"Heavy downpour and floods have damaged a lot of sea grass, kans grass and jute and has created a crisis of the raw materials," said Ahsan, also the president of Bangladesh Handicrafts Manufacturers and Exporters Association (Banglacraft).
That is why the handicrafts production cost has increased by around 30-40 per cent based on the location of the manufacturing factories, he said.
"We have over 400 entrepreneurs who produce handicrafts under Banglacraft and around 92 per cent of them export their goods to nearly 80 foreign countries, earning name and fame for the country."
"The DAE should encourage the farmers to grow raw materials for the handicrafts factories. Otherwise, we will face this kind of crisis again and again."