Bangladesh: the tiger of Asia
Says German business delegation, calls for exporting farm products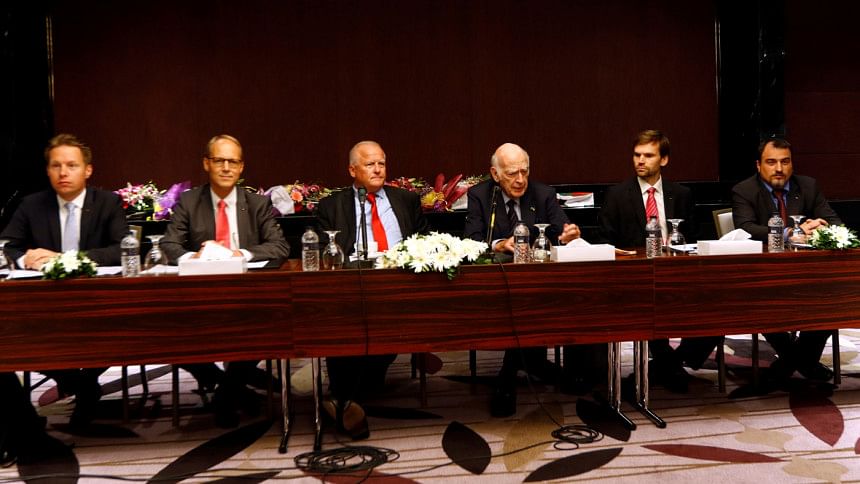 Bangladesh has become a tiger among the Asian nations as no other country in the continent has grown as much as it recorded, said a high-powered German business delegation in Dhaka yesterday.
"Bangladesh has really become the tiger of Asia. Its economy is extremely dynamic. The economy grew 8.13 percent last year which is unparalleled in Asian countries," said Peter Clasen, the head of the delegation.
Twenty-three CEOs and high-ranking business representatives visited Bangladesh from September 8 and 12 to explore future business opportunities for German enterprises in the country and address key concerns faced by the foreign investors.
Clasen and his team members held a press conference on the final day of the visit at the InterContinental Dhaka hotel.
Beyond already strong export industries like garment and jute, the delegates represented sectors with strong potential, including in construction, IT, interior design, shipping, tourism, and environment technologies.
"My first visit to Bangladesh dates back to the mid-1950s. Since then the country has undergone a tremendous transformation," Clasen said. He said the economy has steadily grown in the past decade and Bangladesh is the fastest growing economy in Asia.
According to Clasen, Bangladesh needs strong international public relations agencies so that the success stories of the country can be highlighted to the people around the world.
Currently, people from other countries know about Bangladesh newspapers. However, in most cases, only bad news like road accidents are published in newspapers, he said.
"I see a very bright future for Bangladesh."
The delegation chief said the biggest asset of Bangladesh is its young workforce. No other Asian country has such a young workforce.
The delegation visited garment and textile factories and office of the Bangladesh Investment Development Authority and met government high-ups.
Clasen suggested exporting agricultural products to Germany as there is a lot of demand for such items in the country.
"For example, Bangladesh's banana is the tastiest in the world. Bangladesh can export a lot of bananas and mangoes to Germany," he said, adding that Bangladesh exports mangoes to the UK currently.
He called for improving the country's ranking in the Ease of Doing Business Index, bringing more transparency and cutting red-tape to attract more foreign investment.
Peter Fahrenholtz, German ambassador to Bangladesh, said 60 German companies are currently present in Bangladesh. There is still huge potential for many German businesses across various industries.
Several large German enterprises, including BASF, Bayer, Commerzbank, DHL, Fichtner and Siemens have recently established German Business Council.
Fahrenholtz said Germany would like to have a special economic zone like other countries in Bangladesh. However, it depends on the number of German companies in Bangladesh.
Alexis Rawlinson, managing partner of Field Buzz, said Bangladesh has a very good number of IT engineers and this country has potential in this sector.