Bangladesh 3rd in South Asia, 11th globally: WB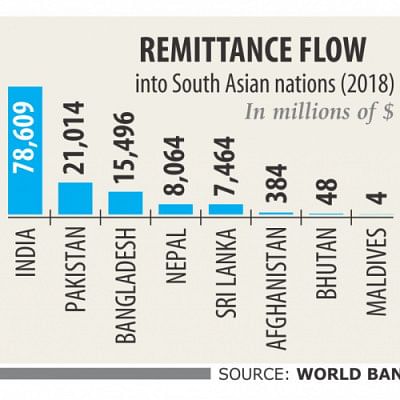 Bangladesh received $15.5 billion in remittance last year, up more than 15 percent year-on-year, according to the World Bank.
"In Bangladesh, remittances showed a brisk uptick in 2018," says the World Bank's latest Migration and Development Brief. 
The annual receipt for Bangladesh is up from the $13.5 billion which migrant workers sent in 2017.
Bangladesh was the third highest recipient of remittance in South Asia in 2018, after India and Pakistan and 11th highest recipient globally.  
India retained its position as the world's top recipient of remittances with its diaspora sending $79 billion back home in 2018.
Last year, Bangladesh's remittance income hit an all-time high, giving a breather to the country's ongoing foreign exchange crisis. Remittance is one of the main drivers of the country's economic growth, accounting for 5.4 percent of the gross domestic product in the year.
The ongoing depreciating trend of the taka against the US dollar, a strong stance taken by the central bank to fight illegal money transfers and the good commission offered by banks to remitters were the main reasons behind the spike.
Among the countries, the top remittance recipients after India were China ($67b), Mexico ($36b), the Philippines ($34b), Egypt ($29b), France ($26b), Nigeria ($24b), Pakistan ($21b), Germany ($17b), and Vietnam ($16b), according to the brief.
Remittances to South Asia grew 12 percent to $131 billion in 2018, outpacing the 6 percent growth in 2017.
The report says the increase was driven by stronger economic conditions in the US and a pick-up in oil prices, which had a positive impact on outward remittances from some Gulf Cooperation Council countries. The GCC consists of Bahrain, Kuwait, Oman, Qatar, Saudi Arabia and the UAE.
Remittances grew by more than 14 percent in India and 7 percent in Pakistan.
In 2019, remittance flows to low and middle-income countries are expected to reach $550 billion, to become their largest source of external financing, said the report.
Global remittances, which include flows to high-income countries, reached $689 billion in 2018, up from $633 billion in 2017.
The WB says said the global average cost of sending $200 remained high, at around 7 percent in the first quarter of 2019.
Reducing remittance costs to 3 percent by 2030 is a global target under Sustainable Development Goal 10.7. Remittance costs across many African corridors and small islands in the Pacific remain above 10 percent.
On ways to lower remittance costs, Dilip Ratha, lead author of the brief, says remittances are on track to become the largest source of external financing in developing countries. He, however, says the high costs of money transfers reduce the benefits of migration.
"Renegotiating exclusive partnerships and letting new players operate through national post offices, banks, and telecommunications companies will increase competition and lower remittance prices."
Michal Rutkowski, senior director of the social protection and jobs global practice at the WB, says millions of low-skilled migrant workers are vulnerable to recruitment malpractices, including exorbitant recruitment costs.
"We need to boost efforts to create jobs in developing countries and to monitor and reduce recruitment costs paid by these workers."
The WB and the International Labour Organization are collaborating to develop indicators for worker-paid recruitment costs, to support the SDG of promoting safe, orderly, and regular migration, according to Rutkowski.