AIIB pledges all-out support for Bangladesh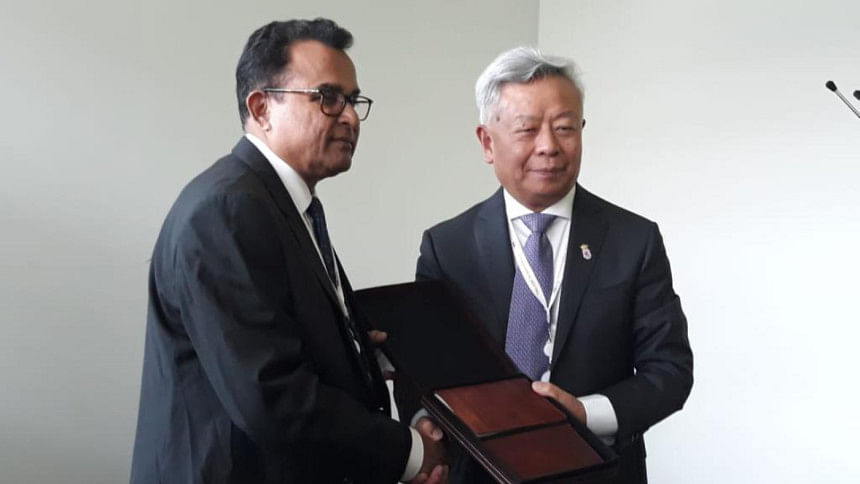 The Asian Infrastructure Investment Bank will extend all-out financing support to Bangladesh in the coming days and has even agreed to let the country select its own projects as per its development demands.
The development came at a meeting of Finance Minister AHM Mustafa Kamal with AIIB President Jin Liqun on the sidelines of the fourth annual meeting of the board of governors of the AIIB in Luxembourg yesterday.
"AIIB will always respect the development preferences of Bangladesh," Jin told Kamal at the meeting.
Kamal informed Jin that Bangladesh will need financing support on energy, connectivity and social development, especially education, to sustain its current growth momentum into the next decade, according to a press statement from the finance ministry.
He went on to acknowledge the Beijing-based development institution's role in developing Bangladesh's power and energy sector. Of the five projects that the AIIB has approved for Bangladesh, four are in the sector.
Earlier in the day, the AIIB board of governors' meeting had commenced with the success story of a rural electrification project in Bangladesh that the bank funded.
The objective of the $176-million project was to upgrade and expand the power transmission network in the Chattogram region to ensure adequate and reliable power supply in the southeastern region of Bangladesh.
The AIIB provided $120 million for the project. Meanwhile on Friday, the AIIB approved a $100-million loan to accelerate Bangladesh's efforts to deliver improved water supply and sanitation services to underserved communities.
The Bangladesh Municipal Water Supply and Sanitation Project will support government investments in water, sanitation and drainage infrastructure in 30 municipalities, where households continue to rely on public standpoints and shallow-tube wells. Once completed, about 600,000 people are expected to be connected to new piped water supply systems and benefit from improved sanitation services.
In particular, women and girls, often responsible for water collection, are expected to directly benefit from the project, said the Beijing-based multilateral lender in a statement.
Key components of the project also include capacity building at the national and local levels and project implementation and management support.
The $209.53-million project is expected to be complete by April 2024. Of the total project cost, the World Bank is providing $100 million and the government the remaining $9.53 million.
The Bangladesh Municipal Water Supply and Sanitation Project is the fledgling lender's fifth investment in Bangladesh, taking its total commitment to the country thus far to $505 million. Only neighbouring India has a higher number of projects approved by the AIIB: 10.
All the approved projects are aligned with the country's top priority development plans and the Sustainable Development Goals, the AIIB said in the statement.
   Inaugurated in January 2016, the AIIB is a multilateral development bank with a mission to improve social and economic outcomes in Asia.