ACI swims against the tide, enters shrimp export market
Sets up a modern Tk 25cr processing plant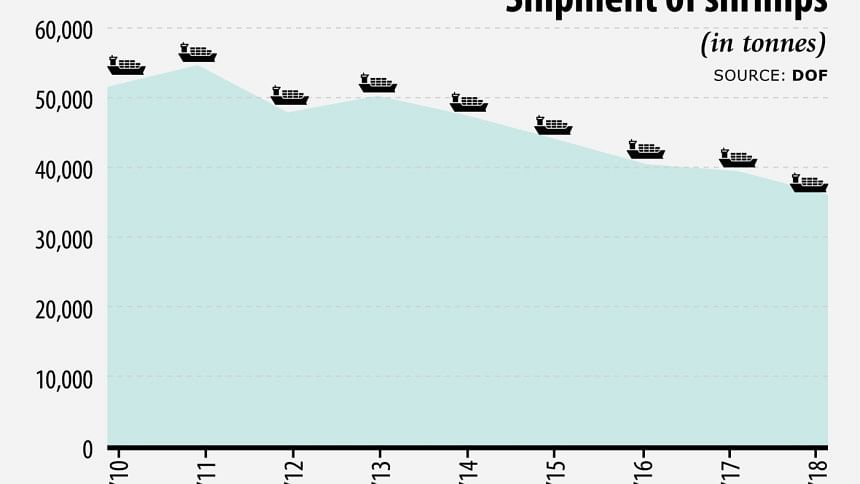 ACI Agrolink, a subsidiary of Advanced Chemical Industries (ACI), has set foot in shrimp processing to make a breakthrough in the global seafood market and take the sector out of troubled waters.
Bangladesh's shrimp exports have been on the wane since fiscal 2013-14 in the face of increased competition from countries such as India, Vietnam and Thailand, where low-priced vannamei shrimp are grown.
The factory, which was set up at a cost of Tk 25 crore, sits in the shrimp farming village Amian in Kaliganj upazila of Satkhira, one of the main shrimp growing districts.
This is in contrast to other processors, who opt to have plants on the banks of Rupsha river in the southwest division of Khulna, meaning the shrimps spend hours on the road before they are processed. As a result, the quality of shrimp deteriorates.
"This is one of the differences in our shrimps," said FH Ansarey, managing director and chief executive of ACI's agribusiness division.
ACI Agrolink purchases black tiger shrimps directly from farmers, so there is next to no risk of bacterial contamination en route to the processing plant, which has the capacity to process 30 tonnes of shrimp daily.
Besides, the locational advantage means the quality of shrimps sold will be better than the other processors'.
"So, ACI will be able to win the confidence of the quality conscious customers abroad," Ansarey added.
ACI is entering the export-oriented sector at a time when half of the shrimp and fish processing factories have gone out of business due to shortage of a few essential raw materials.
Currently, about 15 processing plants are engaged in exports.
They are registering falling receipts thanks to change in consumer preference: buyers now opt for cheaper alternatives to the expensive black tiger and freshwater prawn varieties of shrimp, which are mainly farmed on 2.72 lakh hectares of land in the southwest coastal region.
More than eight lakh farmers cultivate shrimps for their livelihoods and the US market has been the mainstay of their earnings over the past couple of decades.
As demand from abroad has fallen in recent years in the face of ample supply of vannamei shrimp from other countries, the local market acted as a safety net for farmers thanks to the rising purchasing power of people.
ACI Agrolink, which began production at their factory in October last year, is well aware of this fact.
Therefore, the company intends to target premium customers through marketing and branding of local amian shrimp, according to Ansarey.
"Consistent quality is a must for branding."
And ACI is confident of delivering what it promises on the label.
"This is the future of Bangladesh shrimp," he added.
A few industry insiders remain sceptic over whether ACI can succeed in the absence of increased production of shrimp and higher value addition.
Exports are declining as the black tiger variety is failing to withstand the competition from the high-yielding vannamei, said Kazi Belayet Hossain, president of the Bangladesh Frozen Foods Exporters Association.
"As a result, factories are becoming sick day by day."
Feasibility study shows the prospects of new entrants are not too bright.
"They may do well but the chances appear to be low," Hossain added.
There are currently four or five companies that are sincerely trying to boost the country's exports. But they are yet to derive any benefit since they are not too well-known like ACI, Ansarey said.
"We have a corporate brand image, and buyers have confidence in us," he added.
ACI Agrolink have identified the reasons why Bangladesh is not faring well in the export market, said its chief executive officer M Saifullah.
"Corporate governance, quality and compliance will be key. Besides, the other are not be able to do the kind of communication that we would be able to," he added.
At present, ACI's market capitalisation stands at Tk 1,071 crore.
ACI have nearly 220 tonnes of shrimp worth more than $2 million in total, said M Ahsan Habib head of operations and marketing of ACI Agrolink.