AC sales soar amid heatwave
The demand for air conditioners has increased 25 per cent year-on-year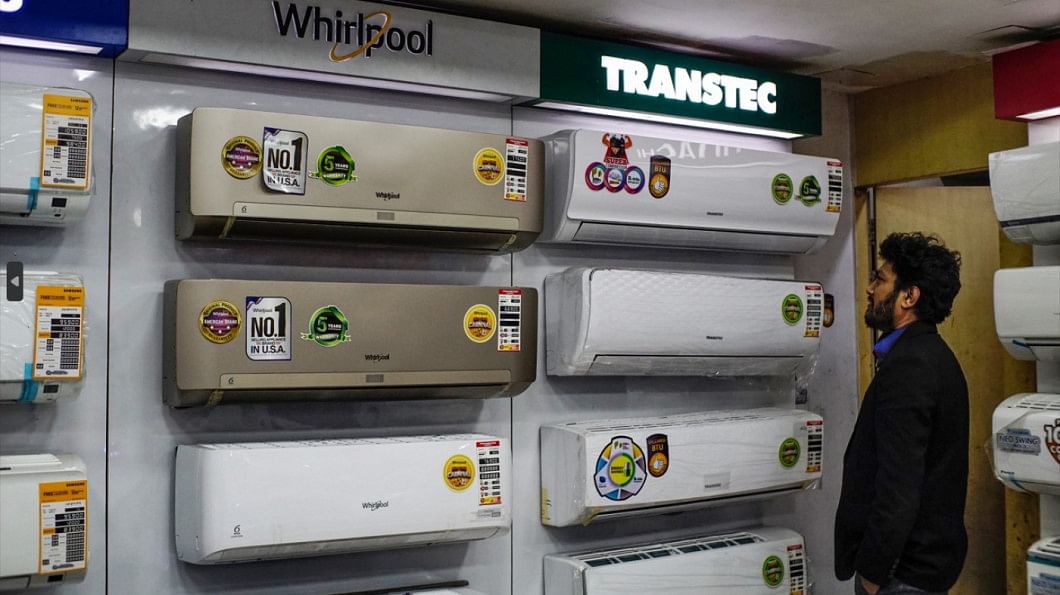 Demand for air conditioners (ACs) has increased significantly as people rushed to retailers for respite from the ongoing heat wave sweeping across the country.
In one way, this also gave some relief to electronic home appliance retailers as sales had been dull.
According to Bangladesh Meteorological Department, Dhaka recorded a maximum temperature of 40.4 degrees Celsius on Saturday, the hottest day in 58 years.
The last time capital saw such temperatures was in 1965, when 42 degrees Celsius was recorded.
It felt even hotter for the low humidity in the air.
According to market insiders, the demand for ACs has increased by 20 per cent to 25 per cent this year compared to that in the same period of last year.
On the number of ACs being sold, reliable data is hard to come by.
Industry people estimate that at least 500,000 units meant for homes would be sold this year. It was around 400,000 last year.
On an average, Tk 5,000 crore worth of ACs are sold for residential and commercial purposes every year.
The months of April, May and June are the peak season for sales of ACs as temperatures start to rise from March.
Nearly 90 per cent of a year's sales come about during this period.
"During the last 10 days, the sales of ACs increased as a heatwave is sweeping across the country, including Dhaka," said Nurul Afser, deputy managing director of Electro Mart Limited (EML).
He said the sales this time increased by around 25 per cent year-on-year.
He claimed that the EML held at least a 60 per cent market share when it came to locally manufactured ACs for providing "quality products at reasonable prices".
"We maintain 100 per cent compliance with our assurance of aftersales services to satisfy customers. Consumers accept GREE ACs due to their reasonable price and quality of service," he said.
According to Afser, every year they can manufacture over 300,000 units, both the ones with and without inverters.
Thanks to technological upgrades and their low power consumption, the ACs with inverters account for 65 per cent of sales whereas it was the opposite just three years ago, he said.
He believes in the future non-inverter ACs would be forced out of the market as demand for those was going down continuously.
"The sales of air conditioners have increased significantly since mid-March due to a spike in temperatures," said Ritesh Ranjan, head of business at Transcom Digital.
However, demand for other electronic home appliances was low owing to high inflation, he said.
Transcom Digital retails ACs of different brands such as Samsung, Hitachi, Whirlpool, Transtec, and Daikin.
According to Ranjan, 1.5-tonne inverter ACs account for around 60 per cent of the demand for residential use.
Like Transcom, the sales of ACs of VISION Electronics, a concern of Pran-RFL Group, have increased in line with the arrival of the heatwave.
Kamruzzaman Kamal, director for marketing at Pran-RFL Group, said the market has been rapidly increasing in terms of the growth of ACs demand in the recent years.
As the temperature is increasing, the air conditioning market is expected to grow at a compound annual growth rate (CAGR) of around 25 per cent between 2023 and 2027, he said.
"We are expecting 30 per cent higher sales this year compared to the previous year. Currently we are offering a 10 per cent discount on online purchases," he informed.
According to him, VISION Electronics has a yearly capacity to produce some 50,000 units of ACs.
Md Manzurul Karim, general manager of Esquire Electronics, the sole distributor of products of Japanese electronic brands General and Sharp, said the sales of ACs have been impressive as temperatures have increased rapidly.
The sales of ACs will slightly make up for the dull market of other home appliances, he said.
He said the technology used in ACs has improved a lot and consumption of power by inverter ACs has gone down by almost 60 per cent.
Now, a family can use an AC incurring a cost of, at best, Tk 1,500 per month for the sake of comfort and sound sleep at night, he said.
Tanvir Rahman, CEO of Walton Air Conditioner, said as the heatwave was ongoing, demand for ACs has increased a lot compared to the previous year.
On Saturday, Walton sold a record number of air conditioners on a single day which proves that the demand and necessity of ACs have increased in attempts to overcome the current situation, he said.
According to their own market study, the market growth of ACs was more than 30 per cent in 2022 and they were expecting around 15-20 per cent growth in 2023.
"The sales of ACs have already been boosted and we are expecting near about 500,000 sets of ACs to be sold at the end of 2023 in total," he noted.
Walton, one of the largest AC manufacturers of Bangladesh, has a yearly production capacity of 200,000 units.