NBR offers duty cuts to spare parts of farm machinery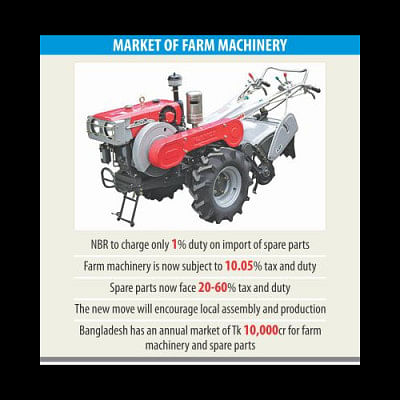 The National Board of Revenue has for the first time offered duty benefits for importing certain spare parts for agricultural machinery in a bid to encourage local assembly and production.
The revenue authority said it will charge only 1 percent duty for importing some spare parts to support domestic manufacturing of power tillers, power threshers, power reapers and power seeders from next fiscal year based on fulfilment of certain conditions.
"So far, we have faced a discriminatory policy. The import duty for spare parts of agricultural machinery was higher than that for fully built machines," said Alimul Ahsan Chowdhury, managing director of Alim Industries Ltd, one of the oldest farm machinery makers in the country.
Currently, agricultural machinery is subject to tax and duty of 10.05 percent, while their spare parts face duty and tax ranging from 20 percent to 60 percent, he said.
"The duty benefit from next fiscal year is expected to eliminate this discrepancy," said Chowdhury, a member of the Agricultural Machinery Manufacturers Association-Bangladesh.
The association had submitted a list of 40 spare parts to the NBR for duty reduction, but not all of them were given the duty privilege.
"Had the authority done so, local manufacturing would have gotten a bigger boost."
The NBR's duty benefit comes at a time when nearly 90 percent of the farm land is prepared by power tillers and tractors and more than 90 percent of the grains threshed by machines.
In addition, a large portion of land is also irrigated by machines -- a transition that has created an annual market of about Tk 10,000 crore for farm machinery and spare parts, according to stakeholders.
Imported farm machinery meets most of the demand in the absence of adequate domestic manufacturing. For example, 40,000 new power tillers enter the market every year and 95 percent of them are imports, according to industry insiders.
Chowdhury said local manufacturers make numerous items including power tillers, threshers, winnowers and power reapers along with low-lift and centrifugal pumps to market domestically.
But local makers cannot become competitive for the high import duty on spare parts, he said.
With the latest change in the duty structure though, the locally assembled power tillers are set to become cheaper than the imported ones, said industry operators.
Md Kamal Miah, owner of Kamal Machine Tools, said the duty privilege given to manufacturing will also be beneficial to farmers.
FH Ansarey, executive director of ACI Ltd, said they plan to go for manufacturing of farm machinery.
"We are preparing ourselves very seriously. It will be competitive if the machinery is assembled locally with imported parts," he said.
However, the NBR says the firms that are interested in getting the duty privilege will have to register themselves with the Board of Investment as a progressive manufacturer.
They will also have to apply to the agriculture ministry with proof of their skills and experience in making, assembling or marketing of agriculture machinery.
The firms will also have to submit their plans on the type of machinery they want to make and in what quantity.
The reduced duty benefit will then be given based on the approval from the agriculture ministry, according to an NBR notification issued on June 2.