Merger fees too high to bear: Axiata
Robi's parent company writes letter to Tarana Halim and BTRC chief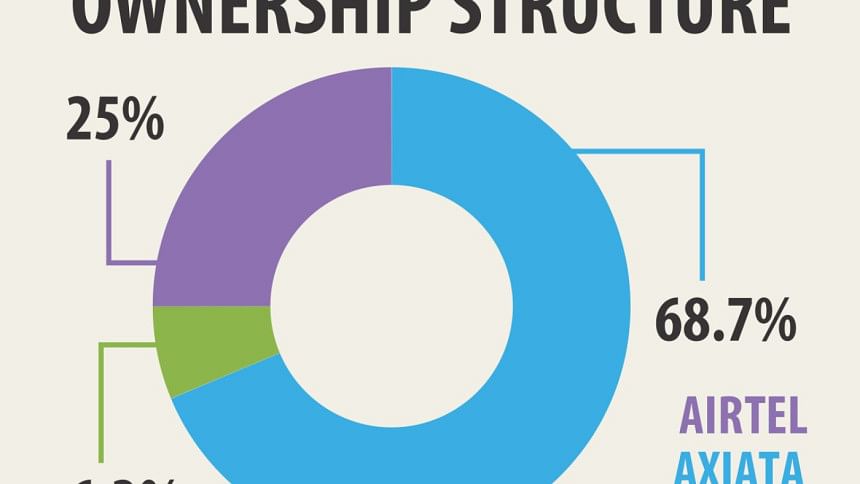 Robi's parent company Axiata Group has urged regulators to reverse their recommendation for fees and charges of about Tk 700 crore for the merger with Airtel to go ahead.
"We regret that the company would not be in a position to proceed with the proposed merger should such a fee be levied," Jamaludin Ibrahim, president and group chief executive officer of Axiata Group, said in a letter to Tarana Halim, state minister for telecom.
The letter was also sent to Shahjahan Mahmood, chairman of Bangladesh Telecommunication Regulatory Commission or BTRC.
The merger will provide more certainty to Axiata Group's future investment, without which its business sustainability in Bangladesh will be at risk, according to Ibrahim.
Last week, the BTRC sent a set of recommendations to the government, one of which is a payment of about Tk 750 crore, including Tk 510 crore in spectrum charges.
The new merged entity will have to pay Tk 510 crore in charges for using Airtel's existing spectrum, which was bought at a price lower than what the other operators paid.
For example, Airtel in 2005 bought 15 MHz of spectrum in the 1,800 band for 15 years at a cost of Tk 340 crore, which means the price of spectrum per MHz per year was Tk 1.51 crore.
On the other hand, Robi and other operators in 2011 bought spectrum per MHz per year for a higher price: Tk 10 crore.
Now, if the merged entity wants to retain Airtel's spectrum, it will have to pay more funds to match the price of 2011, according to the recommendation.
Axiata Group, in the letter sent to the regulators on May 10, said they hope the amount of the fee mentioned in media reports is a speculative one.
The letter also said the proposed merger is expected to generate additional revenue of Tk 80 crore a year for the government, which will total Tk 320 crore until 2020.
Senior officials of Robi in Dhaka said the recommended fees amount is huge and if it is reconsidered to a comfortable position, they can discuss the issue; otherwise they will think differently.
In August last year, the parent companies of Robi and Airtel declared their possible merger; in January this year, they signed an agreement to merge their Bangladesh operations.
Meanwhile the BTRC also gave a positive nod and ran a market study and organised public hearings to get the public's views on it.
In the merged entity, there will be 471.41 crore shares in total, of which 117.85 crore (25 percent) will belong to Airtel Bangladesh.
Robi's Japanese partner NTT Docomo will hold 29.73 crore shares or 6.3 percent of the total stake.
Axiata Investment (Labuan) Ltd will be the lead shareholder with 323.83 crore shares, and Axiata Group will have 900 shares. Four other partners will be in the board with only 10 shares each.
According to the recommendation, the telecom division also allowed for the continued use of the numbers beginning with '016', currently allocated to Airtel, for the next two years, though no new number of the series shall be sold during the time.
However, those numbers must all be converted to the '018' series after two years, according to the recommendations.
As of March, Robi has 2.75 crore active SIMs, while Airtel has 1.02 crore.
Market leader Grameenphone has 5.62 crore active users and Banglalink 3.19 crore.