Marks & Spencer to source more from Bangladesh
Shwapna Bhowmick, the first Bangladeshi to become country manager of the British retailer, tells The Daily Star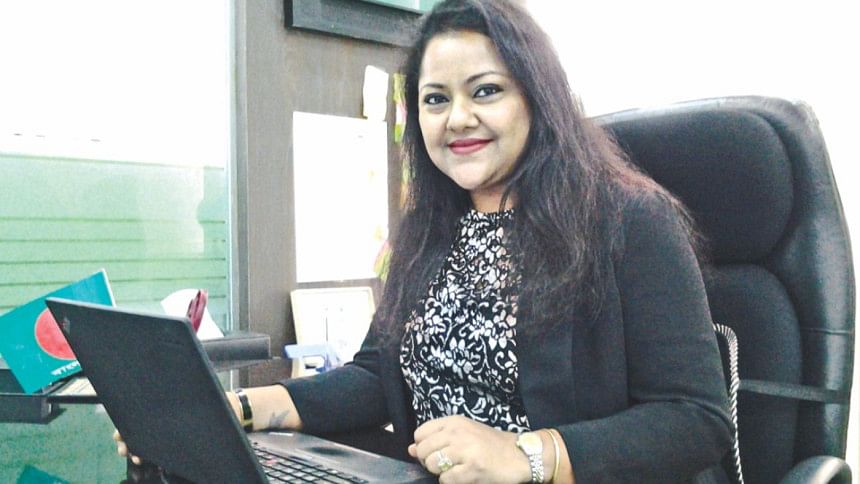 Bangladeshi garment units are now exemplars of factory safety after the owners corrected all structural flaws with the help of Accord, Alliance and the government, said the country manager of British retail giant Marks & Spencer.
"Now, the owners are more proactive about protecting the production environment, but previously they were not. This is a big change in the garment sector," Shwapna Bhowmick, country manager of M&S, told The Daily Star in an interview.
Bhowmick, who hails from Magura district, is the first Bangladeshi to take charge of M&S's operations in the country.
She joined M&S in 2006 as a senior merchandiser, when the British retail giant used to source garment items worth only $5 million from Bangladesh. In the current year, the value is expected to hit $700 million.
"M&S has no cap on sourcing items from Bangladesh -- we will source as much as possible."
M&S's sourcing from Bangladesh grew by at least 30 percent year-on-year in the past three years.
"We believe in sustainability and business growth," she said, adding that M&S has taken a lot of risks for growing its business in Bangladesh.
For instance, M&S started purchasing diversified garment products from Bangladesh.
"Those value-added products used to be sourced from other destinations earlier, as Bangladeshi exporters were not capable of making them."
Bhowmick, who started her career in 2003 as a merchandiser with a local garment buying house after graduating from the University of Dhaka in philosophy, said she has long advised the garment manufacturers to get into the value-added segment as well.
Today, Bangladesh is no longer just a source of basic garment items. It is also a major source for value-added products like formal dresses, men's suits, formal blazers, she said.
"I also want to change the image of the country. We have a lot of green factories. Even M&S has been working with 12 green factories in Bangladesh."
M&S helps the factories with technologies, expertise, modern design and banking products so that the factory owners can also survive in the business. It also helps its model factories to increase their productivity.
Regarding the potential of Myanmar and African countries in garment business, she said these countries are not ready yet to be a major competitor for Bangladesh.
"It will take a lot of time for Myanmar," said Bhowmick, who is also the country manager for the neighbouring Southeast Asian country.
"But, at the same time, Bangladesh should not be complacent that we do not have any competitor. Bangladesh should continue its strive to do better."
Bhowmick is the youngest person to become a country manager for one of M&S's operations.
"My family helped me a lot to reach this position, as it is really difficult for a woman in Bangladesh to reach such heights in the corporate world."
Reaching the summit was not easy for Bhowmick. "As a junior merchandiser I worked day and night for the company."
When she realised that some academic footing would help her perform better, she got herself enrolled on a diploma course on merchandising at the BGMEA University of Fashion and Technology.
Back in 2003, the working environment in Bangladesh for a female merchandiser was not as good as it is today.
"I was surprised that in the office of 150 there were only two females -- myself and a telephone operator."
From the local buying house she moved to British retailer Next and then US retail giant Wal-Mart.
"We have a lot of work to be done for empowering women in the corporate world. I always wanted to be a change maker and tried to bring any positive change."