Many Rana Plaza victims worse-off than before: CPD
The think-tank finds substantive progress in garment sector in many areas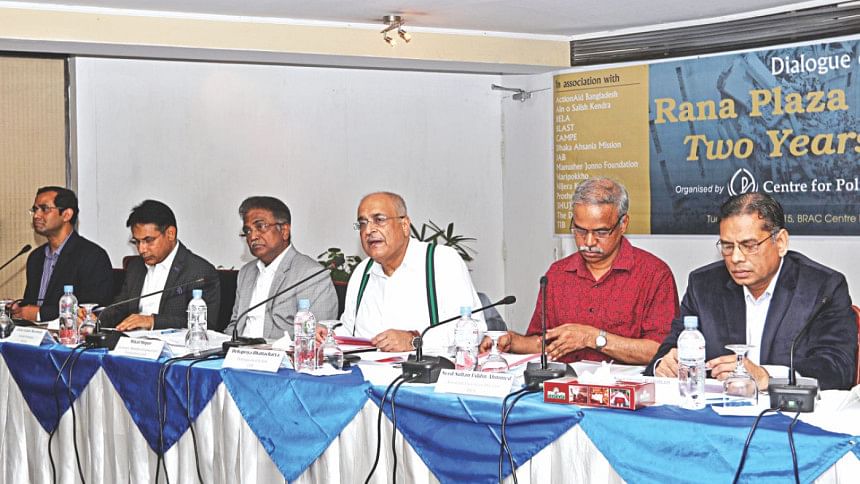 The living condition of the families of many deceased and injured workers of Rana Plaza is worse than it was prior to the fateful event two years ago, the Centre for Policy Dialogue said yesterday.
The private think-tank, however, said there has been progress in various areas, including disbursement of financial support to the families of deceased and surviving workers, re-employment of workers and medical care. 
Positive reinforcements also came by in case of workplace safety and labour rights, the CPD said in the fourth edition of its monitoring report on the initiatives taken by the government, owners and other stakeholders in the aftermath of the Rana Plaza collapse.
Khondaker G Moazzem, additional research director of CPD, unveiled the report at a dialogue, which also marked the two-year anniversary of the event that claimed at least 1,138 lives, making it the worst industrial disaster in the nation's history.
"Many of the injured victims are still suffering from various kinds of physical and mental problems. They have spent a significant amount of money for the treatment and many of them are constrained by inadequate financial capacities," said Moazzem.
As a result, their socio-economic conditions remain worse than they were before the fatal event, he said citing a telephonic interview with 12 victims. At the dialogue, two injured survivors and a spouse of a worker were brought in to share their current state of living. 
Injured Jesmin said she would earn Tk 10,000-Tk 11,000 a month by working at one of the five garment factories housed at the ill-fated building.
A single mother, she led a decent life with her only child, until her spinal cord snapped in the events that transpired on April 24, 2013. She had undergone treatment for five months.
"Till date I feel sick. I cannot work for my physical condition and trauma," she said, adding that she has received a total of Tk 60,000 only in compensation.
"Is it my just compensation?" she asked, adding that she has to spend Tk 3,000-4,000 a month for treatment and medicine.
Monowara Begum said she had received only Tk 20,000 after the death of her husband, a construction working at the site at the time of the disaster.
CPD, in its report, said the amount of financial support received by victims and their families is insufficient for their needs. But considerable progress has been made in terms of disbursement of financial support.
So far, victims were given 70 percent of the sanctioned money, said CPD.
"There are some progresses. But still some jobs are undone," said Debapriya Bhattacharya, distinguished fellow of CPD.
The think-tank said the injured workers are getting treatment facilities through various initiatives but workers living in remote areas especially outside of Dhaka face difficulties in availing the benefit.
A total of 2,122 workers have been re-employed up to the second year.
A number of surviving workers started their own businesses since the deadly event, and they face different kinds of difficulties in operating their businesses, Moazzem said.
With regards to factory inspections, after a slow start substantive progress was made in the second year, according to CPD.
As of April 2015, the number of garment factories assessed for structural safety has risen to 2,703, which is 77 percent of the total of 3,500 factories.
"Bangladesh's apparel sector has undergone noteworthy restructuring and reforms over the last two years. There are already signs of positive changes in all areas -- ranging from improved support to the victims to the development of the sector."
Syed Sultan Uddin Ahmmed, assistant executive director of Bangladesh Institute of Labour Studies, however, expressed dissatisfaction over the delay in trials of the persons responsible for the deadly chapter.
"South Korea has ensured justice within one year of the ferry disaster. But we could not do it in two years."
Abdus Salam Murshedy, president of Exporters Association of Bangladesh, said 700 factories located in shared or converted buildings have shut down due to international retailers' unwillingness to place orders in such structures.
He also urged the retailers to pay higher to ensure compliance.
Mikail Shipar, secretary of the ministry of labour and employment, said the financial support given to the victims was given as compensation, not as charity.
A total of Tk 183 crore, including assistance from the Prime Minister's Relief and Welfare Fund, has been disbursed, Shipar said.
Asked about the large variations in payments among victims, he said the money was sanctioned 'very judiciously' for the victims in line with the convention 121 of the International Labour Organisation.