Time for 'Made in Bangladesh' tag to shine bright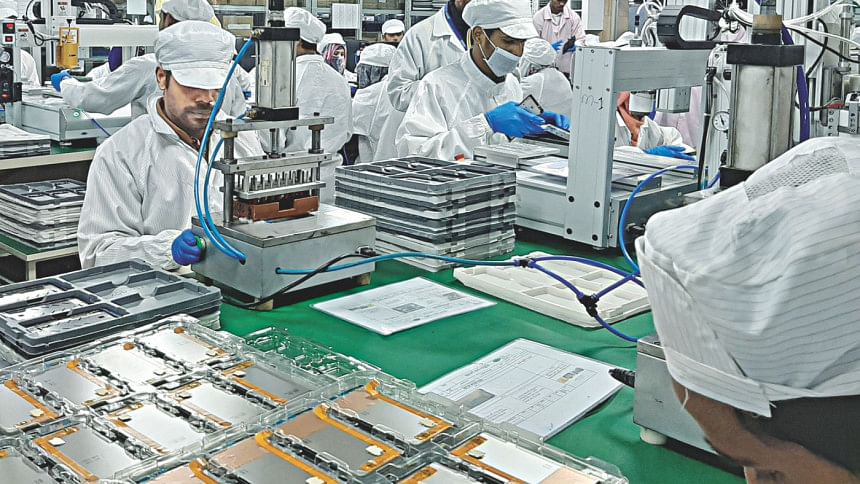 There was a time when mobile handset buyers were used to searching for 'Made in Finland' or 'Made in Korea' for good quality devices. Later, 'Made in China' took the mantle, followed by 'Made in Vietnam'.
Now, the time is for the 'Made in Bangladesh' tag line to dazzle. People are now purchasing good-quality locally finished smart devices without any hesitation, in what can be viewed as a proud moment for the country.
Two years back when Bangladesh was getting on the handset manufacturing bandwagon, there was hesitation among buyers. But the time has changed. The clouds engulfing the buyers' mind then have now cleared away.
Personally, I did not see any great effort to drive home the message of 'Made in Bangladesh' branding on the devices save for the odd media reports here and there. And yet, consumers took to the products from their heart.
The same fascination was also observed in 2005, when Teletalk had set off on its journey in the sea of largely foreign-owned carriers. But unfortunately, the state-owned operator could not make the most of people's affections and now, they are struggling.
But here, in the device manufacturing industry, everyone is observing an excellent and favourable environment for the local manufacturers and the manufacturers themselves have gotten a good sense of the situation.
Here, we are also observing that the common users are playing the crucial role of brand ambassadors. Those who already bought the locally made devices are spreading the word, out of their own volition, on the superlative quality.
That's where the real work is done; and in fact, only within two years Bangladesh is close to self-dependency on smart device production.
Statistics can be helpful to understand the situation.
Of the total smart gadgets sold in the country last year about 62 per cent were locally assembled, and for the current year the plant owners are gung-ho about being able to meet the whole country's smartphone demand.
It is certainly a spot of great news for the nation -- and especially for the Digital Bangladesh vision.
Over the past few years, it has been seen that about 80 to 90 lakh units of smartphones were sold in the country in a calendar year.
And last year, the local mobile plants churned out about 54 lakh units of smartphones, while another 20 million were either imported legitimately or sneaked in illegally. The local manufacturers are confident that they can pull off such a number this year.
Personally, I fell the just-concluded decade of digitalisation will be remembered for stepping into the path of gadget manufacturing in 2017, when local tech group Walton established the country's first mobile assemble plant.
In just two and a half years the 'Made in Bangladesh' has been fully established in the market.
But even a few years ago, did anyone think that a mobile plant in Bangladesh would be churning out the world's most advanced smartphones? Not just that, the locally assembled handsets are much better in terms of quality and more competitive in terms of price than the imported devices.
Once this realisation dawned in, at least a couple of companies have stopped their device imports entirely and are now serving the market for their own plants.
So far, nine plants have been set up in the country and the list includes world-renowned brands like Samsung, Chinese brands itel, Techno, Vivo and Oppo. Brands like Huawei and Motorola are also gearing up.
Samsung has promised that from the first quarter of 2021 it will manufacture its top of the line 'Note' series smartphones from its factory in in Narsingdi. Already it is assembling Note 10+ and Note 10 Lite at the plant.
When this news broke on The Daily Star it created a tremendous buzz. The news was also reported in the international media.
The South Korean electronics giant is now meeting 97 per cent of its local demand for its plant in Bangladesh. It is now planning to manufacture even the latest gadgets here.
In just one year, the two brands -- Techno and itel -- have fulfilled its demand for five lakh units a month for their local plant and they are planning to go for export within two years.
Walton's local manufacturing journey will soon complete two years; at present it is not importing any sets. As a Bangladeshi this news is making us proud.
But it is not too well known that in 2007 Samsung had expressed its interest to set up a factory in Bangladesh.
But it did not get much favourable response, which is why it took its investment plan to Vietnam. Over the last decade, Samsung has set up three factories in the Southeast Asian nation that churned out a staggering 120 million smartphones in 2018.
And when the China-US trade war began, Vietnam gained more momentum in handset manufacturing and now, more than half of Samsung's demand for the entire world is being provided by this country.
Thanks to Samsung's groundwork, Apple has recently announced its plan to shift its production from China to Vietnam.
Though we have started well, Vietnam's rapid strides in this arena could be frustrating news for us.
Here my point is, though we have failed to catch our first train a decade ago, we have to look at how we can hit fourth gear at the earliest.
The first task was done in the last budget, when the import duty for raw materials imports were slashed and the import tax on smartphones was bumped up to 57 per cent. So, everyone is now racing to set up factories.
Now, if quality is given a little attention, we could be straddling forward briskly.
We already know that some entrepreneurs are planning to setup factories for mobile-related accessories. In that case, the demand for various backward linkages -- including battery, phone cases, chargers -- may come from the local plants.
Perhaps, handsets can share some of the load of exports currently being shouldered largely by the garment industry.
Almost all the handset producers are talking about exporting from their plants. And if some of them can start export within at least a couple of years, this will be a game changer for the industry and the country as a whole.
We can also see glimpses of such potential in the laptop segment, where the 'Made in Bangladesh' tag is creating waves. This digital device is also being added to the export list, albeit a little clumsily.
And personally, I look forward to the day when Europe-America will also get a mobile device with the 'Made in Bangladesh' tag like shirts or denim as they do now.