'Made in Bangladesh' smartphones to rule the roost soon
About 62 per cent smartphones now manufactured locally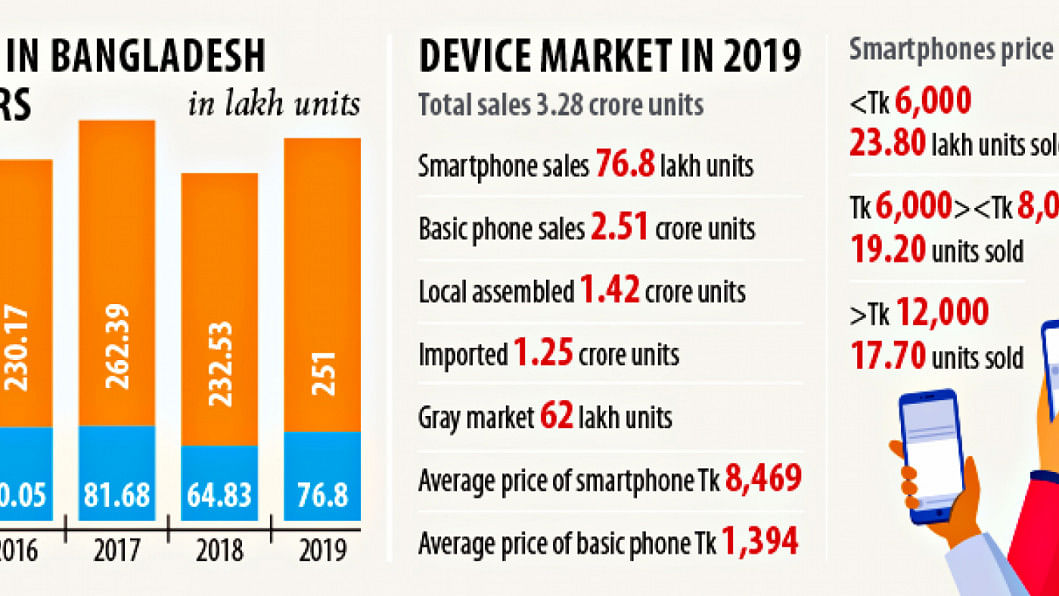 Bangladesh is on its way to becoming self-reliant in smartphone production by the year end, with locally manufactured handsets now ruling the roost.
And by 2022, the country will add another product to its export basket: smartphone, according to estimates.
Most of the top brands have raised their game to meet the entire domestic demand from their plants in the country, while all the basic phones the country needs will be made locally within another one year, plant owners said.
Currently, nine foreign brands have their plants in the country while five of them have stopped importing devices as they are meeting their demand from local production.
Local manufacturers made about 54 lakh smart devices in their plants last year, while another 24 lakh were imported via the legal and grey channels, industry insiders said.
Along with 2.51 crore basic phones, total sales of handsets ran into 3.28 crore in 2019, according to local manufacturers and importers.
Local makers have been doing an excellent job for the last one and a half years, said Mohammad Mesbah Uddin, chief marketing officer of Fair Electronics that assembles Samsung devices in their plant in Narsingdi.
"Within the next few months some foreign brands will go into production in their local plants and Bangladesh will be self-dependent in smartphone production within this year," said Mesbah, who is also the joint secretary of the Bangladesh Mobile Phone Importers Association (BMPIA).
Of the manufacturers, Samsung is on the fore, controlling about one-fourth the market. And the South Korean tech giant make about 97 per cent of their devices in the local plant that opened in 2018.
Home-grown brands Walton and Symphony and China's Transsion Holdings, Vivo and Oppo meet their full demand from their plants in Bangladesh.
Transsion is now making about 90,000 smartphones per month of two separate brands, while its total monthly production is 4.5 lakh units, according to Rezwanul Haque, chief executive officer of Transsion.
"We are faring fine. As time passes, both quality and quantity will grow further," said Haque, a former general secretary of the BMPIA.
Symphony, once the market leader, has not been importing any smart gadgets since June last year, said Jakaria Shahid, managing director of Edison Group, its parent company.
The company is assembling about 1.5 lakh smartphones every month in its plant in Ashulia on the outskirts of Dhaka.
In the plant they are also making 1.25 lakh units of basic phones a month and no imports would be required by the year-end.
"Our target is to export devices by 2022, and to that end, we are in a process to set up two new plants," Jakaria, also the general secretary of the BMPIA, said.
Vivo and Oppo opened their plants in the second half of 2019 soon after the government increased import duties for smartphones to 57 per cent from 32 per cent.
Before that, tax benefits offered in the budgets of fiscal 2016-17 and 2017-18 encouraged brands to go for local manufacturing.
Chinese brands Xiaomi and Huawei now face high taxes as they have no plants in Bangladesh, which is why they are planning to set up factories in the country, said market insiders.
Three other brands -- 5-Star, Winstar and Lava -- have also their plants in Bangladesh.
Both Transsion and Symphony are mulling over opening plants to manufacture mobile accessories, which is seeing a rising demand.
At the end of last year, Bangladesh's active mobile connections stood at 16.64 crore.