Kunming Steel in talks with BSRM to invest $2.2b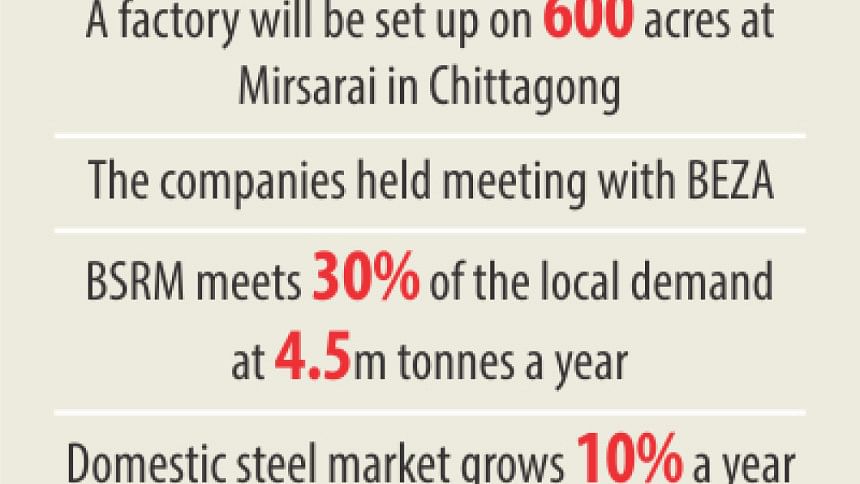 Chinese company Kunming Steel is in talks with BSRM to invest $2.2 billion to form a joint venture and serve the fast growing domestic market, said a top official of the local steel giant.
Negotiations between the two companies have been underway for a few months now, said an official of BSRM.
Chairman and managing director of BSRM could not be reached over phone as they are abroad now.
Representatives from Kunming Steel are coming to Bangladesh later this month for further negotiations with the Chittagong-based local steel mill, according to the official.
The factory would be set up at Mirsarai in Chittagong, if the Bangladesh Economic Zones Authority (BEZA) allocates land to the new venture.
The mill will produce basic steel products primarily for the local market, and for export as well, the official said. Both the companies held meetings with BEZA for land allocation.
The BSRM official said many steel products and raw materials have to be imported as local millers do not have the capacity to produce those. "We will make the goods as import substitutes," he added.
With the robust growth of the economy, demand for steel products is rising at more than 10 percent a year, industry players said.
Currently, BSRM meets more than 30 percent of the local demand estimated at about 4.5 million tonnes per year, the official said. BSRM also began exporting steel products to the Northeastern region of India a few years ago. Paban Chowdhury, executive chairman of BEZA, said officials of both the companies met him and collected forms to apply for land allotment at the Mirsarai economic zone. It is near the Bay of Bengal and gives access to the easy transportation of goods by seaways.
Chowdhury said the proposed company wants to set up the steel mill with a production capacity of 2 million tonnes of steel products a year. BEZA will allocate the land if the company fulfils the conditions.
Such a huge investment proposal from China proves that Bangladesh is a lucrative destination for investment, said Abdul Matlub Ahmad, president of the Federation of Bangladesh Chambers of Commerce and Industry, at a programme on Bangladesh-China business and investment at Westin Dhaka hotel on Monday.
During Chinese President Xi Jinping's visit to Bangladesh last year, 13 Bangladeshi entities signed joint venture agreements with Chinese companies, involving $13.6 billion.
Under the agreements, Chinese investors will spend on infrastructure, power, railways, sports and special economic zone.