10 lakh jobs created in ICT sector in 10yrs: Palak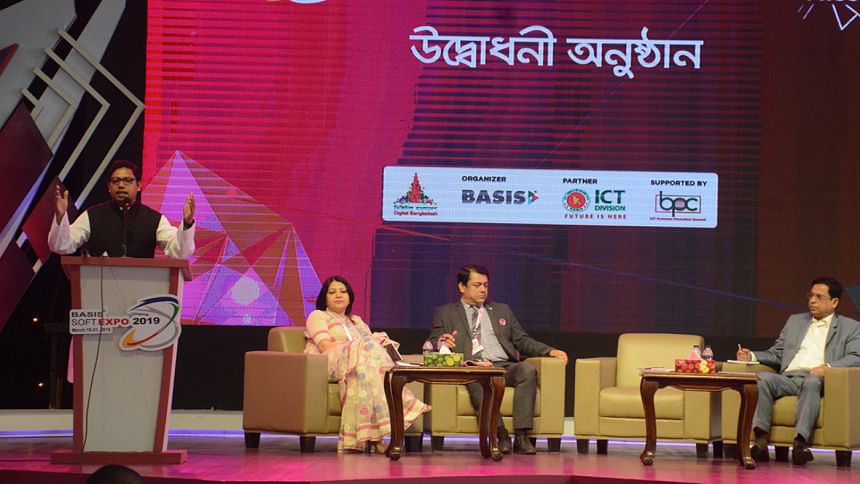 State Minister for Information and Communication Technology (ICT) Zunaid Ahmed Palak today said that more than ten lakh jobs have been created in the sector.
The industry will add another three lakh jobs in the market within next couple of years, Palak said while inaugurating the 15th edition of the BASIS SoftExpo 2019 this morning.
Palak said their government is heavily investing on the digitization process to make the citizen service easier and generate job employment in the coming days.
ICT is the government's top priority sector and government is providing training and ensuring facilities to flourish the digitization process, he said.  
The three day long mega event is demonstrating the country's digital business to promote digitization process at the International Convention City Bashundhara in the capital.
This year's three-day show—that bears the slogan of "Technology for prosperity"—will house four new zones. One will be titled Industry 4.0 and the rest will be experience zone, VAT zone and women zone.
In the event, there is also zones on digital education, fin-tech, software, mobile innovation, digital commerce, ITES and business process outsourcing.
The showcase is also the congregation of ICT companies, personalities, key policymakers, industry leaders and other ICT stakeholders, according to the organisers.
Over 100 national and international speakers is also sharing their thoughts in different sessions of the expo.
There will also be business leaders meeting, corporate hour, ICT career camp and gaming fest, business to business matchmaking session, including a special session for exploring the business in Japan.
In the inauguration event ICT division secretary NM Zeaul Alam and Bangladesh Association of Software and Information Services (BASIS) president Syed Almas Kabir were also present.