Greater enforcement of law needed to fight graft, fraud
Businesses say in Ernst & Young survey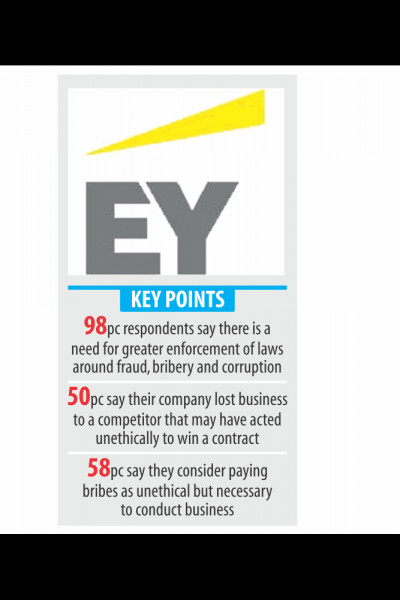 As many as 98
percent
of the corporate professionals and business people in Bangladesh believe there is a need for greater enforcement of laws around fraud, bribery
and
corruption, a recent survey found.
"Such a move would increase investor confidence, strengthen profitability and enhance reputation, which may ultimately help secure new business and sustainable growth," said the global accountancy firm Ernst & Young in the report 'Bangladesh's risk landscape: analysing the undercurrents'.
The report reflects the views of more than 100 senior corporate and business professionals in the region, interviewed by Ernst & Young's Fraud Investigation & Dispute Services practice.
Bangladesh is one of the 10 emerging markets of the future and the second-fastest growing economy in the world. Its strategic geographic location and natural resources provide the potential to develop strong commercial ties with the rest of Asia.
It is also one of the world's most densely populated countries, offering ready access to a large consumer base, said the report.
This has piqued the interests of many multinational companies across sectors such as telecom, oil and gas, banking, power generation and garments.
But, global businesses also give weight to robust internal controls and anti-fraud frameworks, where Bangladesh is lagging.
For instance, 50 percent of the respondents said their company lost business to a competitor that may have acted unethically to win a contract.
Subsequently, 58 percent of the respondents said they consider paying bribes as unethical but necessary to conduct business. Some 89 percent said they believe companies should self-report cases of fraud, bribery and corruption to the appropriate authorities.
"As Bangladesh strives to capitalise on business growth opportunities and cultivate a positive commercial environment, combatting fraud risks is a priority for companies operating in the region."
Companies operating in Bangladesh need to take a cue from more mature economies and apply leading global practices to help deter fraud, said the report.
To create and sustain an ethically robust corporate culture, companies need to conduct regular training and awareness programmes that are practical and relevant -- not simply box-ticking exercises.
For instance, 48 percent of the survey respondents said their company has not conducted anti-bribery and corruption training for employees.
"Companies need to communicate to their employees the importance of upholding ethical standards -- and developing programmes that promote ethical behaviour. Such actions will be instrumental in driving transparency and sound governance." Financial misconduct, insider threats, cybercrime and money laundering are areas of concern for corporates and governments alike -- and law enforcement is an obvious deterrent, the report said.
"However, engaging with professionals who have substantial forensic accounting experience and strengthening an individual company's ethical quotient can also help combat fraud -- enhancing the appeal of Bangladesh to foreign investors."