GPH Ispat secures $154m in biggest syndicated loan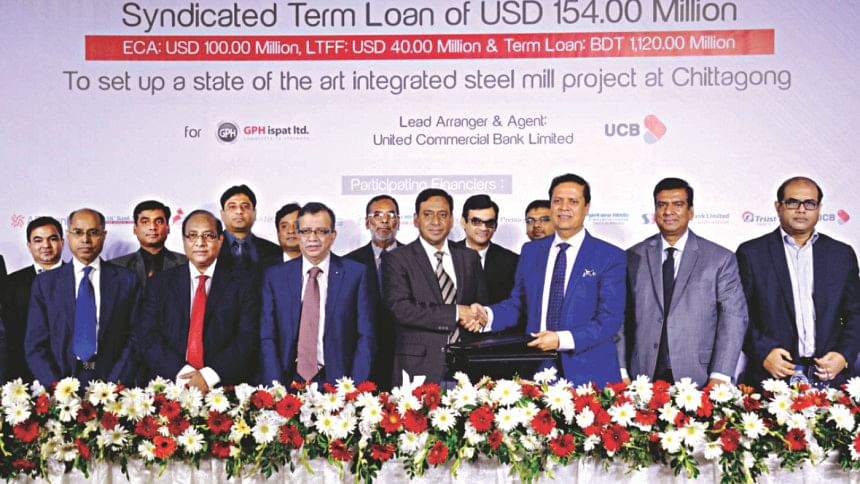 Chittagong-based steelmaker GPH Ispat secured $154 million or about Tk 1,200 crore from a dozen financial institutions, which will be the largest syndicated loan in Bangladesh led by United Commercial Bank.
In 2012, Grameenphone borrowed Tk 846 crore from 15 banks and financial institutions, which was the biggest such syndicated loan at the time.
GPH Ispat will use the funds to expand its production: its annual production capacity of MS billets will rise to 10.08 lakh tonnes from 1.68 lakh tonnes now, which will put the company on par with top market players -- BSRM and AKS.
GPH Ispat's production of MS rods and steel beams, angles, channels and flat bars will increase by 6.4 lakh tonnes to 7.6 lakh tonnes a year.
"We expect to start commercial production from the extended project by mid-2018," said Mohammed Jahangir Alam, managing director of GPH Ispat, a listed steelmaker with a market value of Tk 873 crore.
Technology that the company will use in its expansion project will be the first of its kind in Bangladesh, Alam said. "Technology will ensure world-class products and reduce the production cost, allowing us to offer our goods at competitive prices to customers."
The expansion project will also generate jobs for 750 people directly, 300 on a contractual basis and around 8,000 people indirectly, he said. "After completion of the project, we can contribute an additional Tk 245 crore to the government coffers by way of corporate tax, value-added tax, customs duty and so on."
GPH Ispat signed the syndication deal with the financiers in Dhaka last week. United Commercial Bank is the lead arranger of the syndication, while the other banks are AB, BASIC, Jamuna, Mercantile, Mutual Trust, One, Premier, Pubali, Southeast, the City and Trust.
UCB's Managing Director Muhammed Ali said the private banks are always ready to serve good clients like GPH Isapt.
"GPH Ispat knows how to take risks for business and we feel proud to be an arranger of this syndication," he added.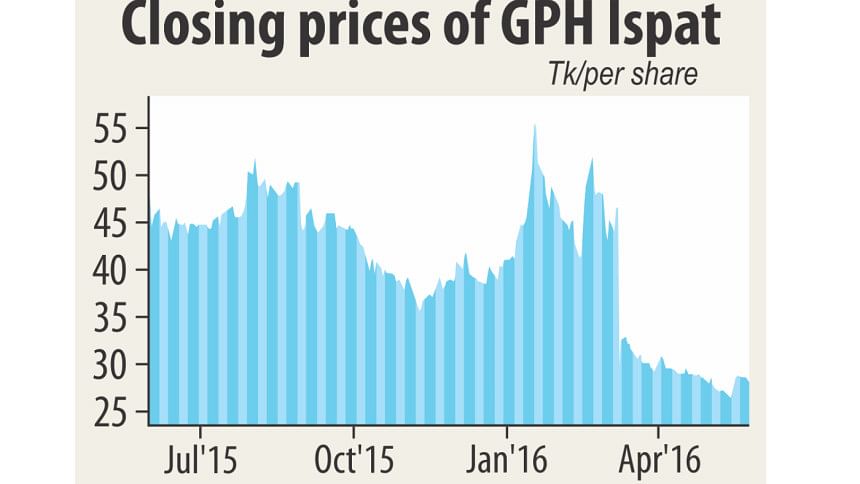 Earlier in January, GPH Ispat signed a deal with Primetals Technologies Austria, a joint venture of Siemens and Mitsubishi Heavy Industries and Partners, for its planned large-scale expansion.
Primetals will provide the technology and necessary machinery for the expansion of GPH Ispat, which will invest a total of Tk 1,700 crore in the project.
The net profit of GPH Ispat, which was listed on the stock exchanges in 2012, rose 4.91 percent year-on-year to Tk 29.25 crore in 2015, according to Dhaka Stock Exchange data.
Each share of the company traded between Tk 28 and Tk 28.9, before closing at Tk 28 on the premier bourse yesterday.
Sponsors hold a 56.03 percent stake in GPH Ispat, institutions 14.79 percent and general investors the remaining 29.18 percent.