Govt seeks Saudi investment in power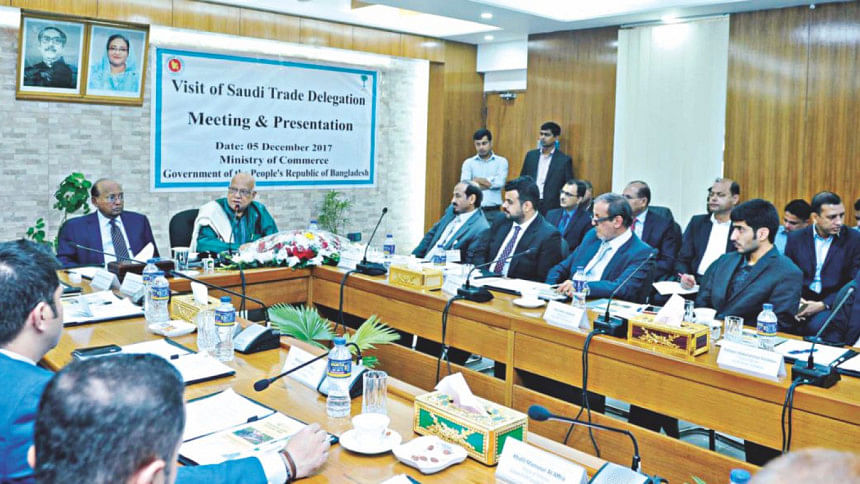 The government yesterday sought investment from Saudi entrepreneurs in the power sector to meet growing domestic demand.
Finance Minister AMA Muhith raised the issue while talking to a visiting Saudi business delegation at the secretariat in Dhaka.
Demand for power has increased a lot over the last 15 years due to higher economic growth of the country, he said.
"This is a growing market. This is why we are seeking foreign investment in Bangladesh. By September next year there will be a glut of liquid fuel in Bangladesh to produce electricity," Muhith said.
He said 80 percent of the economy was in the hands of the private sector, which has been producing a lot of power and the government has been only guaranteeing its purchase.
The finance minister said Bangladesh is turning into an investment destination due to flexible foreign direct investment policy, for which capital and profits can easily be taken back.
Bangladesh saw $1.2 billion worth of foreign investment last year and the figure will cross the $2.2 billion mark by the end of this year, he said.
Muhith also highlighted promising sectors such as information and communication technology, pharmaceuticals and fertiliser.
Leading the delegation, Moshabab Abdulla Alkahtani said Bangladesh has a lot of products to export but people abroad knew only of the country's garment exports.
Bangladesh should demonstrate that it has diversified its export products, he said, calling for signing several memorandums of understanding between the governments for more business.
A meeting source said there was a possibility of two agreements between businessmen of the two countries on setting up solar power plants and a fertiliser factory in Bangladesh.
The announcement may come today, as the delegation and leaders of the Federation of Bangladesh Chambers of Commerce and Industry are going to hold a meeting at a Dhaka hotel.
Commerce Minister Tofail Ahmed said the Saudi entrepreneurs could invest in the thrust sectors -- IT, pharmaceuticals, leather and leather goods, jute and jute goods and furniture.
He said Bangladesh has been exporting pharmaceuticals to 127 countries after meeting 98 percent of the local demand and Saudi Arabia could also be a potential export destination.
The balance of bilateral trade is tilted towards Saudi Arabia as Bangladesh imports a lot of live animals, fruits and vegetable, mineral and chemical products.
In fiscal 2016-17, Bangladesh exported goods worth $185.21 million and imported goods of $605.4million, according to commerce ministry data.
In the year before, the figures were $225.68 million and $590.70 million respectively.