Tk 150 excise duty for deposits of Tk 1-5 lakh
Retains proposed rates for big ticket account balances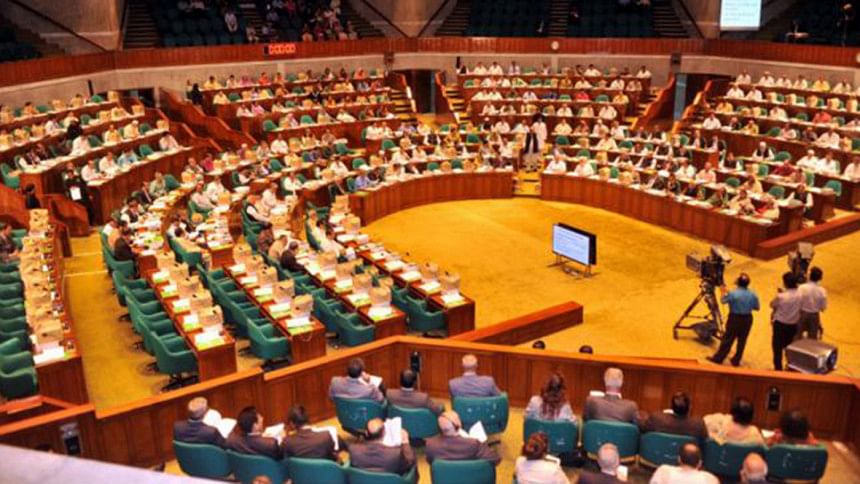 The government today reduced the excise duty on small size bank deposits amid much criticism but retained the proposed rates for big ticket account balances.
Suggested by Prime Minister Sheikh Hasina in the parliament, Finance Minister AMA Muhith proposed the new excise duty that was passed unanimously in the House this evening.
Muhith, however, maintained the excise duty exemption to deposits up to Tk 1 lakh for the new fiscal year starting July 1.
Deposits with balance between Tk 1 lakh and Tk 5 lakh have been slapped with Tk 150 excise tax at any time of a year. Earlier, Muhith had proposed to raise it to Tk 800 from Tk 500.
The excise duty for deposits of Tk 5 lakh to Tk 10 lakh has remained the same at Tk 500 as per the existing rates. However, Muhith had proposed to raise it to Tk 800. 
Meanwhile, the finance minister has retained the proposed rates for higher bank deposits.
The duty on account balance of Tk 10 lakh to Tk 1 crore will be Tk 2,500 from the upcoming fiscal year, about 67 percent higher than the existing rate of Tk 1,500.
The rate will be Tk 12,000 on deposits from Tk 1 crore to Tk 5 crore. It is now Tk 7,500.
Deposits above Tk 5 crore will bear an annual excise duty of Tk 25,000, up from Tk 15,000 now.
The proposal to hike excise duty move had drawn huge criticism as it was hiked at a time when average interest rates on deposits came down to below 5 percent.
Savers, as well as ministers, economists and business leaders criticised the attempt to increase the excise duty.
The government imposed the excise duty on bank deposits in 2002.
All of the finance minister's proposals were approved by the lawmakers.