Chinese mobile brands growing rapidly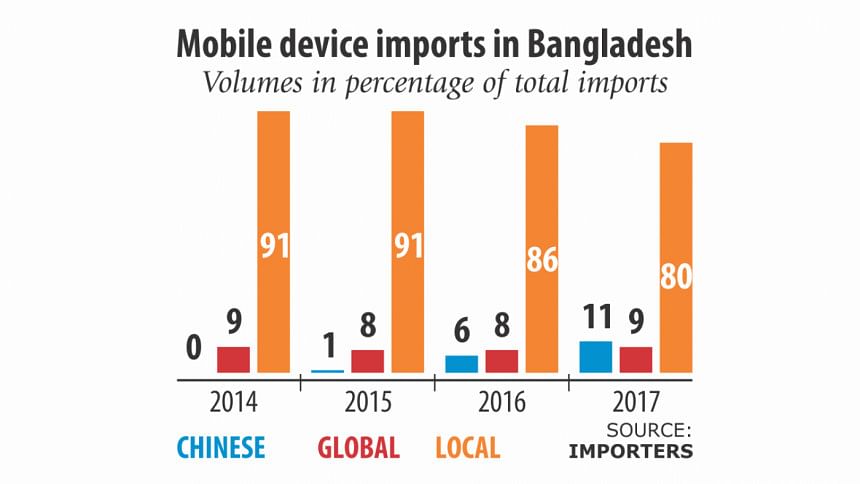 Chinese mobile phone brands are building up their presence in Bangladesh, doubling their share within a year.
In 2017, Chinese brands accounted for 22 percent of the smartphones imported, up from 12 percent a year earlier, according to local importers.
All the global leading Chinese brands such as Huawei, Oppo, Xiaomi, Tecno, and Vivo are doing business in Bangladesh and have gained much popularity.
The brands' import more than doubled to 39.40 lakh units in 2017 from a year earlier, whereas the overall market grew only 11 percent to 3.44 crore, according to data collected by the top importers of the country.
The growth is even higher in case of basic phones: imports by Chinese brands surged 117 percent year-on-year to 21.68 lakh units last year.
Counterpoint, a Hong Kong-based technology market research firm, also came up with the similar numbers in the first three quarters of 2017. It has not published the full-year report yet.
"We didn't get as much business as we had expected in 2017. Chinese companies might be growing here," said Jakaria Shahid, managing director of Edison Group, the parent company of mobile handset brand Symphony.
Shahid, also the general secretary of the Bangladesh Mobile Phone Importers Association (BMPIA), said the pattern of the business is also changing in Bangladesh because of the advancement of new technologies.
Symphony, the market leader for the last several years, is planning to establish a handset assembly plant in the country.
"Once we start the assembling in our own plant, the gap will be narrowed and Symphony will grab more market share and it will ultimately improve the local brands' position."
Walton, another local brand, has already started assembling handsets on its own but has not been able to create much impact in the market. Some other local brands are planning to set up assembly plants.
In the smartphone segment, total imports remained flat in 2017.
Last year, importers brought 80.99 lakh pieces of devices, up slightly from 80.05 lakh units from a year earlier. Some 62 percent of the devices in the market were imported by local brands in 2017, down from 71 percent in 2016, 78 percent in 2015, and 84 percent in 2014.
Rezwanul Haque, chief executive officer of Transsion Bangladesh Ltd, a Chinese-branded device that launched in Bangladesh a few months ago, said the major difference is that Chinese companies are spending heavily to establish their brands across the country.
"About 80 percent of the global mobile handsets are made in China. That's why the country's backward linkage is very strong, enabling it to offer high-quality products to customers," said Haque, also the immediate past general secretary of the BMPIA. Bangladesh has already become a sizable market for mobile phones. At present, the market share of smartphones is at about 35 percent and is set to jump this year following the launch of 4G.
The growth prospect wooed Chinese brands to Bangladesh in the last couple of years. Tecno, a popular brand of Transsion Company, and Vivo entered the market last year, following in the footsteps of Huawei, the market leader among Chinese brands, Oppo and Xiaomi.
Infinix also made a foray into the market at the end of 2016 but has failed to get much traction.
Huawei has done significantly well in terms of boosting its market share, said Ziauddin Chowdhury, deputy country director of Huawei Consumer Business Group (Bangladesh). "Last year, our focus was to bring high-quality products to Bangladesh and take them closer to customers. We are happy that customers have responded positively," Chowdhury said.
Currently, Huawei has 12 smartphones and a tablet in the market that support 4G and are capable of delivering improved video calling, speedy data transfer, and fast internet, he said.
Market insiders said as 4G would lead the handset market in the coming years technological advancement will give Chinese brands an upper hand.