Worker outflow to Saudi Arabia climbs but remittance falls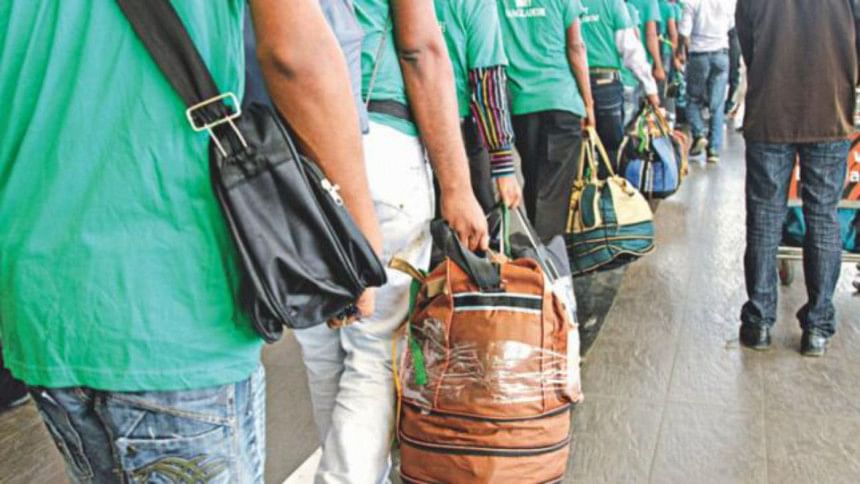 The outflow of migrant workers from Bangladesh to Saudi Arabia surged around four times in the last three years but remittance earnings from the country have kept falling, official figures showed.  
In 2020, some 161,726 Bangladeshis found jobs in the Gulf nation and it rose to 457,227 in 2021 and 612,418 in 2022, according to data from the Bureau of Manpower, Employment and Training (BMET).
However, remittance earnings from Saudi Arabia stood at $5.7 billion in 2020-21. It dropped to $4.5 billion in 2021-22 and $3.7 billion in 2022-23, Bangladesh Bank data showed.
Towfiqul Islam Khan, an economist, blamed the growing use of hundi in recent years for the fall in remittances.
Towfiqul Islam Khan, an economist, blamed the growing use of hundi in recent years for the fall in remittances.
Hundi, a cross-border illegal money transfer system, is a demand-driven business and its popularity has shot up recently, he said.
Khan, a senior research fellow at the Centre for Policy Dialogue, said some of the people who went abroad left the country without any knowledge about the jobs they were going to be employed in.
"Many of them didn't get any jobs while some faced cheating. As a result, we are not getting the expected amount of remittance."
Since a large number of people are going abroad for low-paid jobs, per person remittance inflow is quite low in Bangladesh compared to that of India and the Philippines, Khan added.
In FY23, the second-highest remittance came from the United States at $3.5 billion, but the number of Bangladeshis who found jobs in the largest economy in the world could not be found.
Overseas employment in the United Arab Emirates was 101,775 in 2022 and the workers remitted $3.03 billion in FY22.
The global economic uncertainty and higher inflation adversely affected migrants' real incomes and their remittance flow, said the BB in its quarterly report on remittance inflows.
Remittance receipts stood at $5.5 billion in the April-June quarter of FY23, which was 0.61 percent higher than the previous quarter.
In the last quarter of FY23, the highest volume of remittances was received from Saudi Arabia at $1 billion.
Some $829.41 million came from the UAE, $720.81 million from the US, and $615.30 million from the UK.
A total of 2.94 lakh workers, including 17,417 females, migrated in the quarter.
Around 103,578 Bangladeshis went to Saudi Arabia in search of jobs, accounting for 35.16 percent of the outbound migration.
Malaysia received 32.32 percent of the workers, Oman 10.29 percent, the UAE 5.88 percent, Singapore 4.65 percent, Kuwait 2.79 percent, and Qatar 2.68 percent, the BB report said.