China tips into deflation as efforts to stoke recovery falter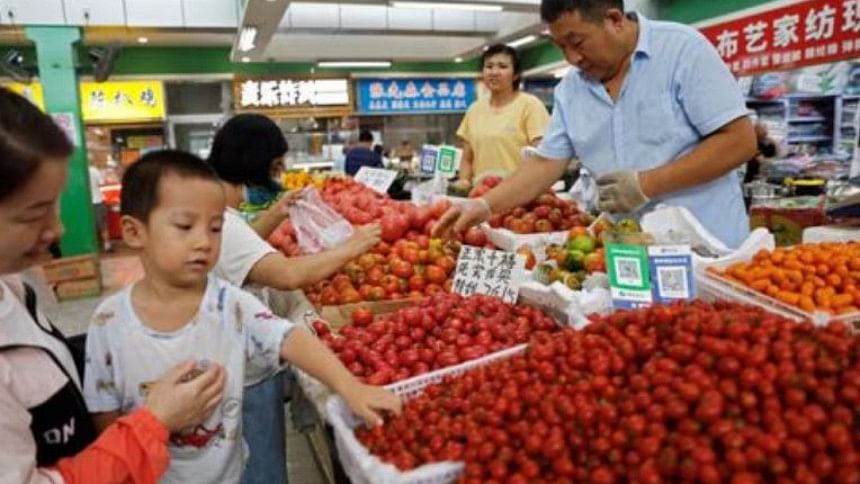 China's consumer sector fell into deflation and factory-gate prices extended declines in July, as the world's second-largest economy struggled to revive demand and pressure mounted for Beijing to release more direct policy stimulus.
Anxiety is rising that China is entering an era of much slower economic growth akin to the period of Japan's "lost decades", which saw consumer prices and wages stagnate for a generation, a stark contrast to the rapid inflation seen elsewhere.
China's post-pandemic recovery has slowed after a brisk start in the first quarter as demand at home and abroad weakened and a flurry of policies to support the economy failed to shore up activity.
The consumer price index (CPI) dropped 0.3% year-on-year in July, the National Bureau of Statistics (NBS) said on Wednesday, compared with the median estimate for a 0.4% decrease in a Reuters poll. It was the first decline since February 2021.
The producer price index (PPI) declined for a 10th consecutive month, down 4.4% and faster than the forecast 4.1% fall.
China is the first G20 economy to report a year-on-year decline in consumer prices since Japan's last negative headline CPI reading in August 2021 and the weakness adds to concerns about the hit to business among major trading partners.
"For China, the divergence between manufacturing and services is increasingly apparent, meaning the economy will grow at two speeds in the rest of 2023, especially as the problem in real estate re-emerges," said Gary Ng, Asia Pacific senior economist at Natixis. "It also shows China's slower-than-expected economic rebound is not strong enough to offset the weaker global demand and lift commodity prices."
The data comes a day after trade figures showed exports and imports both slumping in July.
Asian shares were on the defensive on Wednesday as the Chinese price data confirmed its economic recovery was losing steam.
MIXED PROSPECTS
China's anaemic prices contrast sharply with the crippling inflation most other major economies have seen, which forced central banks elsewhere to rapidly raise interest rates.
However, there are signs global inflation may be peaking and in some cases reversing. Brazil last week cut interest rates for the first time in three years amid more benign inflationary conditions.
Beijing has set a consumer inflation target of around 3% this year, which would be up from 2% recorded in 2022, and for now, authorities are downplaying concerns about deflation.
Liu Guoqiang, deputy governor of the central bank, last month said there would be no deflationary risks in China in the second half of the year, but noted the economy needs time to return to normal after the pandemic.
China's CPI fall in July was mainly caused by an acceleration in pork price declines to 26% from 7.2% due to heavy rains hurting supplies. On a month-on-month basis, the CPI actually rose 0.2%, defying expectations for a fall, driven by a surge holiday travel.
That suggests comparisons with Japan may be premature, some analysts say.
Xia Chun, chief economist at Yintech investment holdings in Hong Kong, expects China's deflation will last for six months to 12 months but won't follow Japan's history, where price stagnation has persisted for much of the past two decades.
In recent weeks, policymakers announced measures to boost sales of cars and appliances while some cities eased property curbs, but some market participants say more decisive stimulus is needed.
Investors have been anxiously waiting for policymakers to inject stimulus after the powerful Politburo meeting last month, with the stock market mostly underwhelmed by the lack of concrete actions.
"Markets and businesses should get used to the 'new normal' in which the Chinese government will avoid rolling out big stimulus," said Tommy Wu, senior economist at Commerzbank.
"Instead, targeted stimulus will be implemented and most policy measures will focus on the supply side," said Wu.