Asean countries to begin talks on $2.7 trillion digital economy pact by 2023-end
Negotiations are expected to be officially launched at the 23rd Asean Economic Community council meeting, and officially acknowledged in September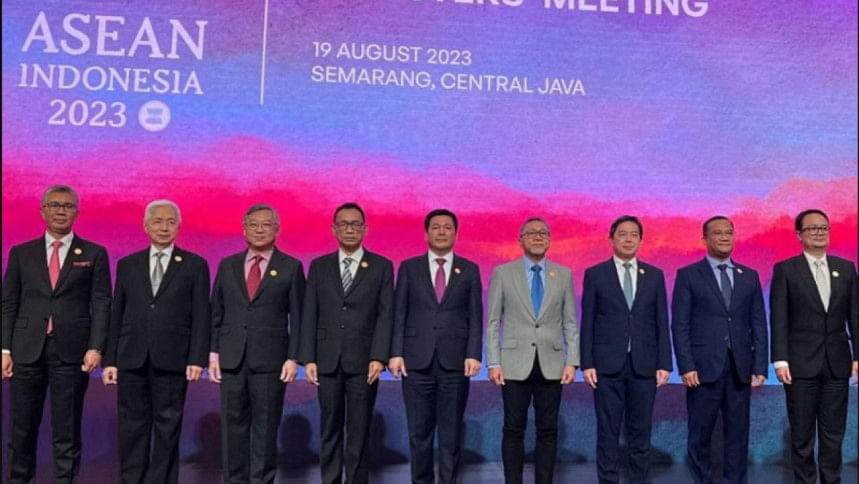 Asean is intensifying its economic integration to improve cross-border trade and investment flows, including by unlocking a potential US$2 trillion (S$2.7 trillion) in its digital economy by 2030.
A regionwide digital economy pact was on the agenda of the 55th Asean Economic Ministers' (AEM) meeting held in Semarang, Indonesia, on Saturday and Sunday. Singapore's Minister for Trade and Industry Gan Kim Yong attended the meeting.
The AEM meeting endorsed a study on the Asean Digital Economy Framework Agreement (DEFA), paving the way for the 10 member countries to start negotiations on the pact, according to a joint Asean media statement.
The DEFA negotiations are expected to be officially launched at the 23rd Asean Economic Community (AEC) council meeting and to be officially acknowledged by Asean leaders at the 43rd Asean Summit in Jakarta in September, it said.
Boston Consulting Group has projected that Asean's digital economy will triple by the end of the decade through the natural adoption of digital technologies, growing to almost US$1 trillion by 2030 from US$300 billion now. Progressive rules in DEFA would double this contribution to US$2 trillion, said a separate Asean statement.
Mr Gan said the annual AEM meeting and the good outcomes from Semarang were testament to the Asean nations' commitment and efforts to remain open, connected and integrated with one another.
"A rules-based trading environment, and capturing the potential of digitalisation and sustainability are important for businesses in the region. Singapore will continue to work in partnership with Asean member states to deepen Asean's value proposition as an attractive trade and investment region for our global partners," Mr Gan said in a statement released by the Ministry of Trade and Industry (MTI).
Asean is Singapore's largest trading partner in goods and Singapore's largest investment destination. In 2022, Singapore's total trade in goods with Asean amounted to $344.3 billion, an increase of about 19 per cent over the previous year, MTI said. Singapore invested $23.9 billion into Asean in 2022, up 8 per cent from the previous year.
The gathering also saw the completion of the Asean Services Facilitation Framework, which aims to foster a more transparent and predictable business environment for companies to engage in cross-border trade in services in the region, said MTI.
Several mutual recognition arrangements were signed for particular areas such as building and construction materials and food safety regulations.
"Collectively, these mutual recognition arrangements will reduce impediments to trade as well as time and costs arising from duplicative retesting, inspection and certification," MTI said.
The new Asean Tariff Finder was also launched at the AEM meeting. The finder provides a single, user-friendly portal for businesses to access updated information on trade regimes and tariff rates within Asean.
Asean ministers also signed a memorandum of understanding with the World Intellectual Property Organisation to help regional businesses better leverage and monetise their intellectual property (IP). One of the initiatives launched was a one-stop platform for businesses to search Asean IP data.
The meeting noted the continued progress of the negotiations chaired by Singapore on an upgraded Asean Trade in Goods Agreement, which aims to cover not only traditional goods trading but also emerging issues such as digital trade, trade and environment, and trade in crisis situations.
It also noted that although global inflation had eased, the prices of food and energy commodities remained fragile owing to supply disruptions caused by the prolonged conflict in Eastern Europe. It acknowledged that the potential for an extended period of monetary policy tightening by major economies could adversely affect prospects for global economic growth. Nevertheless, it said the region's banking sector remains stable.