Global economy loses steam as Chinese, European factories falter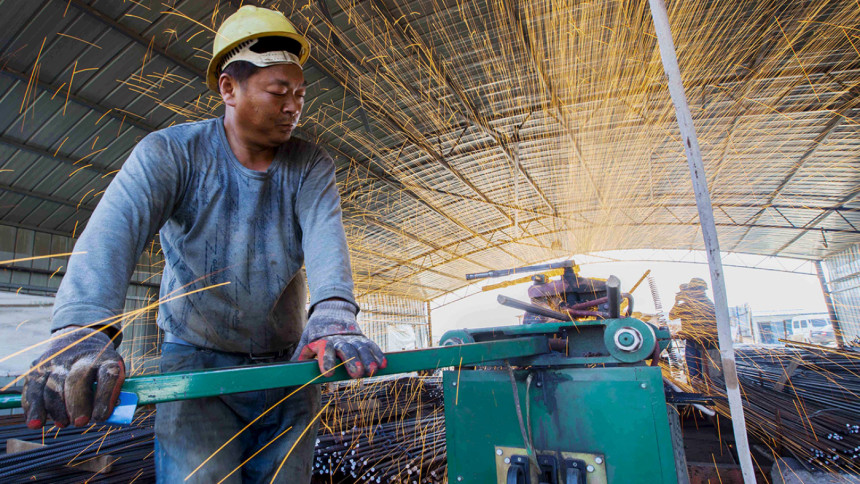 World economic growth lost momentum in September, with China's factory output shrinking again, euro zone manufacturing growth slowing, and US activity steady.
The latest business surveys across Asia, Europe and the Americas paint a gloomier picture and are likely to prompt more calls for central banks to loosen monetary policy even further.
"The data probably increases the case for more stimulus in certain parts of the world, especially from the People's Bank of China and the European Central Bank," said Philip Shaw, economist at Investec in London.
"Those economies that are at less advanced paths of the recovery cycle -- the key example is the euro zone, where we're looking at more disinflation -- may well find more stimulus is in order."
CHINA MANUFACTURING STILL CONTRACTING
Surveys of China's factory and services sectors showed the world's second largest economy may be cooling more rapidly than earlier thought, with deeper job cuts.
Taken together with a stock market crash in Shanghai during the summer and a surprise devaluation of the Chinese yuan, the data highlight just how difficult it will be for policymakers to steer China's economy out of the biggest slowdown in decades.
"Two straight months of manufacturing sector contraction with a depressed equity market suggests China's third-quarter GDP growth is likely to have slowed to 6.4 percent," economists at ANZ said.
The official manufacturing Purchasing Managers' Index (PMI)in China inched up to 49.8 in September from 49.7, but was still below the 50 level on the index separating growth from contraction.
Private data vendor Caixin/Markit reported its China PMI slipped to 47.2 in September though, the lowest reading since March 2009.
In China's service sector the official PMI stood at 53.4, the same as August, according to the National Bureau of Statistics.
The Caixin/Markit service sector PMI fell for a second consecutive month to 50.5, its lowest level since July 2014.
China is a major importer of raw materials, especially from commodity producers such as Australia, Brazil and Canada, so a slowdown in demand is being felt globally.
Concerns over China and global market volatility figured high on a list of reasons the US Federal Reserve did not raise interest rates last month.
MORE ECB STIMULUS AS PRICES DROP
In the euro zone, where the central bank is six months into a 1.1 trillion euro asset purchase programme, the PMI survey data showed manufacturing output weakened slightly last month.
Markit's final euro zone manufacturing PMI was 52.0 last month, lower than August's 52.3.
ECB policymakers, led by President Mario Draghi, have hinted the 60-billion-euro-a-month bond-buying scheme could be enhanced in size or duration if inflation is seen missing its goal of near 2.0 percent even by 2017.
Factories in Europe's number one economy, Germany, performed better, however, driven by strong output from consumer goods producers and rising new orders.
The PMIs also showed French manufacturing grew faster than first thought in September, while British factory growth lost steam and shed jobs for the first time since 2013.
The drag on the UK economy is likely to weigh on the Bank of England which is considering when the appropriate time is to raise interest rates from the current 0.50 percent, where they have stayed since March 2009.
US MANUFACTURING SLUGGISH
In the Americas, growth in the US manufacturing sector rose slightly in September but was still at its second-lowest level since Oct. 2013, according to Markit.
The final US manufacturing PMI inched higher to 53.1 in September from 53.0 in August, which marked the lowest level since Oct. 2013.
"The US manufacturing sector has seen a distinct loss of growth momentum in recent months, endured the worst performance for two years during the third quarter," said Chris Williamson, chief economist at Markit.
"Headwinds include the rising dollar, weak demand in global markets, a downturn in business investment and financial market jitters," he added.
An alternative US manufacturing survey from the Institute of Supply Management (ISM) showed the pace of factory activity slowed in September while remaining at its lowest level since May 2013.
Business conditions in the Canadian manufacturing sector fell to a record low in August as the country continues to feel the effect of cheap oil prices.
The RBC/Market manufacturing PMI for Canada fell to 48.6 last month from 49.4 in August and is now at the lowest level in the survey's five-year history.
Canada was in a mild recession in the first half of the year as the oil-exporter has been hurt by the drop in the price of crude oil.
In Latin America, Brazil's manufacturing PMI rose to 47.0 in September from 45.8 in August but the sector has now contracted for an eighth straight month. ID:nN9N10O00Q]
Brazil's economy is struggling through its worst recession in 25 years, leaving the nation's long-crippled manufacturing sector reeling. Manufacturers have laid off nearly half a million workers over the past 12 months as output shrunk to 2009 levels.
Mexico's HSBC/Markit manufacturing PMI fell to 52.1 from 52.4 in August.