Garment workers paid in full before Eid, BGMEA claims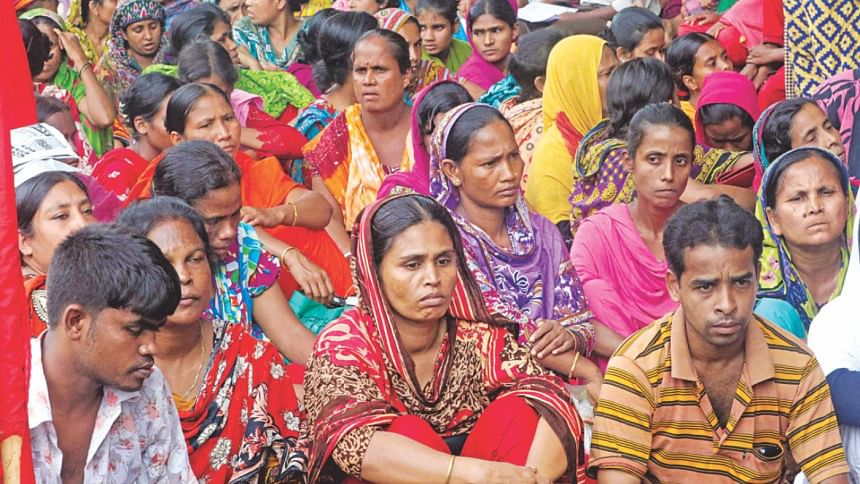 Garment owners yesterday completed the payments of salaries and bonuses to workers ahead of Eid.
Atiqul Islam, president of Bangladesh Garment Manufacturers and Exporters Association, in a press conference yesterday said all members of the association, except for Swan Garments, have paid the workers.
Islam said the labour ministry has taken charge of the Swan Garments issue.
The owner of Swan Garments, which employs about 1,300 people, has been absconding the last few months. Situated at the capital's Mollartek, the factory has remained shut since April.
Over the last few days, some Swan workers have been demonstrating in front of the National Press Club in the capital for prompt payment of all dues from April to June.
It is impossible to pay the workers of Swan Garments before Eid as the factory owner remained traceless in the last few months, said Mikail Shipar, labour secretary.
The labour ministry on Sunday formed a committee headed by Syed Ahmed, inspector general of the Department of Inspection for Factories and Establishments, to find ways to sell Swan's assets to pay off the workers, Shipar said.
The committee has already started working on the matter but it will take time, the labour secretary added.
Islam said the BGMEA monitored 1,489 factories that were suspect of not paying their workers before Eid because of their precarious financial conditions.
A total of 15 committees closely monitored the payment issues to ensure the workers did not go home empty-handed for Eid, he said.
Some 67 percent of the BGMEA members have also paid 15 days' salaries for the month of July along with the previous month's salary and Eid bonus, he added.
Meanwhile, the 200 sub-contracting factories, which are not members of BGMEA, also cleared the workers' dues yesterday after delaying it, said Sirajul Islam Rony, workers' representative to the minimum wage board for garment workers.