Foreign funding for NGOs shrinks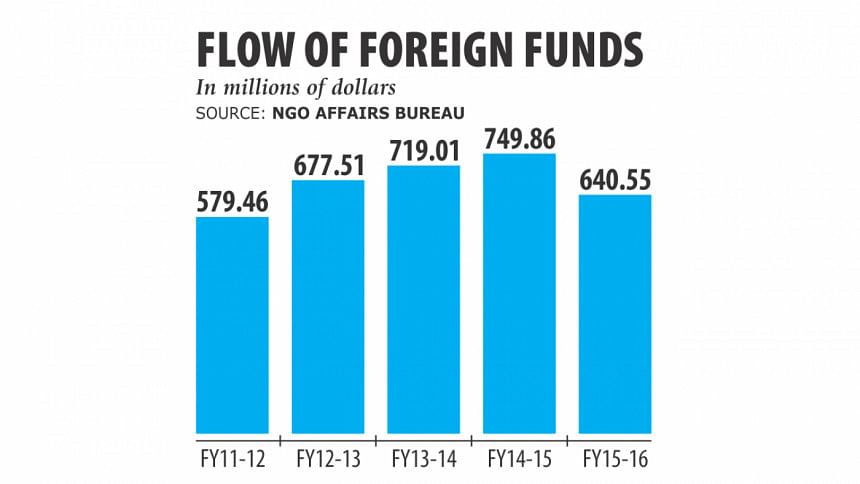 Foreign funding to nongovernmental organisations through the NGO Affairs Bureau dropped 15 percent year-on-year in fiscal 2015-16 after the government took on a cautious approach on them.

Last fiscal year, the NGO Affairs Bureau released $640.55 million in grants, down from $749.86 million a year earlier, according to a report.

However, the total commitment made last fiscal year was $807.16 million, up 34 percent year-on-year.

The government has bumped up its monitoring activities on the NGOs operating across the country, which may have impacted the overall donation sum, said a senior official of the bureau, which is run under the Prime Minister's Office.

"We have taken up serious measures to check whether the NGOs actually spend the funds in the right areas," said Md Ashadul Islam, director general of NGO Affairs Bureau.

If irregularities in expenditure were found, serious actions were taken against the NGOs and in some cases their licences were revoked. The bureau has so far cancelled the licences of 484 organisations.

Islam said the 15 percent funding decline is not a matter of concern: this is not the first time that the donation volume has declined. 

"We got huge commitments from the donors which might be released this fiscal year -- the industry will get a boost."

The bureau's disbursement grew by 5-10 percent every year since fiscal 2011-12.

The bureau has approved about 1,100 projects on average in the last few years, but last fiscal year it came down to 986. "This may have had an effect on the disbursement figure," said a bureau official.

As of last fiscal year, the bureau has released a total of $7.95 billion since its establishment in fiscal 1990-91 against the cumulative commitment of $9.52 billion, according to the bureau. During the period, the bureau has approved 23,217 projects.

As of last September, the total number of registered NGOs in Bangladesh is 2,498 though many of the organisations are not active at this moment.