Finance ministry in favour of firms investing abroad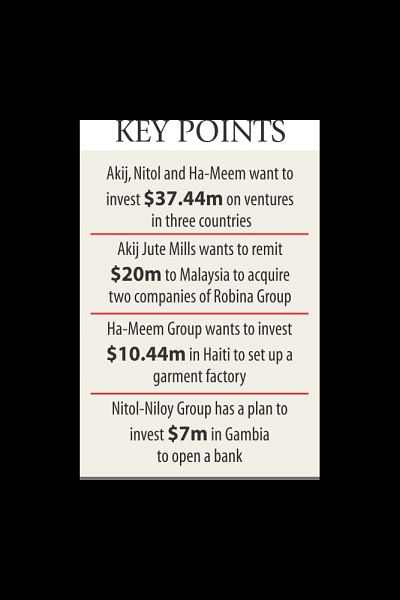 The banking division is in favour of allowing local businesses to invest abroad -- a stark contrast to the central bank's stance on the matter.
However, for taking the final decision on the matter, Finance Minister AMA Muhith has referred the proposal to the cabinet committee on economic affairs that has several ministers as its members.
Three industrial giants -- Akij, Nitol and Ha-Meem -- have recently applied to the Bangladesh Bank for permission to invest a total of $37.44 million in ventures in three countries.
"The investment proposals came from reputed firms. So, there is scope for repatriation of the money earned from their foreign ventures," said a finance ministry official.
If, in future, export earnings and remittance inflow decrease further, such investment may create opportunity for earning foreign currency for the country, said the proposal from the banking division to the cabinet committee on economic affairs.
However, the BB observation projected various negative aspects about allowing local companies to invest abroad.
Though the foreign currency reserves crossed the $32-billion mark quickly, its growth rate has now slowed down, the central bank said.
In recent times, import bills have gone up and export growth and remittance inflow have declined, both of which had the effect of driving the current account balance into the deficit from surplus.
Besides, there is surplus liquidity in the banking system at present, which remains unutilised. So, it would be prudent to encourage local investment. A $2.5 billion export development fund has also been created.
On the other hand, as of March, the amount of private sector external debt stood at $9.4 billion.
"All these issues have to be considered cautiously," the BB said.
Akij Jute Mills wants to remit $20 million to Malaysia to acquire two companies of Robina Group. "There is no precedence of remitting such huge amounts of money," the central bank said.
Ha-Meem Group has applied for permission to invest $10.44 million in Haiti for setting up a garment factory. Nitol-Niloy Group wants to invest $7 million for setting up a bank in Gambia.