Female trailblazers honoured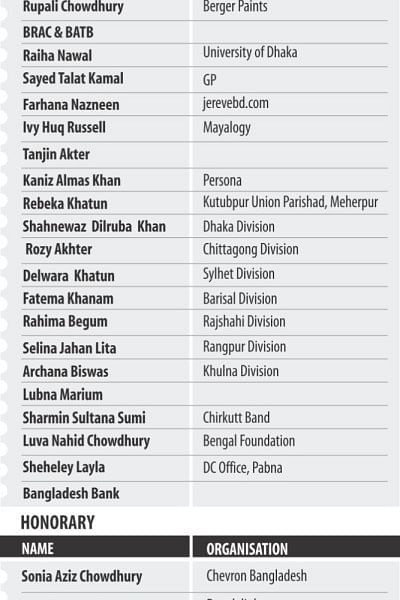 Bangladesh Brand Forum yesterday celebrated the achievements of 27 inspiring women who scaled remarkable heights in their own lives and set examples for others to follow.
A total of 31 awards were given in 15 categories, including one special category for female students, at an event styled 'RFL Inspiring Women Awards' at Radisson Hotel in Dhaka.  
Among the professional categories, an honorary recognition award -- Inspiring Corporate Leader of the Decade -- was given to Rupali Chowdhury, managing director of Berger Paints Bangladesh, for setting an example for aspiring women in the corporate world.
Seven honorary awards were also given in the category 'Inspiring Regional Leader' to seven 'Joyeetas' from seven regions of the country.
The purpose of the awards is to encourage women to aim for leadership positions, said Nazia Andaleeb Preema, president of the Women in Leadership Project of BBF.
In the education sector, women manage better scores than their male counterparts, but their representation in various professional sectors is found wanting, she added.
The award ceremony also honoured the most women-friendly organisations from both the private and public sectors, emphasising the necessity of a working environment conducive to women. Winners in the private sector include Brac and British American Tobacco Bang-ladesh; and Bangladesh Bank from the public sector.
Three jury boards comprising 20 members selected the winners out of around 350 nominations, said Tabita Zahur, project manager of the Women in Leadership Project.
BBF also awarded a male professional -- Sayed Talat Kamal, deputy director and head of external communications of Grameenphone -- for his role in promoting women's leadership.  
Award winners and nominated candidates will be further engaged through multiple platforms and activities, said Shariful Islam, founder of BBF. 
He said their future engagements will include mentoring of female professionals, inspiring the leaders of tomorrow, university engagements, and a bi-monthly publication -- Women in Leadership.
Crests and certificates were handed over to winners in each category at the ceremony.
Nazneen Sultana, deputy governor of Bangladesh Bank, said the central bank has been actively promoting women entrepreneurs in the country for the last five years. Now banks have to set aside 15 percent of their SME loans for women.
Sophie Aubert, French ambassador to Bangladesh, said women are not the second half; rather they are the one half of humanity.
About 500 guests from local companies and multinationals, development agencies, government bodies and dignitaries from foreign embassies were present.
Pran's RFL was the title partner of the event, while the Access to Information (a2i) programme of the Prime Minister's Office and Foreign Investors' Chamber of Commerce and Industry provided support.
The Daily Star was the strategic partner, Webable the social media partner and Maverick Studios the digital partner.