Eight banks asked to cut spread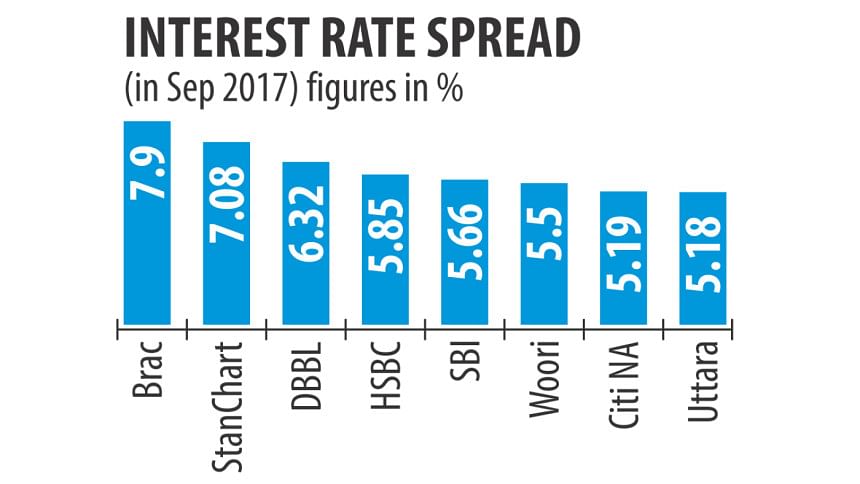 The Bangladesh Bank has instructed eight private banks to bring down their interest rate spread to less than 5 percent -- a directive the banks deem to be unfair on them.
The interest rate spread is the gap between the interest rates on credit and deposit.
The banks are: Standard Chartered, State Bank of India, Woori Bank, Citibank, HSBC, Dutch-Bangla, Brac and Uttara Bank.
The BB does not take into cognisance the operating costs when calculating the interest spread and in so doing leaves out a big chunk of the banks' expenses, said Abul Kashem Md Shirin, managing director of Dutch-Bangla Bank.
"We do ATM, mobile and agent banking extensively in order to provide services to our more than 60 lakh customers and this costs money. But the central bank does not take this into account."
Dutch-Bangla's spread is high because of higher operating costs.
The spread should be calculated by deducting the cost of funds and the operating costs from the lending rate.
"If the BB continues to pressurise us we will have to cut down our services in order to reduce the operating costs," he added. In the letter to the eight banks on January 16, the central bank gave them a timeframe to bring down their spread. The BB gave the order after calculating the banks' spread in September. The sector's average spread that month was 4.45 percent.  
The banks with a spread of 5 percent to 6 percent will have to bring it down to the permissible limit by February, while those with 6 percent to 7 percent spread will have to do so by March.
The lenders whose spreads have crossed 7 percent will have to bring it down by April.
Meanwhile, the interest rate on deposits has recently started creeping up because of a dearth of liquidity, said a central bank official.
This will have a knock-on effect on the interest rate for lending, much to the detriment of entrepreneurs.
"Banks might exercise an unhealthy competition in the months to come to mobilise deposits, which would create a haphazard situation in the banking sector," said the official.
A healthy situation would prevail if the banks follow the BB directive, he said, adding that the central bank should keep vigilance on this development.