'There are possibilities to LDC graduation as well as challenges'
Says, Abul Maal Abdul Muhith
There are challenges to the graduation from Least Developed Country (LDC) status for Bangladesh, however there are possibilities as well, Finance Minister Abul Maal Abdul Muhith said today.
Read More: LDC GRADUATION: What it means for Bangladesh
To utilise the possibilities, we need to needs work over the nine years transit period, the minister said at a press conference held at the finance ministry in the morning.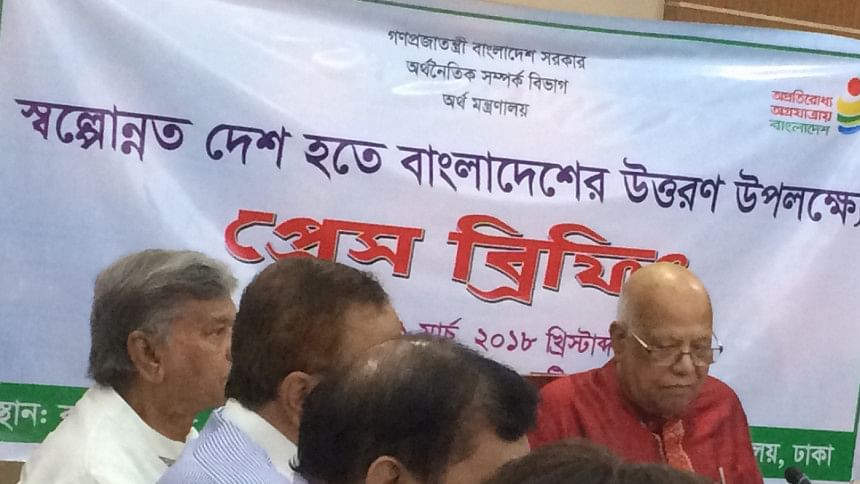 The minister said there will be special programmes on March 22 and March 23 to celebrate the LDC graduation of Bangladesh.
Also Read: LDC graduation by 2027: commerce minister
"In the year 2041, our target will be to help other countries like we get help now (from other countries)," the minister told journalists at the press conference.
"By graduating from LDC, we are freeing up space so the other countries in need can get these benefits," the minister added.
"World Bank is recognising us as a lower Middle Income Country. We did not choose it ourselves. For this, our low-cost loan facilities will decrease and thus we have to be careful while accepting loans in the future," said Muhith.
State Minister for Finance MA Mannan, Prime Minister's Chief Coordinator related to SDG Abul Kalam Azad, Principal Secretary Nozibur Rahman and Economic Relations Division Secretary Shafiqul Azam were present among others at the press conference.
After the graduation from the LDC in 2024, there will be a grace period of another 3 years when Bangladesh can enjoy all LDC-specific benefits.
So, there are approximately 10 years for the country to prepare itself to start the new journey. Bangladesh needs to prepare for a smooth graduation by taking into account a few issues.