Stocks snap eight-day gaining streak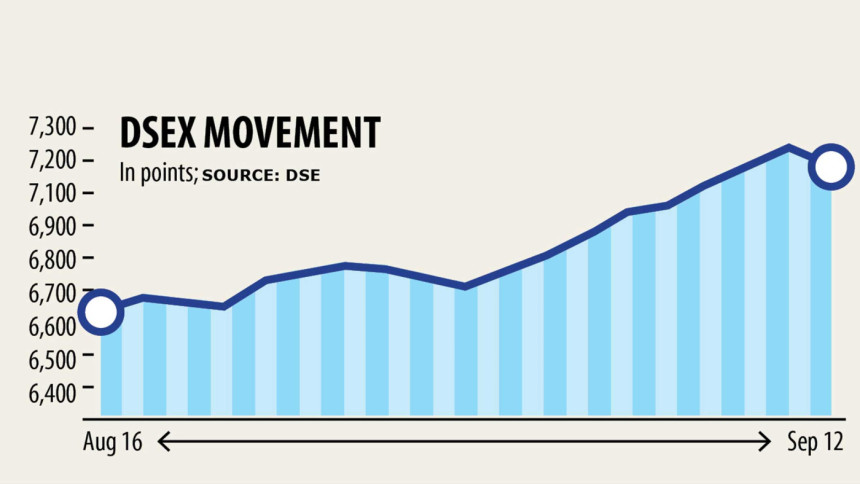 The stock market's eight-day gaining streak came to a halt yesterday as investors booked profits.
The DSEX, the benchmark index of the Dhaka Stock Exchange (DSE), gave up 56 points, or 0.78 per cent, to close at 7,202.
"People took their profits as the index rose continuously, and this is a normal tendency in the stock market," said a stockbroker.
The prime index advanced 435 points, or 6.3 per cent, in the previous eight trading days, DSE data shows.
If people take profits, the market gets the strength to soar further, the broker said, adding that a continuous rise was not a sustainable way to maintain an upward trend.
Now, people can get an opportunity to rearrange their portfolios, he said.
Turnover, an important indicator of the market, rose to Tk 2,708 crore while it was Tk 2,696 crore a day earlier.
At the start of the day, the index was on an upward trend, rising 77 points, but it began a downward slide after one hour of trading.
The key index of the main bourse experienced a "much-needed" correction, breaking the winning streak after a continuous gaining trend, said International Leasing Securities in its market review.
The investors' cheery mood reversed later in the day as evidenced by the index's trajectory after the session's first hour when it started to decline gradually, it added.
Almost all the sectors posted losses except life insurance and miscellaneous.
The DSES, the Shariah-based index, and the DS30, the blue-chip index, registered losses of 16.35 points and 9.04 points respectively. Out of 376 traded scrips, 83 advanced, 261 declined, and 32 remained unchanged.
Uttara Bank topped the gainers' list, rising 9.82 per cent, followed by Nitol Insurance, Alif Industries, National Housing Finance, and Kohinoor Industries.
Mithun Knitting shed the most, falling 10 per cent, followed by Shyampur Sugar, Beach Hatchery, Meghna Pet Industries, and Alltex Industries.
Stocks of Beximco Limited traded the most, worth Tk 80 crore, followed by Beximco Pharmaceuticals, Square Pharmaceuticals, LankaBangla Finance, and British American Tobacco.
The shares on the Chattogram Stock Exchange (CSE) also fell as the CASPI, the general index of the port city bourse, declined 146 points, or 0.69 per cent, to 20,984.
Among 330 traded stocks, 96 advanced, 241 fell, and 20 remained unchanged.