Sadharan Bima pays US-Bangla Tk 5.74cr in insurance claims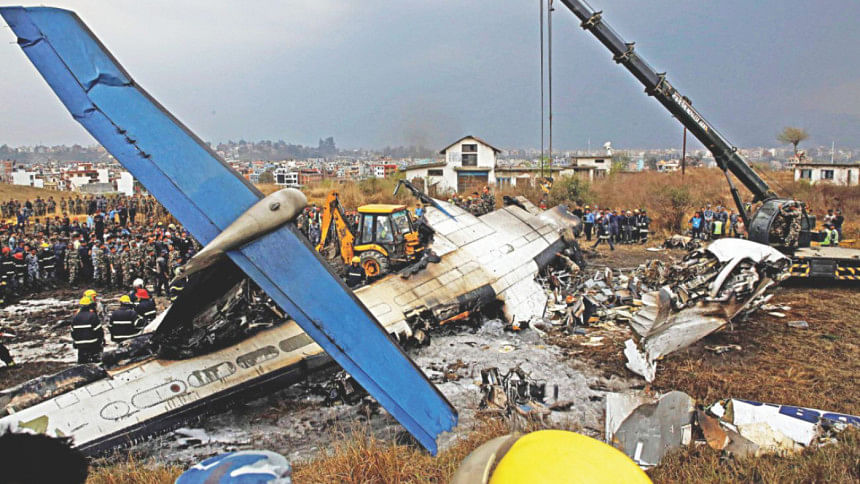 Sadharan Bima Corporation has paid $0.7 million or Tk 5.74 crore to US-Bangla Airlines in the first
instalment
as compensation against the carrier's insurance claim for the aircraft that crashed in Kathmandu last month.
As the reinsurer, the state-run corporation handed the money to the primary insurer Sena Kalyan Insurance Company at an event, at the former's headquarters in Dhaka yesterday.
Shibli Rubayat Ul Islam, chairman of Sadharan Bima, gave away the cheque to Shafique Shamim, managing director of Sena Kalyan Insurance.
With this, US-Bangla Airlines has so far got $4.872 million against its claim of $7 million from its local and global insurers.
Sadharan Bima will disburse the rest $1.42 million soon, according to Islam.
However, the victims of the plane crash have not received any compensation yet due to legal complexities.
A survey is underway to assess the damages caused to the victims of the deadly plane crash before releasing the compensation, Islam said.
The release of the compensation is being delayed as the families of the victims will have to collect succession certificate from courts before receiving the payout, he said.
Succession certificate is a document which is issued by the court for claiming movable properties by the legal heirs of a deceased person.
Banks and insurance companies do not release funds to successors without such documents.
The 76-seater Bombardier had 71 people, including four crew members, on board when it crashed into a football pitch near Kathmandu's Tribhuvan International Airport on March 12.
Fifty people were killed. Of them, 27 are Bangladeshis, including all four crew members, 22 Nepalese and one Chinese.
In case of such accidents, international carriers go by two conventions -- Warsaw Convention and Montreal Convention.
Both Bangladesh and Nepal are signatories to the Warsaw Convention only.
The Warsaw Convention has set the compensation for each passenger at $46,955 or about Tk 38 lakh.
US-Bangla Airlines took the insurance coverage of the highest $2 lakh or about Tk 1.6 crore per passenger and $50,000 for each crew member.
The airline took an insurance coverage of $107 million through Sena Kalyan Insurance and Sadharan Bima. Of the sum, $7 million is for the aircraft and $100 million for passengers.
Of the liability, about 1 percent is shared between Sena Kalyan Insurance and Sadharan Bima while the rest are reinsured with foreign insurance companies Halifax, a subsidiary of global insurance giant Lloyds, and General Insurance Corporation of India.