Women making a mark in digital space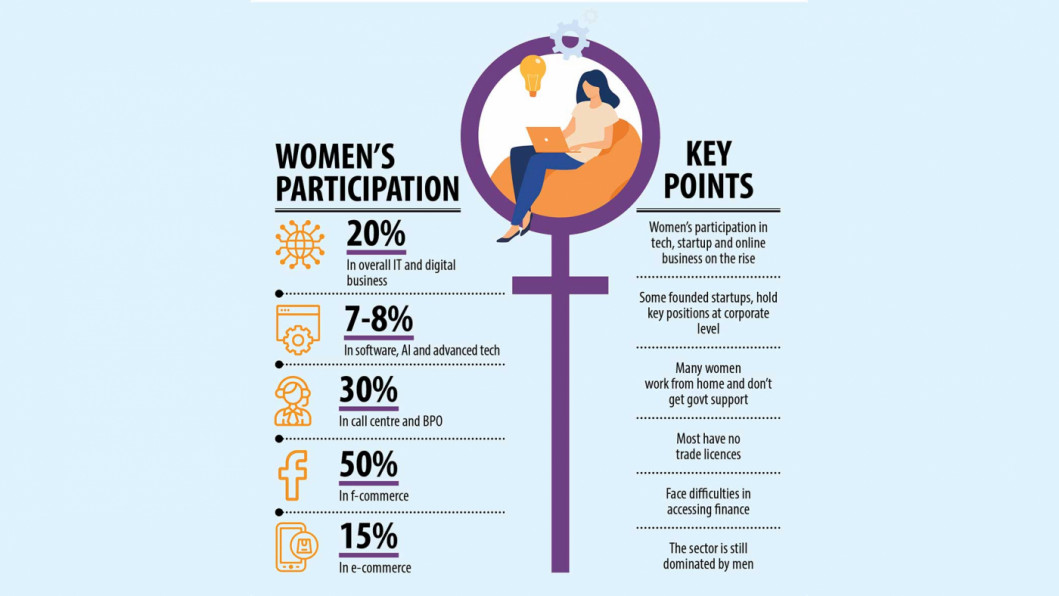 Self-confidence, determination and an unperturbed endeavour of sailing against the wind are propelling women into success in the technology, startup and online-based businesses in Bangladesh.
Many of them have founded promising startups, drove platforms forward by helming key positions, and developed internet-based enterprises with their skills and talents.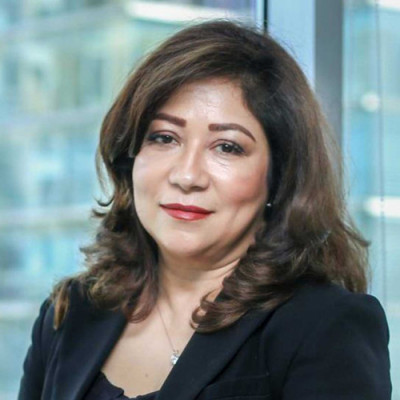 To encourage women, an ecosystem needs to be built where women are inspired, encouraged and rewarded for leveraging technology and embracing entrepren- eurship.
However, a wide gender gap is palpable in the tech, start-up and related fields as a major chunk of jobs are held by males, handing major challenge to establishing equal rights for all sexes.
Industry people say though Bangladesh has made big strides in women empowerment and women now inhabit all sectors, their representation in the tech and startup is not satisfactory yet. Their overall participation in the sector is less than 20 per cent.
The journey of Farhana A Rahman, the first woman senior vice-president of the Bangladesh Association of Software and Information Services, was not an easy one.
After completing a post-graduation in nutrition, she took IT training in 2003 in order to become a freelancer as she was unable to maintain 9 to 5 normal office hours owing to personal reasons.
At first, she would get work through her friend and family living abroad. In one year, she saw her guest room become overcrowded as she had created 10 jobs.
In 2005, she founded UY Systems Ltd, a software development and web solution provider.
She says the acceptance of women in the technology sector was very low although the situation has improved a lot.
Still, many girls don't know how to be an entrepreneur and there is very limited support to nurture them, she says.
"The family is not ready to take a similar level of risk for a female member it is willing to take for a male trying to be an entrepreneur."
"Besides, many women quit jobs abruptly and the family doesn't allow them to stay in the office for a longer time."
At present, UY Systems exports its services to dozens of countries and employs around 125 people.
After attaining a master's degree in law, Syeda Khadiza Dina ventured into the tech sector in 2005 with business process outsourcing of accounting.
Now her firm, ZS Solutions Ltd where she is the managing director, offers a host of IT services, including software and app development for foreign entities. The company also counts Robi and Upay as clients.
"A woman-led tech firm finds it difficult to attain the trust of customers. I have to face questions like whether I have inherited the firm from my father or I manage the firm that is owned by my husband."
She employs 25 people today.
Since the onset of the coronavirus pandemic, women have demonstrated their prowess and might in a sector called f-commerce.
As physical stores shuttered owing to the health crisis and related lockdowns and customers were unwilling to leave homes, women entrepreneurs rose to the occasion and started businesses using Facebook, which has more than 40 million users in Bangladesh.
"They have taken the helm of families by helping them overcome financial difficulties brought on by the pandemic. They are selling a lot of products online," said Nasima Akter Nisha, president of the Women and e-Commerce Forum (WE).
The Facebook page boasts 13 lakh members where women can post their products or services for sale.
F-commerce has created jobs for about four lakh women across the country.
In another positive development, highly-educated women are returning home after quitting jobs at top global companies to launch their own start-ups with the hope of helping solve problems facing people with the power of technologies.
One of them is Maliha M Quadir, who worked at top companies such as Morgan Stanley, Standard Chartered and Nokia before founding Shohoz in 2014. Currently, the start-up is the largest online ticket destination in Bangladesh.
Ambareen Reza co-founded Foodpanda in 2013 and her leadership as the managing director helped the firm become the number one food delivery platform in the country.
But she had to face countless challenges in every step of her life, whether it's work, academic or personal life.
"Choosing to be a woman entrepreneur in Bangladesh leaving my job in Australia wasn't a popular decision with my family and friends," she says.
It is the perseverance that helped her get through all the challenges.
"I am a problem solver and at every step of my way, I try to be objective, solve the problem at hand and move on."
"But when I look back, I think facing and overcoming those challenges helped me become more resilient."
Now, Ambareen spearheads multiple operations and initiatives with the goal of making online delivery more accessible to customers and ensuring a smooth customer experience.
According to her, in the future, businesses will start analysing data and use machine learning and artificial intelligence to make business decisions.
As such, young women should make headway in the field of STEM (Science, technology, engineering and mathematics) and prepare themselves to take on challenging roles in the fast-paced professional world.
After serving as the managing director of Microsoft Bangladesh, Myanmar, Nepal, Bhutan and Laos, Sonia Bashir Kabir has emerged as a technology entrepreneur after founding SBK Tech Ventures.
"It is my dream to empower women so that they embrace technologies since that is the only way we will be able to democratise technology."
To start with, she thinks, Bangladesh needs to address the challenge of women being left behind.
"Digital inclusion is a joint responsibility of men and women, and exclusion has joint risks."
The perception that technology is not for women or girls also has to change.
"We need to expose them to STEM and empower them as the leaders of the future," Sonia said.
"We also need to ensure that they create the technologies that help us avoid the replication of old gender stereotypes and inequalities in the digital space."
She stressed accelerating gender parity and increasing women's economic participation worldwide.
"Political leaders, policymakers and business leaders globally are aware of the urgent need to empower women."
The new digital landscape will provide female entrepreneurs with the flexibility to start businesses with a small investment and have access to markets globally.
"In order to encourage women entrepreneurs, an ecosystem needs to be built where women are inspired, encouraged and rewarded for leveraging technology and embracing entrepreneurship," Sonia said.
Ambareen urges young women to take part in accelerator programmes and business competitions to enhance business acumen.
Farhana's message to women and girls: "Keep up your goal no matter what obstacles you face. And don't give up. It's your life."