Wheat import falls for third year straight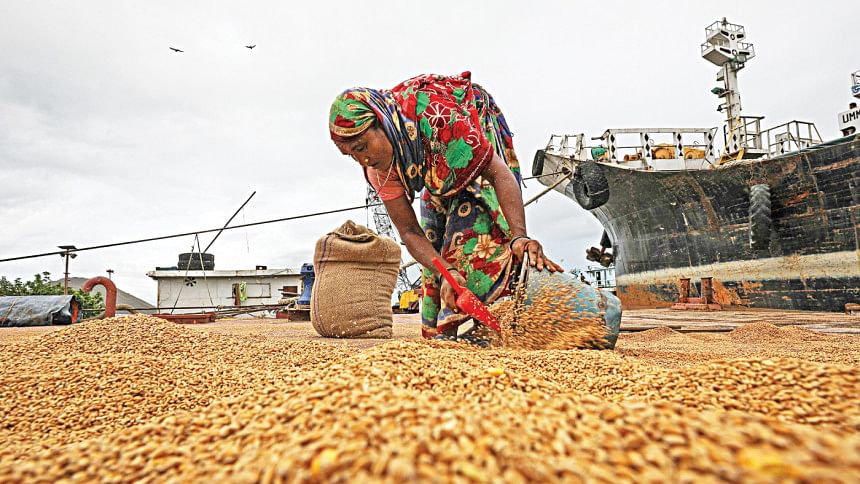 Bangladesh's wheat imports fell for the third consecutive year, suffered by falling consumption for high prices and banks' sluggishness in opening letters of credit (LCs) amid the US dollar crisis, importers said yesterday.
Wheat arrival declined 3.4 per cent year-on-year to 38.75 lakh tonnes in fiscal year (FY) 2022-23 from 40.12 lakh tonnes the previous year, according to data of the food ministry.
The FY23 import of the grain, for which Bangladesh is highly dependent on the international market, was the lowest in eight years.
With the drop in wheat imports, overall imports of food grains by Bangladesh's public and private sectors declined to 49.30 lakh tonnes, down 1.38 per cent from the previous year.
Anup Kumar Saha, executive director of Akij Insaf Group, said consumption of wheat flour has reduced amid high prices.
"This has impacted imports," he added.
Food ministry data shows that public sector imports edged up in the last fiscal year, but private imports dropped nearly 8 per cent to 31.95 lakh tonnes in the July-June period of FY23.
Wheat prices soared in the international market amid supply crunch after Russia's invasion of Ukraine in February last year, and India's ban on shipments of the grain in May the same year aggravated the situation.
Locally, the price of wheat flour started to rise since July 2022 and hit a record high of Tk 62.26 per kilogramme in December, impacted by high prices and the supply crunch.
Concerns of supply eased in the second half of 2022 after the United Nations and Turkey brokered a grain deal between Russia and Ukraine in July that allowed Ukraine to export the cereal over the Black Sea.
Importers said prices of the grain began to drop in later months, but local consumers could not take full advantage because of reduced imports and high cost of the US dollar resulting from depreciation of Bangladesh's taka.
Prices of wheat flour stood at Tk 46.50 per kilogramme in June, which was higher than the same month a year ago, according to data of the Food and Agriculture Organisation.
"The main reason for reduced import is erosion of purchasing capacity of people," said Md Aminul Islam, managing director of Nabil Group, one of the largest importers of wheat.
He said industries are the main users of wheat and their usage to make wheat-based food, such as biscuits, has declined.
"Once, they would maintain stock for up to three months for use. Now, stockholding has reduced to 15 days," he said.
However, he said the situation may improve in FY 2023-24 beginning from this month as prices of the grain are falling.
"There is ample production and availability," Islam added.
Taslim Shahriar, deputy general manager of Meghna Group of Industries, said wheat production has increased while prices declined.
"So, the coming days are expected to be better," he added.