Supply of day-old chicks drops, leads to price hike of broilers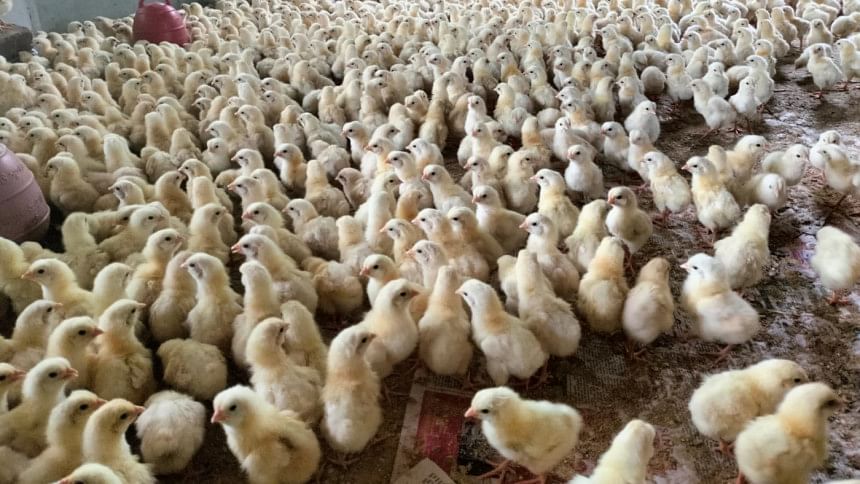 The price of broiler chicken, one of the biggest sources of protein, has seen a sudden and sharp increase in the retail market due to low supply of day-old chicks (DOCs).
The price of DOCs has increased from Tk 15 to Tk 25 per piece in the past month, according to poultry breeders and farmers.
It usually takes 32-35 days for DOCs to develop into broiler chickens and become suitable for sale in kitchen markets, they said.
The increased price of DOCs, along with seasonal demand trends, has left poultry farmers concerned about whether they can get a fair price from buyers.
Poultry farmers and traders informed that the price of a DOC in the market was around Tk 35 a month ago. It is now being sold at Tk 50 to Tk 60.
Mohammad Yasin, a retailer in Karwan Bazar, one of the biggest kitchen markets in Dhaka, said he sold broiler chicken at Tk 170 per kilogramme (kg) a week ago. Yesterday, he was selling it at Tk 190 per kg.
He said he had been getting less than 40 percent of the broiler chicken that he demanded for the past few days.
Akram Hossain, a farmer from the Kalma area in Savar, said the price of DOCs was Tk 36 about two weeks ago. It has now increased to Tk 53.
He said the cost of production increased, which led to prices at the retail level also increasing.
Due to increased demand, he bought DOCs at a higher price. Otherwise, he would not have bought DOCs at such a high price, he added.
Rubel Howlader, manager of a poultry farm in Charmonai union of Barishal sadar upazila, said the price of DOCs is Tk 53 to Tk 60 at present compared to Tk 34-35 a month ago.
He was selling broiler chicken for Tk 150 per kg last Saturday, but that has increased due to the higher price of DOCs.
Howlader said he was getting 30 percent less than his demand for DOCs.
Jahidur Rahman, a poultry farmer in Sylhet's Golapganj upazila, said: "I made a little profit of Tk 15,000 by rearing 1,200 chicks. But since the price of DOCs shot up, I wonder whether I should rear more chicks."
"It's happening because of the syndicate in the industry. Small farm owners like me are suffering. The government should take necessary action so that we can survive," he added.
WHAT BREEDERS SAY
The Breeders Association of Bangladesh says the country currently needs about 1.5 million DOCs every week. Nowadays, demand for broiler chicken and DOCs has increased. Due to this, a gap between supply and demand has been created.
Currently, more than 300 firms supply DOCs in the country. Of these, more than 100 are members of the Breeders Association.
The price of DOCs rises and falls seasonally, they added.
For example, during Eid-ul-Adha, the price remains lower. During the winter, when vegetables are in ample supply, demand for DOCs also falls. When different and more affordable varieties of fish are available in the market, demand for DOCs is also lower.
Since fish such as pangasius, tilapia and climbing fish (koi), also known as chipper fish, are now costlier than broiler chicken, many have shifted to the more affordable options.
Besides, Durga Puja is coming up, causing a rise in demand for broiler chicken.
A top official of a company involved in the supply of DOCs said on condition of anonymity that the price of DOCs was Tk 48-50 per piece yesterday, Tk 7-10 more than it was a week ago.
He claimed that costs of production had increased and if DOCs were not sold for Tk 45-50, producers would face losses.
Mahbubur Rahman, general secretary of the Breeders Association of Bangladesh, said the demand for DOCs had increased due to Durga Puja and different issues.
For the past two-and-a-half years, there has been no demand for DOCs for most of the time, he said.
"When doing business, there will be profit and loss. If a farmer does not make a profit, then he will not be able to survive in the business," he added.
An official of the Department of Livestock Services said they sat with the breeders last Monday to find out why the price of DOCs is increasing abnormally.
An estimate will be given on how much the price of the DOCs should be. If someone sells at a higher price, legal action will be taken, the official added.