A sudden surge in orders to test RMG, textile sectors' capacity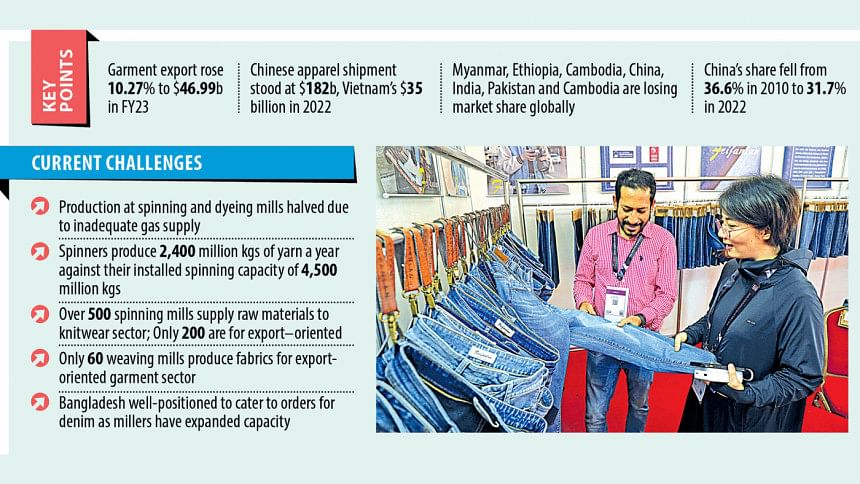 Bangladesh might be the second-largest apparel supplier in the world, but its current installed capacity will not be adequate to meet demand if orders surge significantly as buyers shift away from countries such as China and Vietnam.
On the back of the existing capacity, the country exported garment items worth $46.99 billion in the last fiscal year, registering a 10.27 percent year-on-year growth, according to data from the Export Promotion Bureau.
China sold apparel items worth $182 billion globally and Vietnam shipped products amounting to $35 billion in 2022, data from the World Trade Organisation showed.
Bangladesh's share in the global readymade garment trade more than tripled in the past 17 years: in 2005, the country's share was 2.5 percent but it rocketed to 7.9 percent last year.
And local suppliers say Bangladesh's share would grow in the coming years, a prospect that might bode well for the country's largest foreign exchange earning sector but it could also bring about one of the stiffest challenges for the sector as well.
For example, if 10 percent orders are diverted from China to Bangladesh, this will bring businesses worth $18.2 billion for the latter. Such a volume of orders is enough to put the manufacturing capacity under strain and bring about a raw material shortage for local suppliers like they witnessed in 2021-22 after the global supply chain rebounded from the severe fallout of Covid-19.
Bangladesh's garment shipment surged more than 35 percent in FY22.
Already, some garment-supplying countries such as Myanmar, Ethiopia, Cambodia, China, India, Pakistan and Cambodia have seen their global market share in the garment segment slash over the last few years whereas Bangladesh's pie is expanding.
For instance, China's share in the global apparel business fell from 36.6 percent in 2010 to 31.7 percent in 2022, owing largely to its dragging tariff war with the US.
The severe impact of the pandemic, the Russia-Ukraine war, the higher cost of production and the dearth of skilled workers have also contributed to the fall in the share for the world's largest apparel supplier.
Mohammad Abdullah Zaber, managing director of Noman Group, said a lot of US-based orders for fabrics have come to his factory from China and India over the last one year.
So, he has already expanded the capacity.
"There is a forecast that orders may see a strong rebound next year as international retailers and brands are running out of their stocks of unsold apparel items," said Mohammad Ali Khokon, president of the Bangladesh Textile Mills Association (BTMA).
He said Bangladesh has the capacity to supply goods against a large volume of orders, but many mills are running below capacity owing to an inadequate supply of gas and power and the dollar crisis in the banking sector.
Many of the mills that were used to produce 80 tonnes of yarn a day are producing 40 tonnes to 50 tonnes of raw materials currently, he said, adding that dyeing mills are also facing a similar situation.
"Under the circumstances, new investment is very low."
Asking not to be named, the country manager of a retailer from the Netherlands said although more orders are flowing to Bangladesh, the volume is still slow.
He said orders are expected to see a jump if the political chaos linked to the national election does not linger.
Monsoor Ahmed, chief executive officer of the BTMA, the platform of primary textile millers, said the knitwear sector has the capacity to meet demand, but the woven sector is lagging behind as their capacity is low.
Presently, more than 500 spinning mills supply raw materials to knitwear manufacturers. Of them, only 200 are export-oriented.
The installed spinning capacity is 4,500 million kilogrammes, but they are manufacturing 2,400 million kgs of yarn currently as their full capacity can't be utilised because of the gas and power shortage, he said.
"Spinners can't go for expansion because of the dollar shortage," he said, adding that only 60 weaving mills produce fabrics for the export-oriented garment sector.
In denim, Bangladesh is, however, capable of catering to any volume of orders. Local denim millers produce more than 700 million yards of fabrics per year.
According to Ahmed, setting up a new factory is time-consuming and it takes at least three years and costs Tk 700 crore to set up a medium-sized factory.
Since international buyers have cut the lead time to 45 days to 60 days from 90 days and 120 days, local garment suppliers have already come under pressure. In order to deliver products within agreed deadlines, they are using more locally produced yarn and fabrics.
Faruque Hassan, president of the Bangladesh Garment Manufacturers and Exporters Association, also said that the country may find it challenging to supply goods if orders climb suddenly.
The lingering gas crisis, a shortage of adequate skilled workers, and higher prices of yarn are major bottlenecks that may prevent Bangladesh from attracting buyers looking to move away from other countries, he said.
He thinks orders will pick up after December as the global supply chain is recovering and international buyers are coming up with an additional volume of work orders.
Mohammad Abdur Razzaque, chairman of the Research and Policy Integration for Development, a think-tank, said the capacity of the country needs to be strengthened as exports are bouncing back in line with the revival of the global supply chain.
"A lot of work orders may come to Bangladesh thanks to the China-Plus One policy adopted by many countries to reduce their dependence on a single source, namely China."