Subsidy, interest bills highest in a decade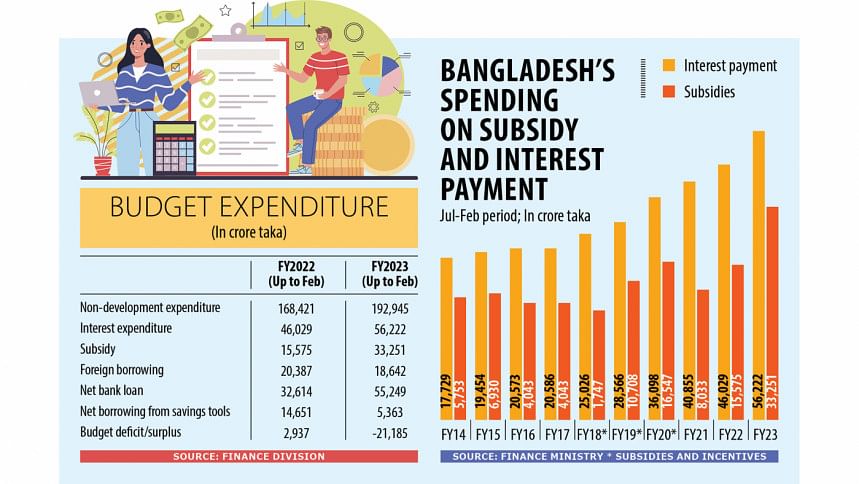 Bangladesh's spending on subsidies and interest payments surged 45 per cent year-on-year in the first eight months of this fiscal year, turning out to be the highest in at least a decade.
This resulted from an increased payment requirement from the coffer particularly to provide fertiliser, food and electricity at subsidised rates.
From July to February in fiscal year 2022-23, the government spent Tk 56,222 crore behind interest payments of its domestic and foreign loans, registering a 38 per cent year-on-year growth.
Meanwhile, subsidy spending more than doubled to Tk 33,251 crore whereas it was Tk 15,575 crore in the same period a year ago.
Together, the government's spending for interest payment and subsidies stood at Tk 89,473 crore during the period, which was 65 per cent of the total allocation for the current fiscal year.
Zahid Hussain, former lead economist at The World Bank Dhaka, said the government was distributing certain essential commodities at subsidised rates to one crore poor and low-income families through the Trading Corporation of Bangladesh.
It is to provide them a cushion from high inflation, he said.
The government is also selling the staple food, rice, through open market sales at subsidised rates, he said, reasoning the spike.
Meanwhile, the government had hiked the prices of fertiliser – urea twice while diammonium phosphate, triple superphosphate and muriate of potash once.
However, the pressure of subsidies on the state exchequer for the vital crop production ingredients still remains high because of an increase in the import cost, mainly for the depreciation of the taka against the dollar.
Taka lost 14 per cent in value against the dollar since June 30 last year, showed Bangladesh Bank data.
In a statement last week, the agriculture ministry said overall subsidy requirement for fertiliser was estimated at Tk 46,000 crore in the current fiscal year, up from Tk 28,000 crore in the previous fiscal year of 2021-22.
Hussain said Bangladesh was yet to come out from the subsidy requirement for electricity although its price had been hiked.
The power and energy ministry increased prices of electricity twice by over 10 per cent since January this year.
However, the pressure of subsidy for the power sector has increased and it is estimated to be Tk 27,000 crore this year.
So, overall pressure on the state coffer for subsidies for agriculture, power and food is likely to exceed the actual allocation of Tk 56,535 crore in the original budget for the current fiscal year.
In this regard, the government has earmarked an additional Tk 21,000 crore in the revised budget although it had marginally slashed the overall expenditure.
For the next fiscal year, the government may present a 12 per cent bigger budget and it has kept over Tk 200,000 crore for interest payment and subsidies.
In case of soaring interest payment pressure, higher expenditures on treasury bills are to blame.
The interest expense was higher than the annual target because of a rise in interest rates for government securities-- treasury bills and bonds, according to the quarterly debt bulletin of the finance ministry released earlier.
"Expenditure on interest is rising rapidly," Hussain said, adding that interest payment on domestic debt accounted for 73 per cent of the total allocation in the current fiscal year of 2022-23.
"This reflects increases in both interest rates on various debt instruments as well as the stock of domestic debt in recent years," he said.
"The share of interest on domestic debt in total operating expenditure has risen from 25.4 per cent in July-February last year to 27.7 per cent in July-February this year, indicating a rather rapid narrowing of fiscal space," added Hussain.
However, he said, the reported decline in interest on foreign debt from Tk 3,205 crore in the July-February period in fiscal year 2021-22 to Tk 2,734 crore in the July-February period in FY23 is "hard to fathom".
"It is inconsistent with the payment of interest on foreign debt reported by Bangladesh in its July-February balance of payments," he said, adding, "This shows an increase from $606 million in July-February last fiscal year to $855 million in July-February this fiscal year."
"Considering the depreciation of the exchange rate, there is no way interest payments on foreign debt can decrease as reported in the monthly fiscal report," he said.
AB Mirza Azizul Islam, former finance adviser to a caretaker government, linked the increase in subsidy bills to higher production cost of energy and power and increase in import cost.
"Yet to me, it is not unsustainable. It is within the tolerable limit," he said.
Islam suggested that the government expand coverage of the social safety net to support more of the low-income population.
"But there has to be proper distribution, proper selection of beneficiaries so that people who really deserve can get the support," he said.